Drinkwitz previews Mizzou's matchup at Kentucky
During his weekly press conference Tuesday, Missouri head coach Eli Drinkwitz reflected on the Tigers' season-opening win over Central Michigan and looked ahead to his team's first SEC matchup of the season. Missouri will travel to Kentucky on Saturday. Below is video of Drinkwitz's full press conference, plus a transcript of everything Drinkwitz had to say.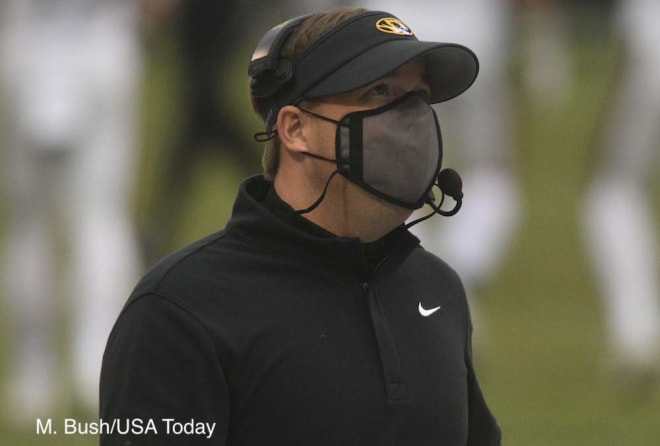 Opening Statement:
"I just wanted to start out by saying we play on the 20th anniversary of 9/11 this Saturday. And as part of our uniform, our helmets, we're going to be wearing this 'Never Forget 343' decal that's honoring the 343 first responders who gave their life on 911. An opportunity for us to say thank you to those brave souls and to their families for the sacrifices that they've made, and to represent truly some heroic individuals from that day.
"Reviewed the game film from Week One. We're really fortunate to be 1-0, and there's a lot of room for improvement. In fact, the biggest room in the house is room for improvement. So worked on that and know that we have to improve substantially in a lot of different areas in order to raise our level of play. Got a tremendous opponent, first SEC road game, at night. Going to be a loud and raucous environment versus a tremendous opponent. Got a lot of respect for coach (Mark) Stoops and the way he's built that program. Been there for, I believe he's going on his 10th season, and has developed. Not only has he changed the perception of that program, he recruits at a high level, he develops his players at a high level. You look at guys like Josh Paschal who are just really, really good players were developed by and recruited by him. And so got a lot of respect for him. They did an outstanding job in the transfer portal this year. Obviously, crud, they added basically four NFL players, or three NFL players on offense and an NFL offensive coordinator. So they've gotten really good really fast offensively, and then defensively they've always been good. Coach Stoops does a tremendous job. They're the number one defense in the country right now after last week, and has always been very good on defense. Very solid special teams, have dynamic returners. Still trying to replace the punter from last year, the Australian. So a lot of respect for them, know we got our hands full. You know, offensively the quarterback is really the straw that stirs the drink. The transfer from Penn State, Will Levis. Threw for about 360 yards last week. Really has a nice hard play-action, throws the ball down the field. You can tell the offensive coordinator does a great job of setting up his plays. Run and pass look exactly the same. They protect when they launch the ball. Number 1, I believe it's Wan'Dale Robinson, the transfer from Nebraska, is a dynamic playmaker with elite speed. Complements their other wide receiver, Josh Ali, really well. So they're very talented across the board. Their offensive line's considered by some to be the best offensive line in the country, bookended by two NFL tackles with Dare Ronsenthal at left tackle and Darian Kinnard at right tackle. So big, tough opponent, big challenge for us, and with that, I'll open it up for questions."
I know it's only been one game, but how different does this Kentucky offense look than last year?
"They had 560 yards, I think. Four hundred twenty of them through the air. I think last year they ran 35 total plays, maybe 35 (yards) through the air. So totally different style, totally different feel. Execute it at a high level, shifts, motions formation. Vertical shots, intermediate, middle-field throws, quick game, got the whole package. The only thing that's a surprise to me is how quickly they've gotten to where they're at. You know sometimes when you come in as a new offensive coordinator, to make such drastic change, it's kind of hard to get in that quickly. But they're humming on all cylinders right now. It obviously helps to add some great players like they've been able to add."
Do you like going right into SEC play right out of the gate or would you rather have a little bit more time?
"After last year, I don't think it matters, man. Let's get this party started. I think it's gonna be a challenge for us, obviously it's the first time for me to getting to experience, with these guys, on the road with a raucous crowd, and that's a huge concern for us, just handling the mechanics of that communication and handling the nerves and not letting the crowd dictate how we play. So, we're going to have our work cut out for us and see what we're made of."
When you look at Kentucky, what makes them the number one defense?
"I think it starts with their defensive line. I think they've got three returning starters. You've got Marquan McCall, started against us last year and he was very difficult for us to block. We had our hands full. Josh Paschal is an outstanding defensive end. Has speed to power, you know, plays a 4i, can play a 5, play off the edge. Jordan Wright, he played against us last year. Big, long. Coach Stoops does a great job of recruiting length on the defense, which is really tough to go against, because it just collapses lanes. Both their linebackers are back, two safeties are back. The only guys that aren't there are the guys that got drafted. So it's a pretty, pretty tough defense. Good scheme, really good scheme. Play hard. Don't make a lot of mistakes, make you beat them."
When you watched the film of the Week One game, what did you see from the offensive line and what maybe has to be cleaned up against Kentucky?
"I mean, obviously we rushed for 200 yards, which was good, but we had too many negative plays. And we can't allow for outside penetration on some of our zone schemes and some of our double teams. So I think for all of us it's a concerted effort to eliminate negative plays, which put us in third and longs. And then, you know, when you go on the road, it's a trench football game, and if you got any shot at winning football games in the SEC, you got to win in the line of scrimmage. Especially on the road, you got to be able to run the ball when you want to, not when you have to. And so we got a big challenge ahead of us."
Your defense picked up in the second half Saturday. In the first half, what concerned you? Any red flags?
"I mean, there's a lot of red flags. I think it starts with tackling. Tackling was very poor. I think we had some eye discipline issues. You know, guys in man-to-man who let their guys cut loose, and it may not have shown up on tape, but it's going to show up if we don't fix it. You know, we had some loose coverage, supposed to be inside technique but we were lined up outside, supposed to be outside technique, lined up inside. So things like that that have to get corrected that resulted in explosive plays. I think overall, from Saturday, I think the biggest disappointment was tackling and explosive place. I think the most exciting thing was the sacks, the pressure on the quarterback and the turnovers. But it can't be Jekyll and Hyde. Otherwise against a team like what we're fixing to play the scoreboard is going to light up real quick."
I think Mekhi Wingo led all the defensive tackles in number of snaps. Was that the idea going in, or did it just kind of unfold that way?
"I think he's done a really good job of staying in shape. Obviously bigger guys tend to lose their wind a little bit faster, and he's more of a sudden young man, and I think he was playing really well, so you gotta keep — you stick with the guys that are performing. And he performed really well. He's gonna continue to get opportunities as he seizes the opportunities in front of him."
You mentioned September 11. Do you remember where you were Sept. 11, 2001?
"Yeah, I was at Arkansas Tech University. I was in a physical science classroom, auditorium. And the professor walked in, maybe a couple minutes late and told us what happened. Canceled class and I walked back to my dorm and watched coverage. Actually had, my car was in the shop in Little Rock and had to drive, somebody took me to Little Rock to pick up my car, and I remember the gas lines at the gas station were really long. And it was a scary day. Scary day."
Every game is important, obviously, but Kentucky and Missouri, whichever team has won this game has finished higher than the other one.
"Makes sense."
Relative to this division and where these programs are, just how important is this game?
"They're all big. I mean, they're all big. You know, obviously last year was a big game for us, because we hadn't beat them in five years, and I think getting that off our chest was good. I think it's — I mean, coach Stoops has been there for 10 years. Ten years. Recruited at a really high level and developed his players. So, to try to make a comparison, us and them right now, I think is a little bit soon. I think we've got to control who we are, we got to do what we need to do, go on the road. I mean, I don't think anybody's season ends after Week Two, regardless of how it plays out. I think it's a big test for us on who we want to be and how we want to perform and what we want to do on the road, which we didn't play particularly well last year on the road. I think we had one road win. So I think for us, it's more about a test to see how much we've grown and developed. I don't look at it as this is where Kentucky's program versus Missouri's program is. I think that's making it probably a little bit too big. I think it's a big test for us on the road to play in front of an SEC crowd early in the season. And we're gonna find out all kinds of issues we gotta get fixed. We're going to find out how much improvement we made from Week One. And regardless, if you win, you're 1-0 in the SEC with seven to go. If you don't, I don't remember, but I don't think — well, maybe Florida was undefeated in the East last year, but most of the time East winners aren't undefeated."
What kind of improvement would you like to see from week one to week two with Connor Bazelak?
"Third downs."
Can you elaborate on what on third down you'd like to see?
"We got to throw completions. We were 2/12 on third down conversions so we've got to be much better on third downs. That's me, that's him, that's everybody. That's really the only thing I was concerned about."
You got some great performances from guys that transferred up from Group of Five schools. Is this the way of the future that smaller programs are basically going to be recruiting pipelines for the bigger schools?
"I don't know. Maybe. I can't speak to what the future's going to be. I'm worried about Kentucky here coming up. They have transfers that weren't from smaller schools that are big time players for them. I don't know. I don't think anybody can predict what the transfer portal is or isn't going to be. I think we're all just kind of trying to react to it, trying to figure out the trends."
Saturday was our first chance to see Mookie Cooper. How important is it to try to get the ball in his hands several times a game?
"It's important for us to get the ball to whoever the play's designed to get the ball and to execute. Mookie has got great speed, is a dynamic playmaker, but the play doesn't care who makes it. Whether it's Mookie's designed play or if it's not, we've just got to go execute."
I think that was the first time he's played in a game in three years and was limited in practice. Was there some nerves or some rust that you saw?
"I didn't see any rust. I think there was one jet towards the end where the ball came out and went out of bounds, but other than that I thought he did a nice job of trying to avoid tackles and secure the football. I wish we'd have got him more space, wish he'd have made a different cut on one of them, but I didn't have any concerns. I don't think he did either. My biggest concern was that he felt comfortable from his injury and I think he did."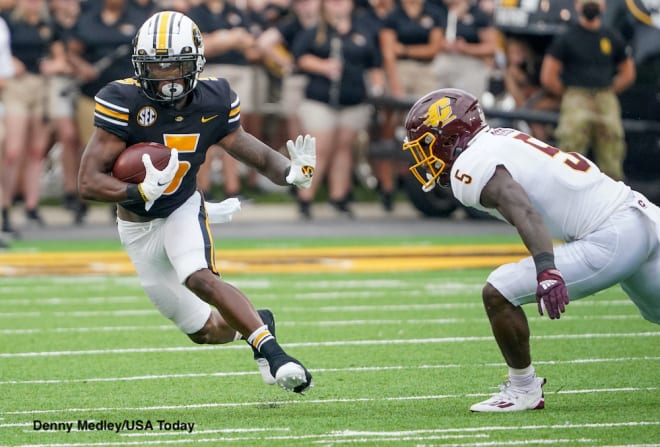 What's been your impression of Barrett Banister and his veteran leadership?
"Absolutely exactly what you said. Veteran leader who's consistent in his approach and whatever is asked or assigned, he's a master of those details and executes it at a high level. Plays to his strengths, plays to our team's strengths and somebody that we're very fortunate to have on our team."
How does a road game this year compare to what it was last year in regards to COVID-19 restrictions?
"Well, we're gonna have fans. I think they're calling for a sellout, so we got to work noise. That's totally different. Last year you could yell out on the field and make play call adjustments. This year, I don't think we'll have the ability to do that. Obviously the planes, trains and automobiles is a little bit different. We've got a little bit of a snafu because of the Columbia airport being under construction right now so we're having to change our travel a lot relative to what it's been. That's going to be interesting to see how we adjust to that adversity. But other than that, I think it will still be the same. We'll still wear masks and do the things that we need to do to protect ourselves."
When you say you have to change the travel, is that adjusting the time or do you have to leave from a different location or what?
"Yeah, we've got to leave from somewhere else. I think some of us can leave. Well, it's just a long story. Half the team or half the travel party's got to go out of St. Louis. Some of us got to go out of Columbia. Potentially none of us can fly back to Columbia depending on the weather and the weight limit on the plane."
What did it mean to you to get to reward Chance May with a scholarship last week?
"Chance is just a great young man. Works really hard, has battled through walk-on life. Is there ever light at the end of the tunnel? Has been a tremendous asset to our football team throughout the spring, summer, fall camp. Has done everything we've asked him to do, gives us great looks, coaches the other players, embraces his role and when you're that age and maybe you get asked to do something that you don't want to be doing like maybe you're over there doing scouts or whatever, it's easy to fall into this woe is me, why am I doing this, do I even want to be out here? And, man, he had an incredible week of practice. He gave us a tremendous look. And when you see somebody respond in that way you just want to reward them. We had the ability to do that and that's what we wanted to do."
Have you played a game at Kentucky before previously?
"I did. 2010 when I was at Auburn. We went there week five, maybe six. Got out to a big lead, I think Joker Phillips was the head coach at that point. Got out to a big lead, they came back, tied the game, had the ball with 7:43, something like that, drove the length of the field to kick a field goal with no time left to beat them, 34-31 I think was the final. Great crowd. Good atmosphere. Tough place to play."
When you talk about Mark Stoops what do you respect about him and the way he does things?
"I think he had a plan. He's executed his plan since he's been there. It started with recruiting. There was an article the other day about how well he's done recruiting the state of Kentucky which obviously I think starts first. Then he's expanded that and recruited more of a Midwest team. Instead of always going down (south) he's identified areas that can help them and he does a great job in Florida, but he also recruits Detroit really well, Michigan really well, some of the Big Ten areas. So he knows who he is and who he's recruiting. Then you look at his team and the way they develop players, I mean five drafted players last year, they're always fundamentally sound, they don't beat themselves, they're in a lot of football games. He's got a great record in one score games. That to me, as a coach, is when you've really got to coach, right? One score football games. He does a really nice job in those. You can tell he's got an overall sense of how the game's going to play out on offense, defense and special teams. I think he's made bold moves. Obviously last year, changing the offense and looking at what that's been. He started out spread, wide open when he was there and then after Neal (Brown) left, kind of reined it back down in, controlled the clock, played great defense, kept themselves in games, won ten games I think a couple years ago, were playing in November to win the East. I mean, that's pretty impressive. Second-longest tenured coach in the SEC. That's hard to do man. It's about two years and we get shipped out of here so he's done a heck of a job."
You talked a lot last week about not being sure what you had. With a game of data, do you expect the rotations to get tightened up or do you still think you'll play as many guys as you did last week?
"I think it's still really early in the season to limit reps. I think maybe in key situations you're going to see the guys we know need to play, but we still got to develop our team. We're early in the process. I can't lose the forest for the trees, right? I mean it's week two of the season, it's a long season, it's gonna be a physical season, we're going to have to make sure we've got young guys ready, these freshmen, we're going to have to make sure that we're developing our players and get real experience. I think one of the regrets I have from last week is not playing enough guys. I definitely think we're going to continue to play more players. I think in key situations you'll see key guys, but other than that, I think we've got to continue to rotate."
Is that left guard spot a place where you still think you'll play both guys or are you leaning toward one?
"I thought both of them (Connor Wood and Xavier Delgado) had good plays and bad plays that we've got to learn from. I think both of them play again. I like being fresh on the offensive line. I think Luke Griffin's done some really good things. I think he could see himself rotating in. I think Zeke Powell is right there ready to go too when we need him. I think there could be all kinds of rotations. Coach Johnson runs that thing like a basketball team. You look up and there's guys rotating in and out and you never know who you're five's gonna be, so it's good."
Do you expect 25 carries from Tyler Badie each week? Is that something he'll have to get used to?
"I mean, if he wants to be the man. It's gonna take what it takes to win. If it takes 25, it takes 25. Last year against Kentucky I think our guy had 34. So it takes what it takes. If he wants to be the guy and he's ready, he's ready. If he's not ready then we'll put somebody else in there. I don't have a pitch count on him. He's got to touch the ball a certain amount of times for us to be successful. He's a dynamic playmaker and however we can get it to him, we'll get it to him."
How impressed were you that Elijah Young on the one carry Tyler needed to come out broke off a 30 yard touchdown run?
"It was funny because we'd given him a handoff, I think he'd already had two handoffs and hadn't really been able to get going. On the headset, Lupe (Curtis Luper) said 'Hey, this is it. If he's not going, we'll put another back in there' and he takes it and scores. I don't know if maybe Lupe had a headset to him too and got him going. No, Elijah's been a really good player for us and had a very good spring and we knew last year, tried to make sure he got a couple of reps on a couple different things throughout the season just to make sure he was ready for it. He's a very good complimentary back to Tyler and runs really hard, has great speed and good vision. Really for us we've got to figure out who that third back is going to be that can really offset those two guys. That was the only position where we wish we would have got some more guys in there."