{{ timeAgo('2023-03-15 13:19:44 -0500') }}
basketball
Edit
Everything Utah State said on Wednesday
SACRAMENTO, CA -- The Utah State Aggies were the first team to meet the media on Wednesday morning in Sacramento. The Aggies will face Mizzou in Thursday's first NCAA Tournament game at the Golden 1 Center.
Utah State representatives at media day were head coach Ryan Odom and players Taylor Funk, Rylen Jones, Sean Bairstow and Steven Ashworth. Below is a full transcript of what they had to say.
Q. Taylor, you're a graduate transfer, came to Utah State to play with these guys, then play in the NCAA tournament. You're finally here? How does it feel to have this opportunity?
TAYLOR FUNK: "No, definitely feels great. A lot of hard work. From start to now, all summer, just grinding. A lot of tough days. A lot of battles. A lot of days, just kind of don't feel like going, but you just push through for this moment.
Yeah, being a graduate transfer, this is my last chance. Beyond blessed to be here with these guys, beyond excited."
Q. Steven, the other day after one of the wins, you said a big part of this team was built on trust. Could you elaborate on that, how that helps you guys be successful.
STEVEN ASHWORTH: For sure. This team is a team that we know we don't need one guy to be the star or the go-to guy to win games. I think that just that in and of itself requires trust from the players trusting the coaching staff of what sets we're going to run, what we're going to do defensively, or trusting we're going to be able to make shots when needed.
I think some of those principles are what go into the trust that we have in each other. The trust that we're going to have each other's backs if we make mistakes, or to trust if I hit Taylor in the corner for an open three, I trust he's going to make it.
I think some of those things go along with, like Taylor said, a lot of battles, a lot of long days go into building relationships. This team has a lot of great relationships. With that comes a factor of trust that I think gives us an advantage over a lot of our competitors.
Q. Steven and Rylan, what you've seen out of the Missouri defense, what specific problems do they cause defensively, and have you played a team that you would compare this style of defense to?
STEVEN ASHWORTH: Yeah, I think they definitely statistically turn their opponents over quite regularly. They take pride in that. I think that their defense is built on that. That fuels their offense, that fuels their up-pace tempo they like to play with.
Preparing for that, we know we have to take care of the ball and we have to make sure we meet our passes, catch with two hands, a lot of the primary things you learn growing up with basketball are going to be applicable tomorrow morning.
A team I would compare them to are teams in our conference like New Mexico and UNLV who turn teams over at a high rate, guards that are very dynamic on the defensive end. I think those two teams have helped us prepare for a moment like this. Hopefully tomorrow we'll be able to go out and show that preparedness.
RYLAN JONES: I couldn't have said it any better. He hit it right on the spot. They're very similar to UNLV, New Mexico, like he said. Their guards create a lot of turnovers which lead to their transition buckets, where they are very lethal. We've got to keep them out of the transition offense area, and taking care of the ball will do that.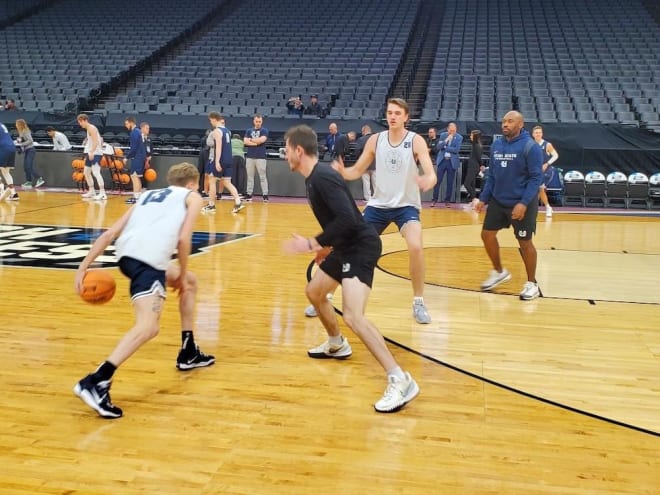 Q. Rylan, you're one of the two guys that consistently played Power Five schools when you were at Utah. Can you talk about how you helped the team prepare for a moment against a big name, how to look past that?
RYLAN JONES: Yeah, no, I mean, these guys are obviously a really good team. We've played a lot of really good teams throughout this season. We're prepared for this team, Missouri, for our preparation from the summer, from our pre-season games, then the brutal Mountain West Conference play where it's a battle every night.
These guys are prepared for it. We're going to give it everything we've got.
Q. Steven and Sean, can you talk about your previous experience, a couple years ago, but there was COVID protocols. Steven talked about it a little bit on Sunday. Maybe Sean can elaborate what it's going to be like this year compared to 2021.
SEAN BAIRSTOW: Yeah, we were at a great venue in Indiana in two years ago when we went to the tournament. There were quite a few fans there. I'm not really sure what the fan attendance is going to be like tomorrow. I know it's going to be the same level of excitement, two great teams playing. Do or die. The season is on the line, and both teams are going to feel that.
I think it's going to be a highly competitive environment. Everyone is going to be playing their hardest.
STEVEN ASHWORTH: For the most part it was a very different, unique situation, playing in Indianapolis. Last time it was super cool for me because I actually served my church mission there, got home to play basketball, then I was headed right back. It was cool to go back to Indiana, play at Assembly Hall, super iconic venue.
Now to be playing in a facility like this, brand-new, Sacramento. We're really excited. I'm excited to see how it's different, embrace the journey and see the fun that March Madness really is all about.
Q. Taylor, kind of a newcomer to the team, can you talk about the trust factor, how that works on the court for you guys.
TAYLOR FUNK: The trust is everything, like Steve said. From the moment of one of my visits at Utah State, something that really jumped out at me. First thing we do, we take some four-wheelers up in the mountain, have a great time, time of our lives I felt like. Kind of felt like we built friendships and relationships that are going to last a lifetime in five minutes.
Kind of hard to describe that, make you guys realize how much of an impact these guys made on me. It's from the players to the staff. It's just a big family here. Kind of what you want in a team because you spend a lot of time together. You don't want to be around people you don't like.
This team really gave me what I was looking for. Really thank the coaching staff and the team for welcoming me with open arms.
Q. Taylor, in looking at Missouri on film, Kobe Brown, how much of what we do is dependent on him? When you look at the versatility, him being able to go outside or score down low the bigger concern?
TAYLOR FUNK: No, he's a really good player. Watched a lot of film on him already. He's a versatile guy. He has the ability to shoot the three, shooting over 40%. He can put that thing on the ground and get to the rim.
I think we're prepared for it, like Jonesy was saying over here, Mountain West is not a cakewalk every night. It's a battle every single game. There's a lot of good guards, a lot of big guards. A player like him in the league would maybe be Matt Bradley a little bit, just a bigger guard. Brown got a little height on him, but...
No, he can definitely score that thing. Our defense is going to have to be set for us to stop him.
Q. Sean and Steve, something that Coach talks about is building a legacy at Utah State. How do you feel like, you've been here for several years now, that legacy that you're building and an opportunity like this, how big is that to be able to put a punctuation mark on what you guys have built here?
SEAN BAIRSTOW: Yeah, we in past years have come to the tournament, haven't really done what we all set out to do, winning games. For us, it starts with that. Then we'll go from there.
I think winning a game and getting into a good start in the tournament would be a really good thing to add to Utah State and our legacy.
STEVEN ASHWORTH: Yeah, I think coming to Utah State, I've obviously seen the legacy that guys like Sam and Niemi and Justin have left for us. Now to be in a way trying to do that ourselves as this team is trying to leave our own legacy, build off of what the players have built already, is something that we take great pride in.
Obviously it's a dream for any college basketball player to play in March Madness. That's the pinnacle of what college basketball is. But at the same time we talk a lot about how we don't want to just get here, we don't want to just be here for a day or two, we want to go and we want to play meaningful games.
This obviously is a meaningful game. That's what you want in March. So I think to put that exclamation point on what we're trying to build is to come out and make a run in March Madness.
Q. Rylan, your comments, how has your role changed? Behind the scenes, what are you doing help be a team captain?
RYLAN JONES: Obviously not on the court anymore. My role as a captain, not been always on the court. We always talk about we have 15 leaders instead of just like the four or five. That's just where I've been on the sideline, keeping everybody up, helping people with what I see on the court, talking at halftime, when they come out of the game, keeping the guys on the bench who aren't playing engaged, talking to them.
Just being around, not moping around the sidelines that I'm not playing. Just giving energy whenever I can. Just experiencing this once-in-a-lifetime moment that we're experiencing as a team. I'm just enjoying the ride. I trust these guys, they got my back. They're going to take us as far as we can go. Looking forward to it.
Q. Rylan, you played in another conference, so-called power conference. How does the Mountain West stack up and prepare you guys for the post-season like this?
RYLAN JONES: Yeah, I mean, Mountain West got four teams in this year, four teams in last year with a lot of really good players, programs coaches.
It prepared us for this moment. We're prepared for it that our brutal conference play. Every game you play, it's a battle. You got to go to hard road venues, you have great teams coming into your home venue.
It's prepared us for this moment to play Missouri and be here in March Madness. Let's us go make the most of it as well.
Q. Tomorrow is the five-year anniversary of a pretty big win for you. What did that win over Virginia do for your career? What do you think it would take for another 16 seed to be able to beat a No. 1 seed?
RYAN ODOM: Yeah, I mean, I don't really think about my career, honestly, related to that. There have been a lot of games played that I've been fortunate to be a part of both as an assistant coach, a young assistant coach, and obviously now a head coach at three different places.
That game was special, though. That game was special. The game before that was even more special, to be honest with you, because we had to win our conference championship in order to even make it to the NCAA tournament.
Vermont is obviously in the NCAA tournament again this year. I'm close with their coach. John Becker is an amazing coach, has an amazing program there.
For us to win that game on their home court was a special thing. A moment that I'll remember forever with that group of people that I was fortunate enough to be able to coach with and coach in terms of the players.
I'll give you a quick story just in terms of what that team means not only to me but to everyone. We won our first game in our conference tournament this year against New Mexico. It was a late game. We had the last game of the tournament that particular night. I got home at midnight or so. Shortly after, go to bed, we're prepping for the next game the next day against Boise State.
At 5 am I got a barrage of text messages. I probably should have had my phone on silent, but didn't. It was just a group text message that one of the former coaches had put together, it was all about the five-year anniversary of us winning that championship game.
Literally I couldn't go back to sleep. This time of year, it's really all year to be honest, when you're a coach in college basketball, it's hard to sleep. I started looking at my phone. I literally was in tears not from an emotional standpoint, just laughing.
It was all memories from that particular season, pictures, I don't know what you call 'em, but a picture of a coach, then a tagline on there. It's like the players making fun of the coaches type deal (laughter).
It was so fun because it reminded me of why we do this, right, and why we coach. It's to have those interactions, to have those special memories.
Each team that we're fortunate enough to coach has one life to live. That particular team lived a great life. The joy that that team experienced was unlike any other. Certainly the memories that we'll all take from that particular season will last a lifetime.
I still talk to my former A.D. there, my president there. UMBC is still along -- they're with us here and following Utah State. That's the cool part of about college athletics. It's just fun to be a part of this. This is what all coaches and players want. They want to be a part of March Madness and the upset. Certainly we were fortunate to do that.
Will a 16 ever beat a 1 again? I have no idea. It takes a special group. It takes a lot of luck in order to have a chance to win any game in the NCAA tournament.
I mean, winning thing is for sure: if you're fortunate enough to make it to the NCAA tournament, you're going to play a great team, a team worthy of being in this tournament. That team that we were fortunate enough to coach at UMBC certainly was worthy of being in the tournament, and it certainly is a memory that will last a lifetime, for sure.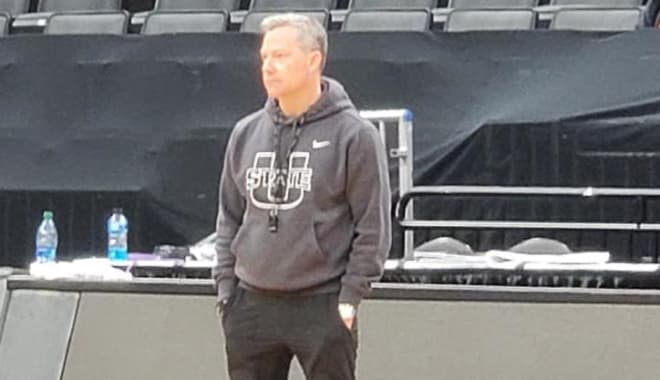 Q. Your players seem to say multiple times how good the Mountain West is, this has prepared us for this. A lot of people outside make a distinction between levels of conferences. Is that something you want your guys to use as motivation going into a game against a high major team?
RYAN ODOM: Yeah, I mean, I don't think we really worry about where a team's from at this point, right? We know that Missouri is more than ready to play in the NCAA tournament regardless of which conference they're in. They played in an awesome conference, one of the best in the country. They were just playing against the No. 1 team in the country not too long ago.
They fared well. They've earned their way here. Coach Gates and his staff have done an amazing job in a short amount of time, in year one, to be able to be where they're at right now, that's not easy to do. It takes a special group to do that.
I love their team. Absolutely love their team. I love the way they play. They're fearless. They play loose, they play confident. They have big-time individual players. Obviously Brown is a tremendous player and will be fun to watch in the NCAA tournament.
But our guys, they've done this all year. They've just focused on what's right in front of them and they've been present and in the moment. We've certainly encouraged them to do that. I have no doubt that they'll do that in this particular game.
There's a lot of emotion that happens as you're preparing and as the ball gets ready to be tipped in the NCAA tournament. That's what it's all about. That's why we do this, is for these moments, to be able to play.
I know both teams are going to be fired up to go at it. The two styles are similar but different, right? Similar but different at the same time. It's going to be a fun game.
Q. You got four great captains here. They were talking about how they take the mentality of you got 15 leaders on that team. How does that help you as a coach, help your team making a run in the post-season?
RYAN ODOM: It's huge. It takes everybody to win. Our conference tournament, certainly, all year has told us that, right? Rylan Jones, I wanted him to have this moment right here. Even though he's not playing, I wanted him to experience what being in the NCAA tournament is all about.
Nobody wants us to win more than him. This kid is a true Aggie. His father coached at Utah State. He grew up in that gym watching all the former Aggies play. Making it to the NCAA tournament.
For him to still be a part of this team, an active part of this team, a leader of this team, is huge. So for him to be able to do this and then shoot with the guys out there in the practice, that's everything to me. It's going to make me smile.
What also makes me smile is a guy like RJ Eytle-Rock who has stepped in for him. RJ came with us from UMBC. We didn't make it to the dance. We were close. One of the reasons that he came out here with us is because he wanted a good shot at it. Not that we couldn't have made it there, I think we could have.
To see him smile the other day when our name was called, that's everything for me. To have Dan Akin here, as well, who was with us at UMBC, the last remaining player that played in that Virginia game, jumped center that night. For him to be able to experience this with us again is going to be really rewarding.
Taylor Funk, one of the reasons he came to Utah State. He wanted to be in this moment. We're here because he chose to come, because Dan chose to come, and the guys chose to stay once the transition happened.
We've been very fortunate in that we haven't had a lot of turnover. So one of the keys for our team is just the connectivity that we have. We can't just have one leader, four captains that are sitting up here. We have to have everybody in our program dialed in, pulling in the right direction, focused on our team being its best.
I think we've had that all season.
Q. What about Missouri's offense and their style can be unique, maybe make for a challenging scout?
RYAN ODOM: They have five guys out there that can dribble, pass and shoot. Quite honestly, that's what we love, too. This team doesn't necessarily have that, our team. Last year's team did. We had five guys at all times that our center could initiate offense and bring it up. They have that.
Certainly it makes it extremely challenging. It's more like an NBA style because of that, they have multiple guys on the court, five guys at all times pretty much, that can initiate. They have a couple of lineups that don't, but the majority of them do. So it makes it really challenging.
You've got to know the personnel. You might not be matched up with who you start on. Knowing who you're guarding is going to be really important. They really challenge you in a lot of different areas. Obviously the defensive intensity that they play with, the ability to turn you over, is always concerning when you're playing a team like that 'cause they can turn your bad offense into baskets like that.
Then they challenge you with help defense. They drive to the basket. They're really efficient from two, but they're also really efficient from three. That's why they're one of the better offensive teams in the country.
They're hard to stop because of that.
Q. Who would you compare Missouri to? Are they similar to any Mountain West team?
RYAN ODOM: They've got a little bit of New Mexico in them in terms of the pace at which they play with on offense. They've got a dynamite -- all of their guys are capable of stealing the ball, but certainly 5 for sure is very similar to House from New Mexico. He's got amazing instincts. Pokes balls away all the time. He's an incredible defender, great offensive player, too, but incredible defender. They have a little bit of UNLV from a defensive perspective as well.
Another team that we played, Oral Roberts, from an offensive perspective, they're very similar to Oral Roberts in the way they stretch you behind the line, but also have guys that can get to the basket off the bounce. When you have teams like that, that put so much pressure on you at the rim but also have the ability to really shoot the three from deep, it makes it really tough 'cause you have to make some decisions there.
They're really tough on both sides of the ball. It's going to be a hard game.
Everyone on here already has insurance (or they should). Everyone on here also cheers for the Tigers (or they should). In college sports the hot button issue is NIL. A school can no longer compete the way they did just a few short years ago without a robust NIL collective. In our economy, the hot button issue is inflation. Here's your opportunity to see about saving money on something that the state requires you to have on your car and your lender requires you to have on your house. Oh and by the way, just a quote from James's office will get a donation on your behalf to PowerMizzou's fund with Every True Tiger Foundation, Mizzou's preferred NIL collective. Blink if you like saving money. Blink twice if you want to do everything you can to position your favorite college program to be as competitive in the SEC as possible. Give James's office a call at 314-961-4800 or get a quote online at carltoninsurance.net.
"If your insurance costs a leg and an arm, call James Carlton State Farm."