First Look Notebook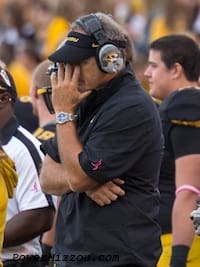 Missouri travels to Orlando to face Central Florida on Saturday at noon Eastern time. The Knights enter the game 2-1 off a bye week while Mizzou comes in 2-2 after a 31-10 loss at South Carolina. UCF was a 2 1/2 point favorite as of Monday morning.

Yes, you read right. The Tigers are an underdog to a CUSA team. But there are reasons for that. First of all, three to four points are generally given to the home team on any betting line. That means oddsmakers see this one as a virtual toss-up.

Beyond that, the numbers favor Central Florida. UCF has scored more points per game (35 to 29), given up fewer (21.7 to 25.5), thrown for more (230 to 199.5), rushed for more (159.7 to 149.5) and given up fewer passing yards (188.3 to 210.5). The Tigers' only major statistical advantages come in run defense (107 to 159) and turnover differential.
Missouri has played two top ten teams in Georgia and South Carolina, as well as Arizona State. Jeff Sagarin has Missouri's schedule ranked as the nation's toughest so far. UCF did play at Ohio State, but the other two games have been against Akron and Florida International.

The Tigers are 1-2-1 against the spread while the Golden Knights are 2-1.
A Need to Look Long
After the Arizona State game, both
Gary Pinkel
and
David Yost
stressed a need to throw the ball deep more often. However, the Tigers did little of that in the 31-10 loss to South Carolina.
James Franklin
averaged just 5.1 yards per attempt and threw precious few passes more than ten yards past the line of scrimmage.

"Generally when you get the ball downfield, you have to have time," Pinkel said after the loss to the Gamecocks. "You've got people coming off the corner that are very talented and you know that you're going to have a limited amount of time. That's why you try to do everything you can to avoid third and tens, third and nines, third and 11. Because you've got to have time for it to develop."

"They rushed pretty good," Franklin said. "They've got good guys up there and they got a little bit of pressure. They dropped back so they made us make our own mistakes and that's what we did."
Given the struggles to block up front, Pinkel was asked about the possibility of keeping extra blockers in to help give his quarterbacks more time to throw.
"We tried to do that a little bit," Pinkel said. "But also, you've got to get enough people out where you've got a chance to get people downfield. When you bring somebody in, they bring somebody in. You bring another person in, they bring another person in. It's still a cat and mouse game. We did that a little bit, kept our back in at times, tried to help ourselves a little bit."

Missouri ranks 98th in the country in passing efficiency.

No Quarterback Controversy

After the South Carolina game, Pinkel headed off one of the biggest questions from Missouri fans before it was even asked.
"James Franklin's our starter," he said.

Franklin has had the two lowest outputs of his career in terms of total offense this season. He had just 170 total yards in the opener against Southeastern Louisiana and a career-low 98 against South Carolina. That was the lowest total by a Missouri quarterback since Brad Smith had just 95 yards in a 35-14 loss to Kansas in 2003.
For the season, Franklin has completed 61.3% of his passes for 492 yards (6.3 per attempt). He has run for just 70 yards on 41 carries.

But as much as Franklin's struggles are contributing to the chatter of a quarterback change among fans, so are
Corbin Berkstresser
's successes. Berkstresser has completed 61.1% of his passes for 312 yards (5.8 per attempt). He has run for 55 yards on 25 carries. That's not a great number, but he is averaging a half-yard more per rush than Franklin.

Against Southeastern Louisiana, Berkstresser completed all five of his passes and led two touchdown drives. Against South Carolina, he hit on 7-of-8 for 54 yards and Missouri's only touchdown. Berkstresser's least impressive performance came against Arizona State in his only start. He accounted for 223 yards of total offense in that game (198 passing, 25 rushing), but got a win.

But there remains no question who will start according to Pinkel. Franklin, assuming he is healthy, will get the nod against the Golden Knights.
Nobody covers Mizzou football like PowerMizzou.com. If you are not yet a member, just try out our seven-day free trial
.