Fraudulent or for real? Examining Mizzou's pass defense and the test ahead
Chris Turner appeared to be as surprised as most Missouri fans when he heard the statistic: Through three games, the Tigers' pass defense, one of the team's major weaknesses a season ago, ranks second in the country. Missouri has given up just 287 yards in three games, less than 100 yards per contest.
"That's cool as hell," the junior defensive end said. "I didn't know we were second in the country at pass defense."
As excited as he was, Turner went on to say that he doesn't put much stock in that ranking, at least not yet. Missouri has only played three games, after all, and while the defense has been solid against the pass in all three contests, the unit got gashed on the ground against Wyoming, when the Cowboys ran for 297 yards in a season-opening upset. Other Tiger defensive players expressed a similar sentiment during the team's weekly media availability Tuesday, saying, essentially, let's see how the unit fares in its SEC opener against South Carolina on Saturday before celebrating its ranking.
"It don't do too much just looking at stats," senior cornerback DeMarkus Acy said. "I mean, that's obviously a good accomplishment, but we still got more work to do. We haven't played an SEC opponent yet, so we'll see. Up for the challenge Saturday. That's the only thing we're thinking about, South Carolina."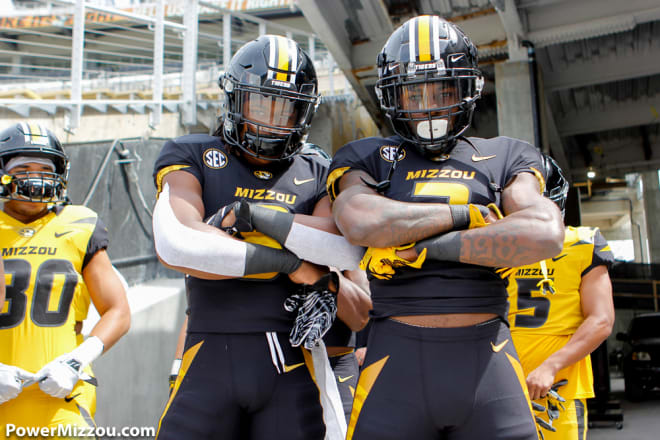 Acy's response illustrates the two schools of thought on Missouri's pass defense so far. On one hand, ranking second in the country, even after playing a Wyoming team that ran the ball on 26 more snaps than it threw and an FCS opponent in Southeast Missouri, shows progress. Last season, Missouri also played Wyoming and an FCS opponent, Tennessee-Martin, in the non-conference, yet in those four games, the Tigers surrendered 280.8 yards per game through the air. In head coach Barry Odom's first two seasons, Missouri allowed 244.4 and 230 passing yards per game, respectively, in non-conference play.
At the same time, this week's matchup against South Carolina and true freshman gunslinger Ryan Hilinski should be much more revealing of how good Missouri's pass defense can be.
Offseason improvements
Last year, Missouri's defense ranked No. 49 nationally against the run and No. 112 against the pass. No surprise, the Tigers made improving their pass defense a top priority during the offseason.
"I feel like that's something we really worked on, even in pass rush and the back end, guys put in a lot of work to make it better over the summer," Turner said.
So far this year, both the secondary and pass rush have shown improvement. According to Pro Football Focus, Missouri's defense earned a "coverage" grade of 72.2 in 2018. Through three games this year, that score is 90.2, No. 6 nationally.
South Carolina coach Will Muschamp praised the length and athleticism of Missouri's defensive backs. He said the Tigers have featured more man coverage this season than in years past, perhaps in part due to the team's scheme tweak from a 4-3 to a 4-2-5 base alignment, which features a third safety rather than a third linebacker.
"They've always been a really good cover-two team since Barry's been there and done a nice job in zone coverage at giving you some different looks and some different adjustments and different ways that they want to get to it, and disguising looks, and I think that they do a really good job of those things and moving around," Muschamp said. "But probably a little more man coverage than we've seen in the past."
Acy attributed the bulk of the improvement to better chemistry among the secondary. Of the eight defensive backs who have played at least 60 snaps through two games, only one, Jarvis Ware, had never started a game entering this season. Ware is also the only underclassman of the group.
"I feel like everybody's just on the same chorus," Acy said. "Everybody's communicating, talking, and we're studying film together, knowing the tendencies of opponents."
"Our guys are playing smart together, they're trusting each other, they're understanding the scheme, and then the ability, because they know the scheme and they know the understandings within the call, they've got the confidence to play fast now," Odom added.
Perhaps even more important, Missouri's pass rush is showing signs of life. The Tigers have recorded six sacks and, according to PFF, another 26 hurries in 61 opponent dropbacks through the first three games. That has amounted to pressure on 42.6 percent of opponents' pass attempts (and that's without defensive end Trajan Jeffcoat, a projected starter who has missed the first three games of the year with an elbow injury). In 13 games last year, the team finished with 13 sacks and 122 hurries in 458 dropbacks, a 29.5 percent pressure rate
Acy has noticed an increase in productivity from Missouri's front four. He praised the pass rush for playing a role in Missouri's four interceptions in the past two games, two of which the Tigers have returned for touchdowns. Turner pointed to the team's 50-0 win over SEMO as evidence of how an effective pass rush can impact a quarterback. Missouri hit SEMO quarterback Daniel Santacaterina six times in addition to its three sacks. As a result, Santacaterina looked skittish in the pocket and rushed throws, resulting in errant passes.
"You could tell, like, he was getting rid of the ball super fast," Turner said. "And I remember when No. 8 went in, the backup, he threw a ball and ducked down, like nobody was really close to him. But once you get a few good hits on a quarterback like that, of course they're going to be conscious of the presence, the heat that we bring. So just try to do that every week."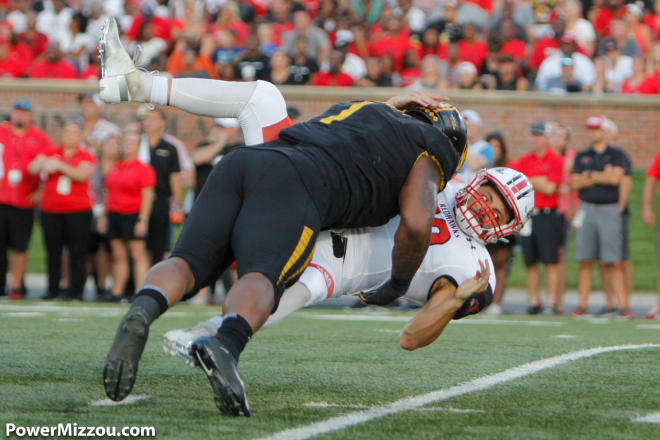 Tougher test ahead
The challenge, now, is to maintain that success against a much more explosive passing attack. Wyoming ranks No. 128 out of 130 FBS teams in passing offense. West Virginia ranks No. 82. SEMO was overmatched in all phases of the game.
South Carolina, meanwhile, has received a spark since Hilinski entered the starting lineup.
In their past two games, the Gamecocks have racked up 775 total yards in a blowout of Coastal Carolina and 459 yards against No. 2 Alabama — the most yardage the Crimson Tide have allowed in a regular season game since Oct. 1, 2016. Hilinski has completed 60 of 87 passes for 606 yards, four touchdowns and two interceptions on the year. Missouri's coaches and players uniformly praised Hilinski, who received a Missouri offer as a prospect, during the team's weekly media availability session.
"He's really talented," defensive coordinator Ryan Walters said. "He's got a good arm, not afraid to take shots down the field, really trusts his receivers, and offensively they do a good job of really protecting him."
Hilinski's adjustment to college ball has been eased by the numerous playmakers around him. South Carolina features a two-pronged rushing attack with tailbacks Tavien Feaster, a graduate transfer from Clemson, and Rico Dowdle. Wide receivers Shi Smith and Bryan Edwards, who caught seven passes for 73 yards and two touchdowns against Missouri last year, are both back from last season. St. Louis native Kyle Markway leads all SEC tight ends with 11 receptions this season.
"They got an NFL receiver, they got a talented quarterback, they got a good offensive line and they've got good running backs," Walters said. "So we're going to be tested."
The key to stopping the South Carolina passing attack, safety Joshuah Bledsoe said, will be to force Hillinski into a few true freshman mistakes. Bledsoe believes the defensive backs should be able to get a jump on some of Hilinski's passes because the quarterback is still learning to look off defenders.
"He's still young, so he's going to be easy to read," Bledsoe said. "He has to watch his eyes and stuff. He doesn't really look off DB's. So we should be able to get hands on a lot of balls."
Another factor in rattling Hilinski will be applying pressure. So far in his young career, Hilinski's numbers have taken a significant dive when he does not have a clean pocket. According to PFF, Hilinski has completed 76.1 percent of his passes for 7.7 yards per attempt, four touchdowns and one interception when not pressured. When hurried, he has completed 37.5 percent of passes for 3.9 yards per attempt and has thrown no touchdowns and one pick.
Ultimately, Missouri's defensive performance against the pass through the first three games of the season does carry meaning. The Tigers clearly improved an area of weakness during the offseason, and as a result, the defense as a whole has the potential to be among the best in the SEC East (Missouri currently ranks fourth nationally in total defense, allowing 218 yards per game). This week's conference opener will go a long way toward determining whether the defense can turn that potential into reality.
"That body of work is just three weeks, so the challenge now is to play better this week than we did last week," Odom said, "and then we line up and get a chance to do it again."