Game at a Glance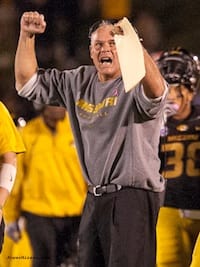 Corbin Berkstresser
got the first start of his college career on Saturday. It ended in a 24-20 win over Arizona State. But after the game, it was the guy Berkstresser replaced who was the bigger story.
On Friday, news broke that
James Franklin
was questionable for the game. There was confusion over the specific problem, but the word from Missouri's training staff after the game was that Franklin has an inflamed bursa sac in his right shoulder. That is the same shoulder Franklin had surgery on this spring, but
Gary Pinkel
said there was no structural damage.
"It was going to be a game time decision," Pinkel said after the game. "It was just too painful for him and he didn't want to play. Between him and the medical staff, they make those decisions, I don't make those decisions.
"I was hoping James could play, but he didn't feel like he could do it."
Pinkel was asked in the pre-game interview about speculation that Franklin had refused a pain-killing shot that would potentially allow him to play.
"He...chose uh not too so that's, that's his choice," the coach said.
After the game, Pinkel was asked again about whether Franklin declined to take the shot.

"I'm not going to get into that," Pinkel said. "You're looking for a big story here. It's no big story."
Pinkel said Franklin could have taken snaps at the end of the game to run the clock out had it been necessary but that freshman
Maty Mauk
was the backup quarterback for the game against Arizona State. Neither had to be pressed into action as Berkstresser took all 88 offensive snaps. It was the first time since Pinkel's first season in 2001 that Mizzou has not had the same quarterback start every game. That year,
Darius Outlaw
broke his hand in the opener and
Kirk Farmer
started the rest of the season.
Questions were posed to the Tigers about whether Franklin's choice not to take the shot and play raised questions in the locker room.
"That's up to James. I have no problem with that. That's up to him," Pinkel said. "I don't have any questions about his toughness at all."
"It doesn't raise any questions,"
Kendial Lawrence
said. "If he was in that much pain, it was serious. James, he's a tough guy and we know he would have played through it if he could have."
"Last year, a lot of the time he wasn't playing a hundred percent and I know a lot of people criticized James last year because he wasn't making a lot of plays downfield and stuff, but a lot of people didn't know he was hurt all year last year,"
Marcus Lucas
said. "This year, he's just trying to be smart about it and be a hundred percent for us, for the team. I don't think it's a selfish thing at all."
"The trainers, the doctors can look at you all you want. They can feel you and touch you and scan you and everything, but when it comes down to it, it's you and your body," said
Jack Meiners
, who played at less than 100 percent for about 20 snaps on an injured knee Saturday night. "You know how you feel. If you feel that you can't go out there and give a hundred percent for your team and put your team in the best position to win, then you know, it's your choice. I know James. James is one of the toughest guys I know. Quarterback, I mean he's probably our second-string running back, to be honest with you. He probably has the second-most rushing yards. He's a tough guy, physical guy and I know that if he could go, he would go. He loves everyone on this team like a brother. If he felt that he wasn't able to go for the team, if he felt that Corbin would give us the best chance to win, I think that was the right call for him to make."
There was, then, one question left. Franklin told a few reporters outside the locker room that he would be ready to go next week. Pinkel said he wasn't going to address that issue yet.
"No clue," Berkstresser said when asked about who would start at quarterback next week. "You know just as much as I do."
Player of the Game
:
Kenronte Walker
. He knocked down a fourth-down pass to preserve a 24-20 lead and then intercepted a third-down throw from
Taylor Kelly
to end ASU's last scoring threat.
Turning Point: It is tough to pin one down because the game went down to the wire. Nothing was decided until Walker's interception.
"It was a game-saving play," Walker said. "But to me, I just feel like I'm doing my job and just doing whatever I've got to do for the team to win.
Play of the Game: After the interception, Walker made only one mistake.
"When he intercepted that ball, I was just telling him, 'Get down,'" Pinkel said. "He knows he's not supposed to run. He's supposed to get down, okay? He got out of bounds and he didn't get hit there, but I was about to tackle him myself."
No harm, no foul. Walker's interception saved the game and put a much sunnier outlook on the rest of Missouri's season.
Cause for Concern
: The special teams.
Andrew Baggett
missed three field goals, but two of them were a result of a bad snap and a bad hold.
"When T.J's fumbling the ball around, all your timing's off," Pinkel said. "It's like hitting a golf ball and all of a sudden you have to pause halfway down and start all over again. I don't know about you, but I have enough trouble hitting it anyways.
"It wasn't like we had a good snap, good hold and he missed it. There's a lot more stuff there that we saw."

The Tigers also had an errant snap on a punt that led to
Trey Barrow
having to throw a desperation pass, which was completed but lost six yards and gave the Sun Devils the ball in Missouri territory. And the kickoffs once again failed to produce a single touchback.
Up Next
: The Tigers travel to South Carolina to face the undefeated and sixth-ranked Gamecocks, who were 49-6 winners over UAB on Saturday night. South Carolina has quarterback questions of its own.
Connor Shaw
left the game against the Blazers after aggravating a bruised shoulder.
Quotable: "You got a redshirt freshman quarterback, a redshirt freshman center, a freshman out of high school left guard, walk-on right guard and a redshirt sophomore right tackle that had never played before, it ain't gonna look pretty all the time...It doesn't matter, we're gonna have to battle through it. Then you throw a redshirt freshman quarterback behind that and it's just, it's a lot of fun. These challenges are just what I look forward to." --Pinkel on his team's injuries.
Nobody covers Mizzou football like PowerMizzou.com. If you are not yet a member, just try out our seven-day free trial
.