Good Phil, Bad Phil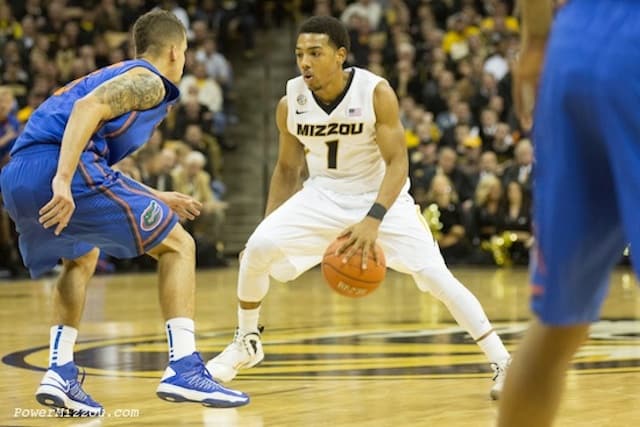 I have seen a lot of Missouri football and basketball over the years. I grew up watching games. I was in school in Columbia for four years and covered the team for much of that time. I've been at
PowerMizzou.com
for nearly ten years now. In all those games, I don't know if I can remember a player as mercurial as
Phil Pressey
.
Sure, it has to do with his standing among the fans. But every team has those "love 'em one minute, hate 'em the next" players. And with sports sites popping up on the Internet by the hour, they have them a lot more now than they did when I was growing up. But I'm talking about Pressey's actual play.
All year long, I have called Pressey the Collin Klein of college hoops. By that, I mean that he may not be the best player in America, but I don't think there is one that is more important to his team. I still believe that.
Pressey's missteps have been well-documented this season. His late turnovers at Texas A&M and Arkansas. Missed shots in the final possession against the Aggies and LSU. Even in wins, many have opined that he has taken too many shots. Even Pressey's best game is a lightning rod. He had 19 points and a school record 19 assists in 44 minutes at UCLA. And yet no one was quite sure whether he was the main reason Missouri should have won the game or the main one the Tigers lost it. In truth, it was probably both.
Pressey is maddening and magical at the same time. Often, in the same game.

Take his effort against Florida on Tuesday night. Through the first 24 minutes and 10 seconds of the game, Pressey had two points, three assists and five turnovers. The messages were already typed and the stories half-written. Phil Pressey can make some plays no one else in America can make. And then he''ll make some no one else in America would make.
And then good Phil showed up. Over the final 15:50 of Missouri's upset of the No. 5 Gators, the junior point guard had five points, two rebounds (he was second on the team with six for the night despite being generously listed at 5-foot-11), seven assists and no turnovers. He drove Missouri back from 13-point deficit without a single mistake against perhaps the best defensive team in America. Yet, on the Tigers' final possession, it was Pressey firing a wild three-pointer that clanged off the glass and gave the Gators a chance (to be fair, Missouri had again gone to the stall offense which, by my unofficial count, has worked approximately 0.0% of the time the Tigers have tried it, and there were also just seven seconds left on the shot clock when Pressey let fly from the right wing). In the end it didn't matter because Missouri won, in no small part due to Pressey charging at a three-point shooter in the corner but not fouling him as his shot went long.
Billy Donovan
summed it up perfectly after the game. He said that when the Tigers and Gators had played in Gainesville (an 83-52 Florida whipping in which Pressey turned it over ten times), Pressey had been "crazy." But on Tuesday, Donovan singled Pressey out as the Tigers' most impressive player.
And so it goes with Phil Pressey. At least once a game, he will make you tear your hair out. And at least once a game he will make you pick up the phone to ask a friend, "OMG did you see that pass Pressey just made?!?!?"
I have seen Pressey go 3-for-19 from the floor in a game in which I had no doubt he was the best player on the floor. I have seen him go for 19 and 19 in a game in which I wasn't even sure he was the best point guard on the floor. How do you wrap your brain around a player like that?
It has taken me 26 games to reach this conclusion, but here's what I've got: The up-and-down roller-coaster ride is Pressey's game. He can't play any other way. He goes 150 miles per hour all the time. Sometimes it creates beautiful basketball. Others it turns into a devastating train wreck.

Missouri plays in Rupp Arena in a nationally televised game on Saturday night against Kentucky. Phil Pressey might take 24 shots and he might take two. He might have 15 assists and he might have ten turnovers. Hell, he might have both.
I have no idea what to expect when Pressey brings the ball up the court. What I know is this: He is Missouri's main man. The Tigers have to have him on the floor. Without him, they don't beat Florida or Illinois or VCU (their three best wins this year). It will not be a smooth ride. Months, maybe years, will be taken off your life watching it. But this is a Tiger team that still has a chance to do some big things. If it happens, it will be largely because of Phil Pressey.
Pressey is at times the best point guard in college basketball. Except when he appears to have completely lost his mind. Every game is a mental and physical tug-of-war between Good Phil and Bad Phil. Both keep you on your toes, both will do things you've perhaps never seen on a basketball court. And both hold the key to just how good this Missouri season will be.
Nobody covers Mizzou basketball like PowerMizzou.com. If you are not yet a member, just try out our seven-day free trial
.