Growing pains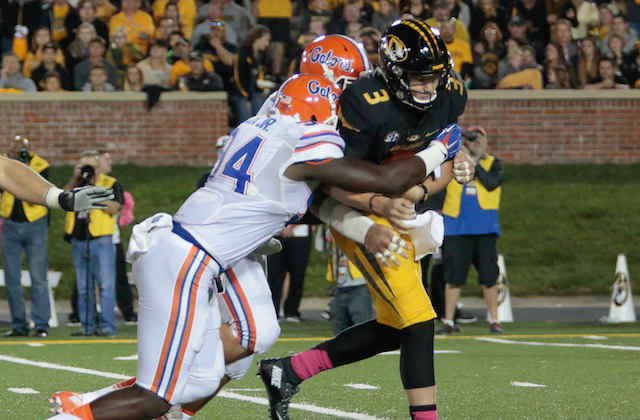 The youth of Missouri (4-2, 1-2 SEC) showed early in a 21-3 loss to 11th-ranked Florida (6-0, 3-0) on Saturday.
But the youth of Missouri, a team dotted with freshmen and/or sophomores at every level of both offense and defense, showed most glaringly at quarterback.
"It's hard on young quarterbacks, man, when you're giving a bunch of different looks," McElwain said. "Believe me."
Yet Missouri knew Florida disguises coverages often. The offensive players and coaches talked about that on Monday; Lock said as much after the game.
"We knew that most of the time they'd start out in one thing and change to another," Lock said. "That's something I had to keep my head on. It was tough. That's the first time I've played against a true defense like that. In high school, we just - Base 3, Base 4, Base 2. They're starting to roll to things. I mean, South Carolina rolled to things, too, and we did just fine. It was pretty much execution today."
"I thought I could get it by him," Lock said. "Didn't necessarily think they'd be playing 2-man, like I said. Not one of their most-popular coverages."
It's a season full of new experiences for a younger, more inexperienced Missouri team. Lock continues to embody that reality best. He was hit early and often for the first time in his short career, getting sacked three times and hurried five more.
"Like I told Connor (McGovern), he was apologizing," Lock said. "Shoot, I'm a fresh body, man. Use me while you can. It's not that bad actually. A couple of them are like, 'Oh, crap. That's a grown man hitting me.
"It's football. That's going to happen."
It's a learning process for Lock and the Tigers. After the first loss of his starting career, that's the message that Gary Pinkel passed on.
"Keep your head up," Lock remembered Pinkel saying. "It's growing pains. You'll be just fine."