Haith receives NCAA notice of allegations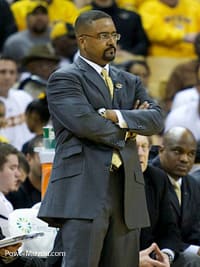 More than a year-and-a-half after the NCAA began its investigation into the University of Miami,
Frank Haith
has the first step toward closure as of Tuesday night.
"I did get a notice of allegations," Haith said after Missouri's 63-60 win over Florida. "Contrary to what was reported there was no unethical conduct in my notice of allegation and it is just an allegation so we get a chance to defend ourselves."
Just months after being hired by Missouri, Haith was named in the NCAA's investigation into the University of Miami, where he had been employed prior to Missouri. The most serious allegation was that Haith had knowledge of a $10,000 payment to the family of then-Hurricane recruit Daquan Jones.
On January 21st, Jeff Goodman of CBSSports.com reported that Haith would be charged with unethical conduct and failure to promote an atmosphere of compliance as a result of the investigation. Those charges could have carried penalties as severe as a show-cause, which would have put Haith's future at Missouri in serious jeopardy. Absent that charge, any potential sanctions against Haith and Mizzou are likely to be much less serious.
The same week of Goodman's report, the NCAA revealed that some of the evidence in the case had been gathered improperly. That put the results on hold for another three weeks.
On Monday, the NCAA announced that it had completed an investigation of its own investigation. The result was that approximately 20% of the evidence was tainted but that the investigation was moving forward. News broke in the middle of Mizzou's game against Florida that Miami and "some coaches" named in the investigation had received notices of allegations from the NCAA.
Athletic Director Mike Alden had just been informed that Haith and his attorneys had received the notice and had not even seen it when he spoke with reporters.
"He let me know just a little bit ago," Alden said. "I'll be glad we'll get a chance to work together with Frank, to be able to look through it."
Miami President Donna Shalala has gone scorched earth on the NCAA over its handling of the investigation each of the last two days. Alden stopped short of that approach.
"Shoot, after 20 months, I think all of us are just pleased. Good, let's go ahead and get this and deal with it and move forward," Alden said. "I'm looking forward to working with Frank for a long time and he's done great things here with us. We look forward to continuing to do great things.
"20 months. Are you kidding? I mean, 20 months. How interesting this process has been if I may say it that way."
Alden will be travelling tomorrow, but said that representatives from Missouri will be available to the media after having a chance to view the notice of allegations.
"The biggest thing I want to tell you," Haith said. "I'm glad this thing is almost over with."
Nobody covers Mizzou basketball like PowerMizzou.com. If you are not yet a member, just try out our seven-day free trial
.