Hill, Henson will assume new roles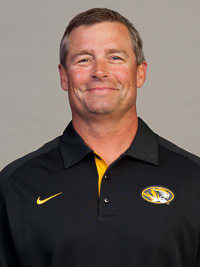 As reported earlier today by
PowerMizzou.com
, multiple sources are confirming that Missouri is set to hire
Josh Henson
as its next offensive coordinator. Henson will succeed
David Yost
who resigned the position last Monday after four years.
Yost had also coached Missouri's quarterbacks.
PowerMizzou.com
has learned, in addition, from multiple sources close to the situation that wide receivers coach
Andy Hill
will coach the Tiger quarterbacks going forward.
That leaves the Tigers still one coach short. It is presumed that Missouri is now in the market for a wide receivers coach to take Hill's spot.
Henson came to Missouri from LSU in 2009 and has served as the co-offensive line coach, along with
Bruce Walker
. He spent four seasons in Baton Rouge and, before that, four at his alma mater, Oklahoma State. Henson coached tight ends and served as the recruiting coordinator at both of those stops. Henson also sat in the coaches' booth with Yost during games over the last few seasons.
Missouri had a top-15 running game in 2011, but the offense sputtered throughout 2012 due in large part to injuries at both quarterback and along the offensive line.
Hill has been a wide receivers and tight ends coach for the majority of his career. He played wide receiver at Missouri in the early 1980's. Hill has served as both a head coach at Hutchinson Community College and a co-offensive coordinator at Mizzou under Larry Smith in 2000. He has never exclusively been a quarterbacks coach, but multiple people that know Hill have told PowerMizzou.com he is more than capable of coaching the position.
At this point, it is unknown whether Hill or Henson will have any additional duties or titles, such as associate head coach or recruiting coordinator, added to their new positions. It is also unknown what changes will be made in their existing contracts. In 2011, the last year the information is available, Henson made $221,500.08 at Missouri. Hill made $232,500.

Due to a mandated five-day waiting period after the job opening is officially posted, Missouri will not officially announce any hirings until Monday at the earliest. PowerMizzou.com will continue to keep Tiger fans updated on the latest information regarding the coaching moves.
PowerMizzou.com senior staff member Pete Scantlebury contributed to this report.
Nobody covers Mizzou football year-round like PowerMizzou.com. If you are not yet a member, just try out our free trial.