Huskies put Mizzou in a hole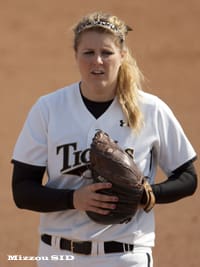 In a game that featured dazzling defensive plays through the first five innings, it was Missouri's defense that broke down and ultimately led to a 2-1 loss to Washington in Thursday's Super Regional opener.
"I thought Chelsea pitched well enough for us to win the game tonight," Ehren Earleywine said. "Made a couple of defensive miscues that cost us. In a game against a team like that in this type of a setting, championship play, it's always that one little mistake that costs you because it's such a close ballgame."
The Huskies got singles from the first two hitters of the game. A wild pitch from Chelsea Thomas moved the runners to second and third, but the Tiger ace worked out of it with an assist from shortstop Corrin Genovese. Genovese recorded the first out on a diving stab of a ball up the middle. Thomas followed that up with a strikeout and a pop up. Washington would not get a runner to second base again until there was one out in the seventh.
But in that seventh, a leadoff walk and a wild pitch had a Husky runner at second with one out. An error by Princess Krebs, who has started the last five games at third base after starting only two there all season, put runners at the corners. Catcher Shawna Wright, a .278 hitter on the year, drove in the game-tying run with a single off the glove of a diving Genovese.
"Fielding is a lot like hitting," Earleywine said. "You can get into defensive slumps. In (Krebs') defense, I haven't played her a lot this year so she's probably knocking some of the rust off trying to get comfortable. That being said, those are plays that I think she can make. I'll have to sleep on it tonight and think about what we're going to do tomorrow."
"It is frustrating," Thomas said. "But I kind of started the inning off myself. I have to be accountable for that, for the walk. There's a lot of what ifs that could have happened in that game."

Thomas had thrown 20.1 consecutive scoreless innings in the postseason for the Tigers. She was unable to start a new streak in the eighth.
Kelli Suguro started the inning with an infield single and confusion at first base led to a throwing error on Kelsea Roth.

"I misplayed a ball and threw it when I shouldn't have," Roth said. "That's about all I can say about it."
Washington's leading hitter, Victoria Hayward, then lined a double to right center to score Suguro with the winning run.
The only hitter who spent much time on the basepaths was Missouri leadoff hitter Emily Crane. Crane started the Tiger sixth with a walk, the third time she had reached base in three at bats. Crane was at second with two outs when Angela Randazzo singled off Kaitlin Inglesby's glove to move her to third. Roth then drove in her 43rd run of the season on an infield single to the hole between third and short.
But Missouri never mounted a threat after that. Bryana Walker retired the last six Tigers in order to pick up the save.
"They thought they were going to come out here tonight and flip some magical switch and be great. It just doesn't work like that," Earleywine said. "Yeah, Chelsea probably didn't pitch her best game. She missed her spots a couple of times and walked that last batter and whatever. Yeah, we made a couple of errors. But good heavens, we've got to swing the bats. Washington has a couple of good pitchers. They're not Olympic caliber type kids. We made them look like that tonight."
The loss put the pitching starved Tigers in a tough spot. Thomas not only had to throw extra innings on Thursday, but now likely will have to pitch--and win--two games tomorrow if Missouri is to move on to the Women's College World Series for the fourth time in five years. She will start game two against the Huskies tomorrow at 5 p.m.
"I'm ready to throw two games tomorrow," Thomas said. "I feel like our team will make the adjustments tomorrow. We've got six seniors that aren't ready to be done."

"We've got our backs against the wall," Earleywine said. "Tomorrow, we'll see what this team is made of."
Missouri is now 38-12 on the season; Washington is 42-15. PowerMizzou.com will provide complete coverage throughout the Super Regional.
Nobody covers Mizzou sports like PowerMizzou.com. If you are not yet a member, just try out our seven-day free trial
.