Karam excited to see Missouri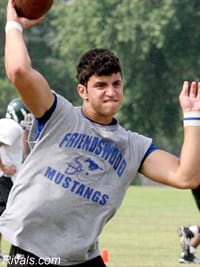 Karam said that Ebner has been talking to him about the Tiger program quite a bit lately. The two friends will make the trip to Columbia for the April 19th Black and Gold game together.
"We've known each other pretty much our whole lives," Karam said. "He has been the leader of our football team the past couple of years. I look up to him a lot and we always work out together."
While Ebner will certainly be one of the main draws for Karam to go to Columbia, he admits it is another Tiger who makes the school attractive.
Like Daniel did in high school, Karam runs the spread attack at Friendswood. In the last two seasons, he has thrown for 4,268 yards and 46 touchdowns. Karam said the offensive system will certainly be one of the factors that will play a role in his college decision.
"The most important thing I'll ask is if I'm not playing football, could I see myself going to college here," Karam said. "Football wise, offensive system, the coaches and the ability to play early will be the most important."
Karam also holds offers from Arizona, Houston, Stanford, Iowa State and Rice. He said he would like to have a decision made prior to the start of his senior season.