Lamar starts season strong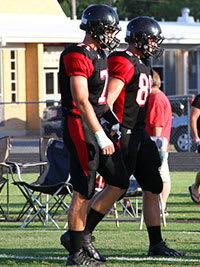 LAMAR, Mo. -- It is not always going to be this easy for the Lamar Tigers. They started their season on Friday, August 30, in front of capacity crowd at Thomas O'Sullivan Stadium, with a lopsided 75 - 0 win over the McDonald County Mustangs.
Click
Here
to view this video.
The Tigers finished the game with 11 touchdowns. Junior Johnny Brooks scored on an interception return. Juniors Brett McDonald and Colton Divine each scored once running the ball. Senior Ethan Taffner also scored once rushing. But the two stars of the game were seniors Jared Beshore and Levi Petersen.
Beshore, an athletic running back who is hearing from FBS (Tulsa), FCS (Missouri St.) and D2 (Northwest Missouri St.) schools, scored in three different ways. He started the game with a 25 yard scoring run. Next he returned a punt for approximately 65 yards to get his second score of the night. Opening up the second half, Beshore returned the kickoff 86 yards for his third score. Finally, he finished his night with a 20 yard touchdown run through a hole created by 2014 Mizzou commit
Sam Bailey
.
Petersen is Lamar's quarterback and vocal leader. The athletic signal caller, who is hearing from D2 (William Jewell, Lindenwood) schools, opened the scoring flood gates for the Tigers with a short touchdown run. He added two more scoring runs later in the first half to put the game out of McDonald County's reach.
The majority of Lamar's scoring runs came via giant holes that were opened up by the Tigers stout offensive line. A line which is led by Sam Bailey and his twin brother,
Ben Bailey
. The fact that they get to run behind such talented players does not go unnoticed by Beshore and Petersen.
"Oh yeah, it definitely helps. I mean there are some big holes to run through some times. Occasionally I have to make people miss or break a couple of tackles, but that's just part of it. Having [Sam and Ben] up there definitely helps," explained Beshore.
"It's a blessing, honestly," Perersen added. "I have two D-1 recruits blocking for me. It makes my job really easy."
Following the game, Beshore, Petersen, Sam Bailey and Ben Bailey were excited to start the season on such a high note. Their focus, though, had already shifted to their next two games versus conference rivals Seneca and Cassville.
"We felt pretty good. We had a good week of preparation coming in. We were beating the heat in practice. We came out well prepared mentally and physically. Just ready to go," Missouri commit Sam Bailey said. "We have two big games coming up. Seneca and Casville. Besides us they are the next two top contenders in the Big 8."
"Those are the two loses we had last year. We're looking to take it to them next week," added Ben Bailey.
Getting revenge for last years loses will not be easy, but starting the season in such a convincing fashion gives the Tigers a lot of confidence going in to the two big games.
"We just need to focus on going back to work and not being complacent. [Winning 75-0] is what we plan to do every night, but obviously it doesn't always work that way," Beshore said. "We just got to keep working and build off this win."
"Just get more prepared than we did last year. Really get prepared and don't be surprised by anything they do. Put in the work it takes to win and come out on game day fired up and ready to play," added Petersen.
As the season progresses and Sam Bailey gets closer to moving on to Mizzou, he said he is focusing on getting bigger and stronger to be ready for SEC football. Currently, he is listed at 6-foot-6, 252 pounds and he hopes to be significantly heavier by the time he gets to Columbia.
For Ben Bailey, who is listed at 6-foot-7, 232, the goals are the similar. He already holds offers from Army, Southern Illinois and Missouri St. He has also heard quite a bit from Missouri and still hopes that a Tiger offer will be extended to him.
"Get bigger, faster, stronger, and win a state championship," he said.
It will not be that easy, but if Lamar can pull it off it will be their third straight Class 2A state championship.
Nobody covers Mizzou football like PowerMizzou.com. If you are not yet a member, just try out our seven-day free trial
.