Making Fans for Life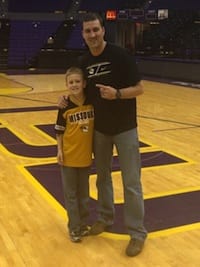 Ryan Tripp describes himself as "not really a big Twitter user." But he might change his mind now. This week, Tripp and his eight-year-old son, Cayden, got a taste of the power of social media in the form of a dream come true.
Tripp, an air traffic controller, is a Lee's Summit native who now finds himself stationed at Keesler Air Force Base in Biloxi, Miss. He wanted to take Cayden to his first Missouri basketball game and decided the Tigers' trip to Baton Rouge to face LSU on January 30th was their best shot. Baton Rouge is just about a 150-mile drive from Keesler.
Tripp planned the trip and bought his tickets. He fired off a couple of tweets to Tiger players
Jabari Brown
,
Laurence Bowers
and
Alex Oriakhi
, who compose exactly 20% of the 15 people Tripp follows on Twitter.
His first tweet in nearly 16 months was to Bowers: "Lifetime Miz fan stationed in MS taking 8 yr old to his first bball game against LSU.Go tigers! (Wish the seats were better)"
Bowers engaged Tripp in an online conversation. After finding out he was in the military, Bowers sent Tripp an offer: "I need u and your son name, would like to upgrade your seats.. I appreciate what u do for our country."
And so it was that Ryan and Cayden Tripp had tickets waiting for them in the visitors' section at the Pete Maravich Center courtesy of the Tigers' senior forward.
"I guess he didn't have good seats, just getting in the building was a big deal for him," Bowers said. "I thought to myself, if I get these tickets I think it would be great if I could move him closer to the floor and show him I appreciate what he does for our country."

"My wife and I were talking about it after Laurence got back with me over Twitter on Tuesday night," Tripp said. "To put into perspective, this is a 22-year old guy and with school going on, working on his second degree, all the things that go with playing collegiate sports, thinking about his future, his taking the time out to connect with me and my son, there's grown men that don't do that.
"For him to do that just stands out. It's a testament to the kind of person he is."
Father and son had already been "blown away" by Bowers' gesture. A bonus was getting to see their benefactor on the court. Bowers scored 10 points and grabbed six rebounds after missing five games with a sprained MCL. It wasn't enough to avoid a devastating 73-70 loss, but the Tiger senior still made sure he sought out Cayden and Ryan on the court after the game.

"It was pretty short and sweet. He was nothing but class, but obviously a loss like that on the road," Tripp said. "Still just nothing but class. Just a nice guy. He had some kind words with my son. I thanked him over and over again. He kept saying, 'My pleasure.'"
"Obviously, I was sick to my stomach because we lost the game, but some things are bigger than that," Bowers said. "That eight-year old, that was an experience that he will never forget. I didn't want to cut his experience short because of my shortcomings. I just wanted to make sure that I went down there and put a name to a face."
"My son has not stopped talking about it all day," Tripp said. "He was definitely starstruck. I don't think he's ever seen somebody that big before. He's watched him a bunch on TV, we don't miss a game, but to see him in person was a very cool experience. The first words out of his mouth when he walked up to Laurence were 'Thank you, thank you, thank you!'"
The move is not out of character for Bowers. This is the same guy who read to Columbia elementary school children at the public library the very night he found out he had torn his ACL and would miss his senior season. For Bowers, it is important to let his fans know he appreciates the support.
"Our fans they're a big reason they're a big part of our success whenever I have a chance to give back, that's what I do," Bowers said. "I can't really do too much, but I do whatever I can."
There is little doubt, Bowers has gained two lifelong fans after Wednesday night.
"This was his first basketball game, but this definitely won't be the last. He's a pretty big fan," Ryan Tripp said of his son. "I would say absolutely Laurence is his favorite player. He was always a fan of Phil Pressey, but Phil might have taken a second place to Laurence after (Wednesday) night."
"He was so shocked. He was scared to even say hi," Bowers said. "He eventually warmed up to me. We talked, I signed a poster that he had made. I think it definitely made his day to have his great seats."
Cayden Tripp has a priceless memory of his trip to Baton Rouge. And in the coming days, Bowers should have something by which to remember his encounter with the Tripps.
"(Cayden's) idea, not ours, was to hand write a thank you note and get it mailed to Laurence in the next couple days," Ryan Tripp said. "Our hope is to keep in touch with Laurence throughout his career."
Nobody covers Mizzou basketball like PowerMizzou.com. If you are not yet a member, just try out our seven-day free trial
.