Martin envisions more ball-handlers, more versatile Tilmon
Last season, Missouri forward Jeremiah Tilmon did not attempt a single three-point field goal. In the Mizzou Arena practice gym Thursday morning, he shot roughly 400. Once he's finished with classwork Thursday evening, he will return and shoot 600 more.
Missouri coach Cuonzo Martin told media members Thursday that Tilmon is working to improve his jump shot by shooting about 1,000 three-pointers each day. At his first press conference since the Tigers' season-ending loss to Florida State on March 16, Martin said a more versatile Tilmon is just part of the changes he envisions for the 2018-2019 squad. He described a team that will spread the floor with multiple ball-handlers and field four to five players at any given time who can knock down perimeter shots.
The comparison Martin gave for his vision? The defending national champion, Villanova.
"I think you look at that program, the ability to have multiple playmakers on the floor, decision-makers, guys that can make shots, guys that can get to the rim, I think if you're able to do those things and defend the way they defend, you have a chance to be a successful program," Martin said.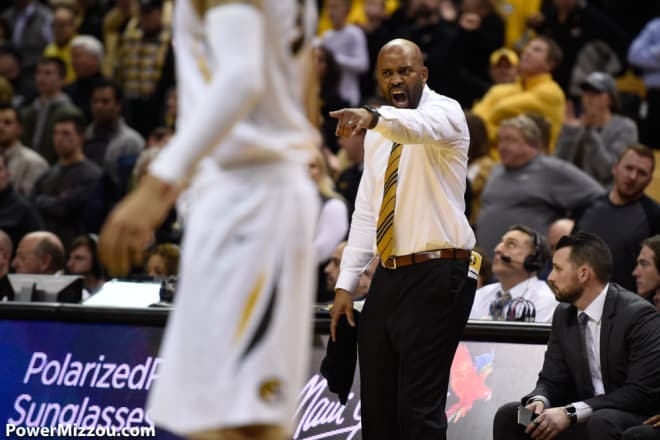 Martin said he has emphasized ball-handling, which the Tigers lacked a season ago, and outside shooting in recruits and potential transfers. Asked what type of players he is targeting with his remaining scholarship openings, Martin responded "guards and wings."
"That means those one through four positions, guys that can play on the perimeter and attack off the dribble, handle the ball," Martin said.
All five of Missouri's current 2018 signees fit that description. Thursday, Martin praised the scoring ability of incoming freshman Torrence Watson and the point-guard play of Xavier Pinson. He also said Illinois transfer Mark Smith, who played point guard, shooting guard and on the wing during his one season in Champaign, will provide the team versatility in the backcourt.
Martin stopped short of saying the Tigers would go full-Villanova — that is, play with four guards at virtually all times and shoot 30 three-pointers per game. He said he would like to still employ two big men at the same time, as long as at least one of those players can shoot from outside. Having two forwards on the floor helps with rebounding, a core value of Martin-coached teams, and can create mismatches close to the basket.
"You still have to rebound," Martin said. "Obviously the four guards is great, but I think if you can get, if you have a guy that can score it around the rim and he demands a double-team, (other teams) still have to defend that."
He also said that Tilmon working on his shot does not mean Tilmon will suddenly become a perimeter-oriented player. He is also working to develop a mid-range jumper and to improve his post play.
"I don't know that that will become who he is as a basketball player, because he's so strong, he's physical and he's really improved around the rim just in his few workouts," Martin said.
However, Martin is not oblivious to the stylistic changes sweeping college basketball. Last season, the Tigers set a program record for most three-pointers attempted in a season. Asked if he expects that trend to continue, Martin smiled and said "shoot them all" — as long as players have proven they can make jump shots in practice.
Tilmon is no different.
"If he can get a lot (of shots) in, he knocks them down, he works on it in practice, he's allowed to shoot them in the game."
Year in review
Asked to reflect on his first year as the Missouri basketball coach, Martin called his team's performance on the floor "good." He stopped short of saying "great" because of a few losses he felt the team should have won.
"I thought there were five games we could have won, and we let them slip," Martin said. "And our guys felt the pain of those five games."
Off the court, however, Martin expressed pleasure with the changes he saw in the team's practice culture. He said at the beginning of the season, two or three players would stay after practice to work on specific areas of their game. By March, it was nine or 10.
He also praised the players for how they handled the constant adversity they faced during the season — from Michael Porter Jr.'s mysterious back injury in the season-opener to Jordan Barnett's DWI arrest shortly before the NCAA Tournament, and other dismissals and losing streaks in between.
"I thought they did a tremendous job and did a lot of different things, and handling those things and really staying the course," Martin said. "You had those bumps in the road and those guys kept flowing, kept pushing, continued to practice hard, every day they put the work in."
No timetable for Jontay decision
Martin said forward Jontay Porter has not been around the team recently because he has been working in Chicago in preparation for the NBA Draft. Porter declared for the draft on April 5 but did not hire an agent, meaning he is still eligible to return to school if he withdraws his name by May 30. However, it is widely assumed Porter will keep his name in the pool.
Martin said he does not have a date in mind by which he expects to know Porter's decision, but the next date to keep an eye on is April 27. That's the date on which players will be invited to the NBA Combine. If Porter does not get invited, Martin expects him to return to Columbia — though Martin said he would be "shocked" if Porter did not earn an invite.
Either way, Martin said Porter has been taking classes online in order to maintain his eligibility, should he decide to return for his sophomore season.