McDonald's All-American Game: Porter Jr. welcomes spotlight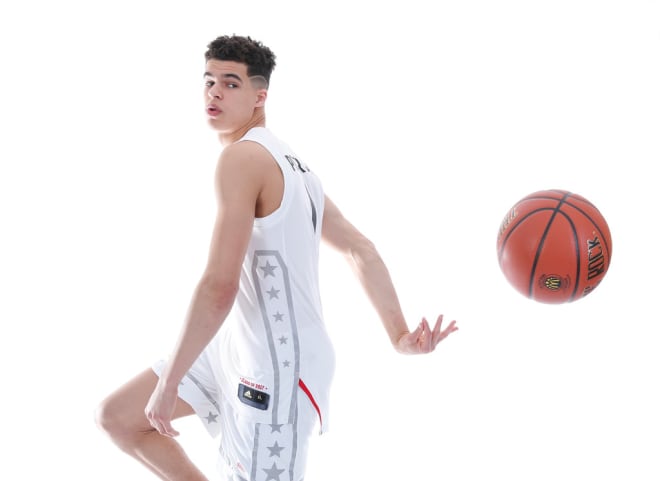 CHICAGO – At the McDonald's All-American Game, 2017's top player Michael Porter Jr. is feeling good. He's the No. 1 player in the country, at the spotlight event of the year, and a wild couple of weeks ended with his commitment to Missouri.
It's now time to have some fun.
"Whoever is matching up with me I'm fine with it," he said. "I just want to kill whoever I'm guarding and stop (who) I'm defending. It really doesn't matter to me as long as my team gets the win."
Porter, who is anxious to change the culture at Missouri and live up to all of the hype that he's generated, had a monster senior year at Seattle (Wash.) Nathan Hale. This week is the perfect cap to his high school career.
"My senior year was something special," Porter said. "We went undefeated and there is no way to go out better than state champs, national champs and with an undefeated record so that was awesome. Coming up here to McDonald's I'm excited for the game, I'm excited for the charity events and it's awesome to be around all of these guys one more time."

Originally committed to Washington where his father was on Lorenzo Romar's staff, Porter is now set in his commitment to Cuonzo Martin and Missouri. He'll still have the opportunity to play for his father Michael Porter Sr., who was hired by Martin.
"I'm very comfortable with the Mizzou program," he said. "I've been around there for years, been in the gym and shot so many shots I can't even count. I've been in the weight room a lot up at Mizzou so I'm very comfortable with all of that.
"Cuonzo is a great coach and a great guy. I also trust my dad, I love my dad so I feel like the opportunity was perfect. You know going home, when I put that out on Twitter I had no idea there were that many Mizzou fans. It was crazy, so I'm excited."
After three straight seasons with more than 20 losses, Missouri fans are hungry for a winner. Porter's commitment has definitely ignited the fanbase and there are some big expectations for his freshman year. He is prepared to deal with them.

"I know how I am as a player and I know what I can do on the court so I'm ok with the expectations," Porter said. "I feel like I can go in there and do some good stuff. I also try to take all of the pressure away. At the end of the day I'm not worried about impressing other people and making other people feel a certain way about me. I just want to help my team win. I'm just trying to take the pressure away, go out there and play my game and I feel like we can do something special next year."
Also factoring into all of this is Porter's younger brother, Jontay Porter. A power forward currently ranked No. 38 in the class of 2018, Jontay had also been committed to play at Washington and has opened things up. The obvious conclusion is that he will end up at Missouri as well and it's a matter of whether he graduates with his early class or speeds things up so that he can play with his older brother by enrolling as a 2017 recruit.

"It's his decision and my parents have never put any pressure on us to do something that we don't want to do," Michael Porter Jr. said. "He's listed some pros and cons to it and is still debating what he wants to do. I don't know the timetable but it would be amazing to play with him."
Finally, all that is left for Porter to do on the high school level is hold onto his No. 1 overall ranking. It's definitely a goal but he's got much bigger dreams than being the best player in 2017.

"It's a goal of mine so it's awesome to reach it but at the end of the day rankings are opinionated so if I go down to No. 2 or No. 3, whatever people say about me I know what my goals are in the end," he said. "I want to be the best to ever play the game so opinions don't really mean that much to me."