Media Day Notebook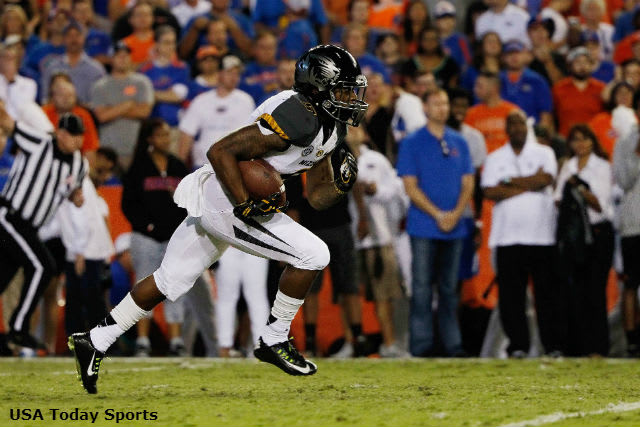 MURPHY, RAY GET SEC HONORS:
The SEC named
Marcus Murphy
its special teams player of the week and
Shane Ray
it's defensive lineman of the week after big days for both players.
Murphy had a record-setting day for the Tigers, scoring a touchdown three different ways -- kick return, punt return and rush -- and setting Missouri's career return record in the process. He also had a career-high 224 all-purpose yards.
Murphy's 82-yard punt return for a touchdown drew the most praise on Monday. On that play, Missouri was in "safe return." That means the entire defense -- save for one safety, who Murphy replaced -- stayed on the field to guard against a fake. Those plays usually result in a fair catch. Instead, Murphy made a handful of Florida players miss as he returned the punt, and then the defense caught on.
Linebacker
Michael Scherer
called it "the most ridiculous thing (he's) seen in (his) life."
"We block, a little bit," Scherer said. "We kind of get a piece of a guy because it's usually a fair catch and then you let them go. We all had got a piece of a guy and then we turn around and Murph's running the ball. We all turned around and started blocking again.
"I don't know if that's ever happened in the history of football, someone running it back on punt safe."
Ray posted a two sack, one forced-fumble and one blocked PAT day. He now has ten sacks on the year, leading the SEC in that category and in tackles-for-loss.
RUISE'S MOMENT HAS SPECIAL MEANING:
Darvin Ruise
had the biggest play of his Missouri career on Saturday, returning an interception 46 yards for a touchdown. What made it more special was the fact that it came in his home state, in font of over 50 family members and friends, including his almost 5-year old son, Dylan.
Ruise said he managed to get 39 tickets for his family and friends, a process that began in the summer by talking to his teammates to get their free tickets for Saturday's game.
"It's super big," Ruise said. "It's such a blessing, to work so hard and to actually see dividends from that work. It's just a blessing, not only to be there in my home state but to help my team, you know, by getting the first touchdown in my college career. It's such a blessing."
After the game, Ruise said his son was aware of how big the moment was, too.
"He was like, 'Daddy, you scored a touchdown!'," Ruise said. "I was like, 'Yeah, man. Yeah, man.' He understands and hopefully he has a lot of touchdowns to score in his future, too."
BRINSER, BAGGETT PROVING THEIR WORTH:
Entering Saturday's game, Florida's
Andre DeBose
led the nation in punt-return average at over 30 yards per return. But with a tag-team effort by punter
Christian Brinser
and kicker
Andrew Baggett
, Missouri mitigated Debose's threat.
Debose finished with 46 all-purpose yards, 40 coming on two kick-off returns. On four punt returns, Debose had six yards.
"I thought our kicking game, itself, was exceptional," Gary Pinkel said. "But certainly, with those two guys, we had some really good individual efforts with those two players and Brinser also, that one 57-yard punt, we cross-field kicked it."
As Pinkel referenced, Brinser used a rugby-style kick to roll toward one side of the field, moving Debose toward that sideline, but then kicked the ball across his body to the other side, away from the returner.
"We hadn't done that," Pinkel said. "That was technique, you don't see too often."
Baggett also went 2-for-2 on field goals, and, topped with Murphy's returns, Missouri's special teams had one of its best performances in recent years.
OFFENSIVE QUESTIONS STILL DOMINATE DISCUSSION: Pinkel grew short as his press conference began with six straight questions about the offense.
The first three questions -- whether the staff changes up how it does things when one side of the ball struggles, if a conservative approach (like the second-half against Florida) could work with the defense playing so well and if there were any promising aspects of Missouri's first half against Florida -- drew vague answers, culminated with a non-answer about the positives from Saturday's game.
"Yeah, we're working real hard to improve our offense, so that's what we're doing," Pinkel said. "That's what we're doing."
Three more questions followed up about the offense, and the answers were more succinct.
Is there a reason Eddie Printz isn't getting more playing time, even in blow-outs?
"No."
What kind of progress has Pinkel seen from
Maty Mauk
, as far as staying in the pocket?
"I thought he did good. Better."
Questions about the defense and special teams and
Marcus Murphy
, in particular, drew more expansive and enthusiastic responses. But after three straight games of offensive struggles that Missouri hasn't seen in years, it should be expected that the problems surrounding that unit are the biggest areas of discussion during media availability.
On Monday,
Maty Mauk
was not available, as a team spokesperson said a rescheduled workout conflicted with his usual media day appearance. Back-up quarterback
Eddie Printz
, who has been requested each of the past two weeks, was also not made available. It also wasn't offensive coordinator
Josh Henson
's week to address the media -- he and
Dave Steckel
alternate Mondays.
So there weren't many answers to be found for the on-going questions that surround the offense. Quarterback coach Andy Hill did talk to the media, and talked about what the team has seen from Printz IF he's ever called on to enter a game down the road.
It's a pertinent question, because -- even ignoring Mauk's struggles -- no one has seen Missouri's back-up quarterback in any kind of in-game setting where he's been asked to do more than just hand the ball off.
"Eddie's done a great job," Hill said. "I mean, truthfully. He's got a good grasp of what we're doing, can throw the football. He's not a guy we're going to run the ball with much, but really, has done a nice job. I think he's got the reads down and he can sling it. If he has to go in a game, he'll be fine."
I'll have more on some of Missouri's pre-snap issues, which resulted in a few delay-of-games -- later this week.
INJURY UPDATE:
Running back
Morgan Steward
has been ruled out for Saturday's homecoming game against Vanderbilt as he still recovers from a hip injury that occurred during preseason camp.
Wide receiver
Wesley Leftwich
missed the Florida game with a groin injury that occurred during practice, but Pinkel said he should be back this week.
Wide receiver
Darius White
returned against Florida after missing two games with a groin injury. He said he's still working his way back to full speed and is shaking off the rust.
"I haven't played in a month," White said. "It felt good being back out there, but I've got to get back in rhythm. That's what I think it is, I gotta get back in rhythm and get the timing down. It's all going to come along."