Media Day Notebook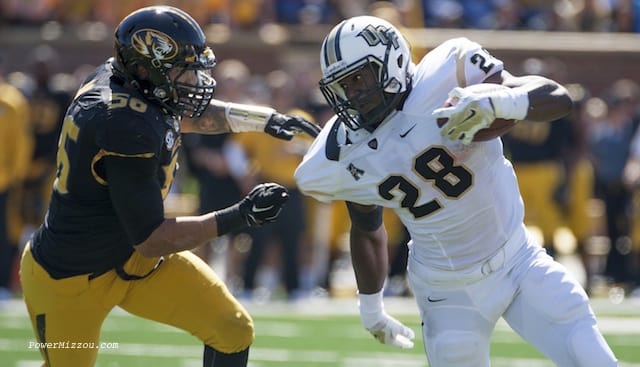 DISMISSAL AT RECEIVER:
Gary Pinkel began his Monday press conference by announcing that receiver
Levi Copelin
has been dismissed from the program.
"First of all, Levi Copelin, who was ruled ineligible previously by the NCAA, to update that, he has been dismissed from our football program," Pinkel said.
Copelin was suspended by the NCAA for a year after testing positive for a banned substance, but he remained on the team and went through preseason camp. He mainly worked with the third and fourth-team offenses during August.
Pinkel, however, would not elaborate on what led to Copelin's dismissal from the program. Copelin was arrested for a misdemeanor peace disturbance in January. He was one of a handful of Missouri football players who were arrested in October 2012 on suspiscion of of possessing less than 35 grams of marijuana, but he -- along with then-teammates Torey Boozer and Dorial Green Beckham -- pleaded the charges down to second-degree trespassing.
ADJUSTING TO LIFE ON THE EDGE: Among Missouri's starting offensive lineman, who has the most starts at their current position?
Evan Boehm
, of course. But the No. 2 guy is left guard
Anthony Gatti
, who now has five career starts at the position.
The question is obviously misleading, but it shows that for all the experience that
Connor McGovern
and
Mitch Morse
posess, they're still adjusting to their new positions of right tackle and left tackle, respectively. Each now has three career starts at their new positions, and they feel like the adjusting process is going well.
"I think, each game and each week, you try to improve on certain things," Morse said. "So I think, each week you get different game experience, you learn more about yourself that you can apply to practice, but I think it's a progression."
"I do feel a lot better," McGovern said. "I felt pretty good after spring ball, just because of the guys I was competing with all spring ball. I was going against Markus Golden, being thrown at tackle like that is an experience, going against a guy like him. It made me better and I'm glad I did it and yeah, now I feel pretty comfortable.
Morse's move has been a complete reversal, where all of his actions are now mirror images of what he learned as the starting right tackle in 2013. McGovern's move, on paper, doesn't seem that daunting, just moving over one spot to his right on the same side of the line. But he said the biggest challenge for him is now having to "work in space."
He compared the switch to the edge as going from operating in "phone booth to a big hallway."
"You're going from really big, strong guys to guys that aren't quite as big but they're fast," McGovern said. "The speed everything happens at -- right off the ball, it's a little bit slower, because you have more space, but when they get to you, it's a lot faster. You have to have a lot more patience at the start, because they're not right off the ball into you. You have to sit there and wait."
While the consistency may not be there just yet in the ground game -- Missouri is averaging nearly a yard less per rush than it did a year ago -- the rebuilt offensive line is performing admirably in pass protection. Through three games, Maty Mauk has been sacked three times, with two coming against Toledo. Mauk's elusiveness has surely saved some sacks, but there were also some coverage sacks (it seemed) in the game against the Rockets.
By comparison, James Franklin -- not a stone-footed quarterback by any means -- was dropped nine times for sacks in the first four games of 2013. The line surrendered 27 sacks all season.
There are still things that Morse and McGovern want to work on as they make their transition. Morse said he wants to work on his technique with his hands and be more assertive with his pass blocking. McGovern said he needs to get rid of some of the tendencies he developed at guard.
"In that space, you can't just run in there with your head down, expect to run over some guy like that," McGovern said. "He has a lot more room to move in, to shed your block. Big thing I have to work on is being that mauler, but being able to do it in space. That's my game and that's one of the bigger things I have to work on."
It's pretty much the same message from their head coach, too. They've done well. They can do better.
"I think they've done a good job," Gary Pinkel said. "They're playing well. I think the whole offensive line needs to improve and get better. We just need to keep working together with those five guys' communication."
RAY GETS ACCOLADES:
After a dominating performance against Central Florida, defensive end
Shane Ray
was named the SEC defensive player of the week. Ray finished with seven tackles, four tackles for loss, two sacks and a forced fumble.
For the season, Ray has 16 tackles, 7 1/2 for loss, with five sacks and the one forced fumble. In three games this year, Ray has more sacks than his entire career -- 4 1/2, all coming in 2013.
"I really worked on the technique aspect of pass rushing," Ray said to reporters on Monday. "Hand fighting, turning your hips, using your speed, counters and things like that. I feel like I want to be an all-around better player. I wanted to be good at not just doing one move, I wanted to be great at doing all moves. I worked really hard and want to continue to try and perfect things."
That's work paying off for Ray. Combined with
Markus Golden
on the other side, Missouri's starting ends have been the most productive in the SEC and one of the top duos in the nation. Combined, Ray and Golden have nine sacks, 14 tackles for loss and 37 tackles.
If Ray and Golden were their own team -- say, "The GoldenRays" -- they would be tied with Texas A&M for second in the SEC with 9 sacks. Currently, they have more sacks than 96 teams in the nation.
SAME OL', SAME OL' WITH INJURIES:
Morgan Steward
's lonely existence on the injury report remains unchanged.
For the fourth consecutive week, Steward is the only player listed on the injury report as he continues to rehabilitate a hip injury.
It looked like he may have been joined by two more running backs.
Russell Hansbrough
and
Marcus Murphy
both did not finish Saturday's game against UCF. Hansbrough became dizzy after a hard tackle in the second half; Murphy slightly sprained his ankle in the fourth quarter.
Both players, however, are expected to play against Indiana.
"Russell Hansbrough could have gone in, again, in the game," Pinkel said. "We just decided, where the game was, that we would not do that. So he's going to be back, which is good."
Receiver
Lawrence Lee
(ankle) and defensive tackle
Matt Hoch
(pectoral) are also exptected to play this week. Both players were pre-game scratches against UCF after suffering their injuries during practice last week.
FAMILIAR FORMATIONS: Missouri's defense studied all of Central Florida's games leading up to Saturday's match-up in Columbia, and felt like they had a pretty good grasp on what the Knights liked to do with the ball.
Instead, UCF came out with a different game plan, one that Missouri's defense hadn't seen on film. At least, not Central Florida's film.
"We had watched all their games last year and their game from this year against Penn State, and I guess in their bye week they decided to put in the Auburn offense,"
Michael Scherer
said. "So that's what that was.
"It was kind of adjusting on the fly."
Scherer said UCF stuck to "a few plays" that Auburn ran, and once the defense realized what UCF was doing, it became easier to pick up on how to stop it. Even though the defense hadn't seen UCF run those plays on film, they've been preparing for moments like that since the end of last season.
"Coach Kool always talks about that, how a lot of teams are going to be doing what Auburn did to us in the SEC Championship," Markus Golden said. "So we expected it. We prepare for it, even in practice, we always run a couple of those plays."
Golden said that Toledo and South Dakota State ran some of Auburn's plays against Missouri, but this was the first time he'd seen a team almost entirely scrap their normal offense for the start of the game to run something completely different.
"For a good portion of the game, yeah (UCF ran Auburn's plays)," Golden said. "Before that game, the other two teams probably used it for five plays each, but that team came out and it actually felt like we were going against Auburn for a little bit."
Not to the same effect, however. UCF ran for 90 yards on 39 carries, 2.3 yards-per-rush. Just a little bit off of Auburn's pace from Atlanta last December.