{{ timeAgo('2023-03-15 18:06:27 -0500') }}
basketball
Edit
Missouri's staff keeping the Tigers ready in March
SACRAMENTO, CA — The Tigers were introduced one by one as they emerged out of the smoke-filled Mizzou Arena tunnel. During Missouri's Selection Sunday watch party last weekend, play-by-play radio broadcaster Mike Kelly, "The Voice of the Tigers," called the name and hometown of every player on the roster as they took their seats on Norm Stewart Court. He did the same for head coach Dennis Gates. The hundreds of fans in attendance cheered after every name was announced.
The team's support staff didn't get the same treatment, though. They walked out of the tunnel together, without any fanfare or applause, and joined the rest of the team on the sideline at center court to find out their NCAA tournament fate.
"That kind of broke my heart a little bit," associate head coach Charlton "C.Y." Young said. "Like, these guys work 24 hours a day. We've got some real grinders on the staff. And you know, being an assistant coach is sometimes a thankless job. The data's skewed — nobody really knows how much work you're really doing, you know what I mean? So I try to make sure these guys get credit where credit is due."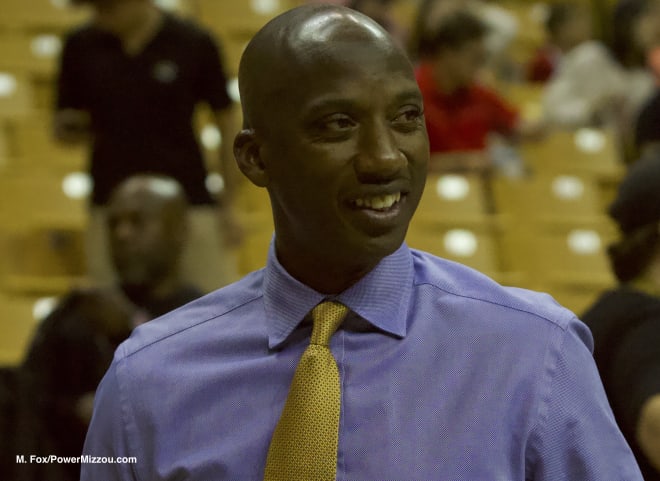 Gates puts a lot of faith in his staff, letting his assistants lead the way in assembling scouting reports for each of the Tigers' opponents. Young said Kyle Smithpeters put together the scout for the team's semifinal matchup in the SEC tournament against Alabama on Saturday. The game plan had Mizzou holding a lead on the No. 1 team in the nation with 14 minutes left in the second half before letting the Crimson Tide race back in front in the closing minutes. David "Dickey" Nutt is taking point on prepping the team for its first-round contest in the Big Dance against No. 10 seed Utah State. Young and Smithpeters are getting ready for a potential second-round matchup, Young scouting No. 2 seed Arizona and Smithpeters doing the same for No. 15 seed Princeton.
Gates was meticulous in putting together his staff after taking control of the program almost exactly a year ago. Young, Smithpeters and Nutt are all former head coaches. Director of Scouting and Analytics Michael Fly was a head coach, too. C.Y. said some young head coaches might be intimidated by having that type of experience around them. Not everybody wants to be challenged, or have their decisions critiqued. Gates, however, has been the opposite. He's always open to new ideas and wants his assistants to feel welcome to bring them to the table.
"If you're quiet," special assistant to head coach Ryan Sharbaugh said, "you don't have a place here."
Gates' open-minded philosophy has helped his staff mesh just as quickly as his players have. Smithpeters said the coaches are able to put their pride aside and collaborate with each other to work through problems the team faces. It's been easier to find solutions when there are five or six voices trying to find an answer rather than just one making every decision.
"A long time ago, (Kansas State head coach) Jerome Tang told me, 'In this business, you don't get to pick who you work with,'" Smithpeters said. "And it's always stuck with me, that's very true. But when you have a guy like Coach Gates, who's very particular, very detailed, you know good and well that you're gonna be working with really good people that do things the right way."
The coaches are locked into making sure the Tigers are ready to play when the ball tips off Thursday morning. There's not much they'll change from a schematic point this late in the season but there will be a few tweaks here and there. For instance, with Utah State keeping a high number of shooters on the floor, the staff needs Mizzou's players to be aware of where they are at all times, especially in transition.
Having a veteran group makes it a little less difficult — six players have reached the NCAA tournament before. But nine others haven't. And of the six who have tourney experience, none have advanced past the first round. It's on the coaches to help them push past any nerves they have to perform at a high level.
"We just try to help our young guys at understanding, 'Just get lost in the hunt. Get lost in us. Just get lost in taking a charge or maybe blocking out. You know, don't worry about anything else, everything will take care of itself,'" Nutt said. "But it's an exciting time, it's the best times of their lives and we try to enjoy every moment. But when we get into a film room, we get onto that practice floor, Coach Gates is the best with getting our guys locked in. And that's what he does the best. And so we're gonna rely on that heavily and be focused on our opponent, but more importantly, what we do. We have to do what we do."
The Tigers (24-9, 11-7 SEC) and Aggies (26-8, 13-5 MWC) take the floor inside Golden 1 Center on Thursday at 10:40 a.m. PT/12:40 p.m. CT. The coaches are excited to see how far they can help the team go in March.
"(Gates is) just a great leader, a great CEO and a great basketball coach and I'm glad the world is finally seeing it," Young said. "But I'm also happy for these young guys on the staff, that people are seeing their talent."
Everyone on here already has insurance (or they should). Everyone on here also cheers for the Tigers (or they should). In college sports the hot button issue is NIL. A school can no longer compete the way they did just a few short years ago without a robust NIL collective. In our economy, the hot button issue is inflation. Here's your opportunity to see about saving money on something that the state requires you to have on your car and your lender requires you to have on your house. Oh and by the way, just a quote from James's office will get a donation on your behalf to PowerMizzou's fund with Every True Tiger Foundation, Mizzou's preferred NIL collective. Blink if you like saving money. Blink twice if you want to do everything you can to position your favorite college program to be as competitive in the SEC as possible. Give James's office a call at 314-961-4800 or get a quote online at carltoninsurance.net.
"If your insurance costs a leg and an arm, call James Carlton State Farm."