Mizzou heading to Houston
The final stop of Missouri's "Keep It Rollin'" Tour has been announced, as the Tigers have officially accepted an invitation to play in the Texas Bowl for the second time in school history.
Mizzou fell to Navy, 38-13 in their first Texas Bowl appearance, during the 2008 season.
The Tigers will face a familiar opponent on December 27th, on former Big 12 counterpart Texas at NRG Stadium in Houston.
Should Missouri win, the Tigers would become just the second team in college football history to win eight straight games after losing five of the their first six.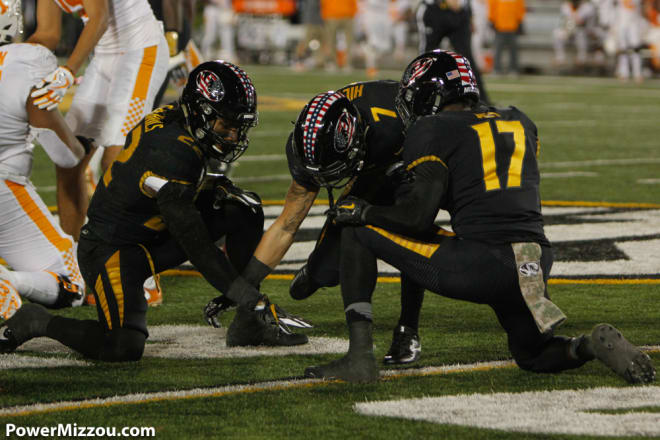 Missouri and Texas' most recent contest came in 2011, when the Tigers overcame a brutal Henry Josey injury to upset the 16th ranked Longhorns, 17-5.
While dormant for the last six years, there is still plenty of hatred between these teams, which was only heightened by an inflammatory comment by then-Texas Athletic Director DeLoss Dodds.
In 2013, Dodds blasted Missouri's football program while discussing the fall of the usual powerhouse Texas football program.
"We're going to have good years again; our bad years are not that bad. Take a school like Missouri, our bad years are better than their good years," Dodds infamously proclaimed.
When Barry Odom was asked if he would educate the team about the former Big 12 rivalry, and more specifically the infamous comment made by Dodds he had a simple response.
"We have respect for everyone that we will play, but there will be plenty of information that our team receives (About Texas)," explained Odom.
Six weeks ago, Missouri was going through a five-game slide and as a result, most fans were calling for Athletic Director Jim Sterk to present Coach Odom with a pink slip.
With fans calling for his job, Odom's confidence never wavered.
"I've always had faith," explained Odom. "We were close in so many football games, we just weren't winning. So I knew it was gonna happen eventually, but I didn't know when.
Six weeks later Odom had his answer, as the six-game winning streak has the fans speaking with a totally different tone.
"Remember the email that I sent you a month and a half ago? Could you have your IT guys delete that for me? I'd rather not have that out there," shared a smirking Sterk.
Besides the obvious opportunity to gain an additional three weeks of practice while also competing for a bowl championship, this serves as a homecoming for the Tigers. Mizzou gets an opportunity to play in a state (Texas) that's served as a major pipeline for talent throughout the years.
"I think this was a match made in heaven," said Sterk.
The Texas Bowl will air on ESPN the 27th of December at 8 pm.