{{ timeAgo('2023-03-13 10:00:00 -0500') }}
basketball
Edit
Mizzou leaning on experience to prep for March Madness
As Mizzou head coach Dennis Gates spoke with media members on Sunday, his staff was already hard at work.
The Tigers found out they were being sent to Sacramento as a No. 7 seed in the NCAA tournament minutes into the Selection Sunday show, taking on No. 10 seed Utah State. The coaches immediately went back to their offices to begin scouting the Aggies, as well as No. 2 seed Arizona and No. 15 seed Princeton.
"We'll break down in thirds, no different than we've done this season. Each assistant will be responsible for a scout, one for Utah State, pretty much, as the primary, but every coach on our staff will have a hand in that. Then we'll figure out that other bracket," Gates said. "Right now, the total focus is Utah State. Without a doubt, that's the most important game. The other most important opponent is ourselves, making sure that we are doing the things necessary from a preparation standpoint, moving into this week."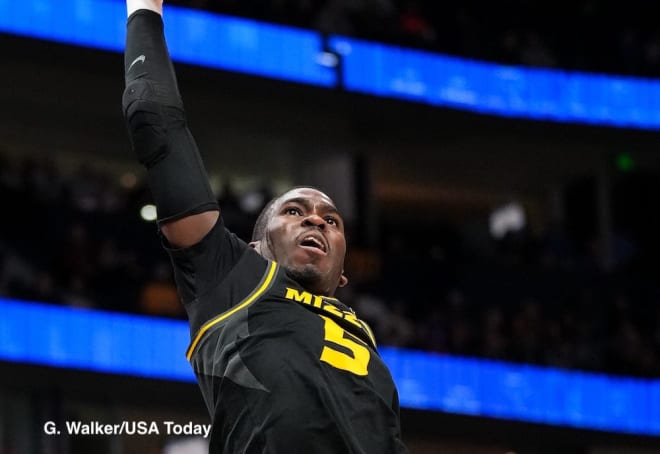 Missouri won't have a shortage of tournament experience. This year will be Gates' 10th time being involved in March Madness, making the Big Dance twice as a player at Cal, another time as an assistant coach for the Bears, five more times as an assistant at Florida State and most recently as head coach at Cleveland State in 2021. Two of his three lead assistants, David "Dickey" Nutt and Charlton "C.Y." Young, have another 10 tournament appearances combined throughout their coaching careers.
Many of the Tigers' players have been dancing, too. Senior guards Tre Gomillion, D'Moi Hodge and Ben Sternberg and junior forward Mabor Majak were all a part of Gates' tournament squad at Cleveland State. Graduate senior point guard Nick Honor made the field of 68 with Clemson in 2021. Senior forward Kobe Brown helped guide Mizzou to its last tournament in appearance that same year.
Any familiarity with performing on the biggest stage in college basketball gives the team an edge. For instance, Gates feels well-equipped to coach his players while they compete over 1,800 miles from Columbia, Mo. When he was a player at Cal, the Bears had to play in Memphis, Tenn., in the 2001 NCAA tournament and Pittsburgh in the 2002 tourney.
"All the experience helps. Whenever you have guys in your program experience tournaments, tournament-style (games), but also situations where you have to travel and prepare, all those experiences matter," Gates said. "Those things count and you just want to be able to prepare the best way you can. This is where all of the things that you've done throughout your year become a reference point. Your strength and conditioning coach, your athletic trainer, your academic team, also your administration, everything that we've been doing thus far is very important moving forward. And we're excited to build out the itinerary so that we can get prepared for our game."
The wealth of knowledge will be especially helpful in teaching the Tigers' first-timers. Nine of Missouri's players will be making their NCAA tournament debut. And while it's an exciting time for all of them, Gates said they have to continue to treat each game like a business trip.
Honor said his advice to his teammates would be to remember that even though the lights are brighter, it's still just basketball. The point guard was bounced in the first round the last time he made the tourney. He wants to make deeper run with his new team. The only way to do that is to take things one game at a time, beginning with the Aggies.
"We just want to focus on ourselves," Honor said. "We're going to continue to do what we've been doing all season, getting skill work in, working with (Director of Athletic Performance) Sean Conaty, just watching film and working on things we need to work on. One thing about this staff, we're gonna watch a lot of film just to learn our guys. We respect everybody, so we're happy to be playing against Utah State. It should be a good game, for sure."
Mizzou (24-9, 11-7 SEC) and Utah State (26-8, 13-5 MWC) go head-to-head on Thursday inside Golden 1 Center at 10:40 a.m. PT/12:40 p.m. CT.
Everyone on here already has insurance (or they should). Everyone on here also cheers for the Tigers (or they should). In college sports the hot button issue is NIL. A school can no longer compete the way they did just a few short years ago without a robust NIL collective. In our economy, the hot button issue is inflation. Here's your opportunity to see about saving money on something that the state requires you to have on your car and your lender requires you to have on your house. Oh and by the way, just a quote from James's office will get a donation on your behalf to PowerMizzou's fund with Every True Tiger Foundation, Mizzou's preferred NIL collective. Blink if you like saving money. Blink twice if you want to do everything you can to position your favorite college program to be as competitive in the SEC as possible. Give James's office a call at 314-961-4800 or get a quote online at carltoninsurance.net.
"If your insurance costs a leg and an arm, call James Carlton State Farm."