Mizzou Memories: The Flea-Kicker
It has now been more than a month since college athletics shuttered in response to the COVID-19 pandemic. No games will be played, by Missouri or anyone else, until at least next fall. But that doesn't mean we can't find sports to cover. In this series, Mitchell Forde is going to bring a fresh perspective to iconic Missouri games. Each week, Mitchell will watch a Mizzou football or basketball game that occurred before he enrolled in college (fall of 2013) and write a story about the contest. Today, in part because of a shortage of full game replays of old Missouri football games, we take a look at one of the most famous games in program history — albeit a Tiger loss.
Setting the stage: After years of futility, Missouri had finally broken through. Midway through the 1997 season, the Tigers had rallied after a 41-11 blowout at the hands of Kansas State and won three consecutive games, including a 51-50 overtime win over then-No. 12 Oklahoma State and a victory over Colorado that clinched bowl eligibility for the first time in 14 years. On Nov. 8, Missouri looked to keep the magic rolling as No. 1 Nebraska came to Columbia, bringing an ABC broadcast and national television audience with it. Tom Osborne's Cornhuskers entered the game favored by 29 points. Missouri hadn't beaten Nebraska since 1978, and not in Columbia since 1973.
I've tuned into a handful of college football games in my lifetime where the energy translates through the screen — where you can tell you're looking at the type of atmosphere that doesn't come around to a given stadium every season. Even 23 years later, I got the same sense after turning on this replay. But one thing, especially, stood out before the opening kickoff of this one. ABC sideline reporter Jack Arute said that he spoke to Missouri coach Larry Smith beforehand about the importance of the game, and Smith apparently "broke down in tears."
Wait, what? Is there anyone out there who knows Smith who can confirm this? I mean, I understand that Missouri hadn't enjoyed a season like this in a long, long time, and just getting this kind of buzz around a home game represented a victory in and of itself. But minutes before kicking off against the No. 1 team in the country, most football coaches would be hyperventilating, still jittery from hyping up the team or freaking out about whether they got enough reps on the two-point conversion play the offense installed that week. I've never heard of a coach shedding tears pregame. But maybe that just shows that I don't appreciate the chasm of ineptitude that Missouri football had worked its way out of in 1997, I don't know.
Regardless, Smith and Missouri certainly didn't back down from the Big Red Machine. On Missouri's first possession, the Tigers sent a message. Do-everything quarterback Corby Jones scrambled for 13 yards on a third down and 14, resulting in a fourth and one from the Tigers' own 42-yard line. Smith kept the offense on the field. Even after Nebraska called a timeout to adjust its defense, Missouri went for the conversion, and a handoff to Ernest Blackwell netted the yard needed to move the chains. The following play, Jones hit Eddie Brooks for a 34-yard completion. After Jones spun out of a sack, ran around the left edge and got pushed out of bounds at the one-yard line, Brock Olivo plunged into the end zone for a one-yard score.
The Nebraska defense had allowed just one touchdown in its past three games combined. Missouri had scored on its first possession, and held the ball for nearly seven minutes in doing so.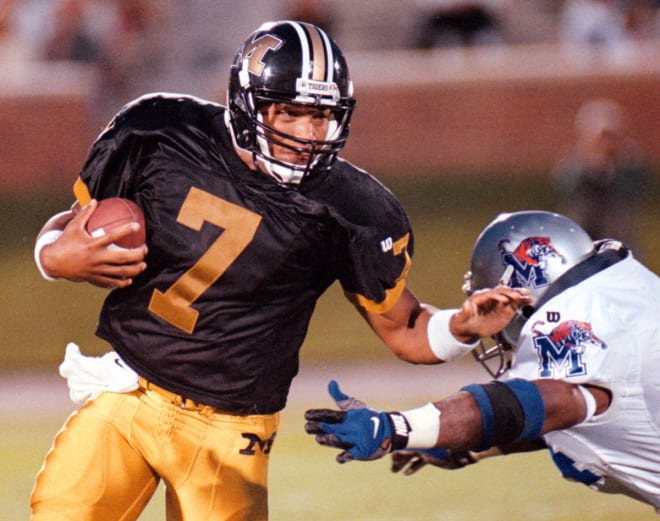 Nebraska's offense, led by current Husker coach Scott Frost, would respond. Actually, it feels a little bit disingenuous to say Nebraska's offense was led by Frost. Frost did play quarterback, but especially in the first half, he hardly ever threw the ball. Nebraska's I-Option offense used Frost and tailback Ahman Green to run behind a massive offensive line on almost every play. The Cornhuskers didn't complete a pass during the first quarter of this game, but that didn't impact their effectiveness. On its first drive, Nebraska went 74 yards in 11 plays, capped off by a 16-yard touchdown run by Frost on a quarterback draw.
Missouri had to punt on its next possession, and after watching that, I realized that going for it on fourth down on the first drive of the game was less ballsy than I originally thought. The Tigers' punting game was dreadful. Jason Smith's kick netted just 24 yards before it was downed at the Missouri 42-yard line. Believe it or not, it wouldn't be the worst punt from a Missouri player in the half — the Tigers used Vince Sebo for a punt later in the half, and his barefoot approach didn't fare any better, as he punted for just 11 yards.
Nebraska capitalized on the field position by marching downfield for another score, with Frost doing the honors again. Missouri got a needed momentum boost on the following kickoff, however, when Ricky Ross found a hole and crossed into Nebraska territory before being brought down. Jones fooled the Nebraska defense with a play-action pass on the first play of the drive, hitting Jay Murchison for 28 yards. Two plays later, Jones hit an open Torey Coleman for a score. Missouri not only tied the game at 14, it proved it wouldn't just roll over.
Once again, the Missouri defense offered little resistance to Nebraska on its next possession. Green scored from seven yards out to restore the Huskers' seven-point lead. Missouri got into Nebraska territory, but a sack from Mike Rucker, older brother of future Missouri tight end Martin Rucker, put the Tigers behind the chains. They settled for a 39-yard field goal from kicker Scott Knickman to make it 21-17.
Finally, on the ensuing possession, Missouri's defense came up with a big play. Frost dropped back to pass (somewhat unnecessarily, since Nebraska had already marched 40 yards on four running plays) and threw deep. His pass hung in the air, and Shad Criss came off the receiver he was covering and intercepted it. Criss returned the ball to the Nebraska 35-yard line. The crowd erupted. On the very next play, Jones faked a handoff and passed to a wide open Olivo on a wheel route. Olivo scored to give Missouri a 24-21 lead that the Tigers would take into halftime.
Missouri looked to keep the momentum rolling out of the break. Nebraska once again turned the ball over when Frost tried to flip a late pitch to Green on the speed option. Green couldn't secure the ball and Steve Erickson fell on it right before it rolled out of bounds. Missouri couldn't answer with points, but a perfectly executed pooch punt by Jones on fourth down — the best punt of the day for Missouri — pinned the Huskers at their own one-yard line.
After three straight drives without points, all the Nebraska offense did to answer was march 99 yards down the field. The key play that sparked the drive actually came through the air, when Frost hit freshman Bobby Newcombe on a skinny post. Newcomb bobbled the ball a few times, briefly pinning it against his helmet before securing the catch. Frost ultimately scored on a quarterback sneak to give Nebraska a 28-24 lead.
Once again, the Tigers got a big boost from their return game to spark an answer. Devin West returned the ensuing kickoff 62 yards to the Nebraska 35. A few plays later, on third down and goal, Jones dropped back to pass, found no one open, scrambled right and went airborne, absorbing a hard hit but extending the ball beyond the goal line. Missouri had retaken the lead just two minutes after Nebraska's score.
On the following possession, Nebraska tied the game with a field goal. Missouri drove into Husker territory when its offense had a rare miscue. Jones' pass was deflected by Rucker and intercepted by Joe Walker, giving Nebraska the ball back with a chance to take the lead. Just two plays later, however, the Missouri defense answered. Frost threw a pass behind his intended receiver, and the ball got knocked into the air and was intercepted by Harold Piersey — one of his five picks in that season.
Once again, Missouri's offense took advantage of the interception. Off a play fake, Jones found Brooks wide open in the end zone for a 16-yard touchdown. With less than five minutes to play, Missouri had taken a 38-31 lead. The crowd's energy reached fever pitch — chants of MIZ-ZOU could be heard both as the broadcast went to commercial break and when it returned. That seemed like the first moment when everyone in Memorial Stadium really believed Missouri could pull this upset off.
The chances looked even better three plays later. Nebraska stayed conservative, staying on the ground on third down and nine, and went three and out. The Cornhuskers punted the ball back to Missouri with 3:30 remaining in the game. A few plays later, when Jones kept the ball and ran for 14 yards and a first down on a third and six, it had to feel impossible that Missouri could lose. I went in knowing the result, and even I could scarcely believe it. The Tigers led by seven and had the ball against a limited passing offense. I'd be curious to see if someone ever went back and calculated a win probably for Missouri at that moment — it had to be about 99 percent.
After the Jones first down run, Nebraska forced a punt, but it had to burn all three of its timeouts in doing so. After a serviceable boot from Jason Smith, the Cornhuskers got the ball back at their own 33-yard line with 62 seconds remaining.
Here's where I have to give Frost some credit. I said earlier he didn't throw much, but on this drive, when he had to gain yards through the air, he made some really impressive plays.
First, Frost hit Kenny Cheatham down the sidelines for 17 yards. The next play, Missouri tipped his pass and Al Sterling nearly tucked his hands underneath it for an interception that would have won the game, but the ball hit the turf. Incomplete. Frost then hit Matt Davison for a 13-yard gain and Cheatham for 11. Nebraska spiked the ball with 21 seconds left at the Missouri 19. After one more completion for seven yards, a spike and an incomplete pass, Nebraska faced third down from the Missouri 12-yard line, seven seconds on the clock.
Missouri fans, or at least those who haven't blocked it out, remember what happened next. Frost stood in the pocket, unbothered by any pass rushers, able to scan the entire field. He tried to fire a bullet to Shevin Wiggins over the middle. But Missouri's Julian Jones was there! Julian Jones collided with Wiggins right as the ball did and appeared to break the pass up and the clock hit triple-zero Missouri appeared to win. The first students started spilling onto the field. But the ball didn't hit the ground. As he fell to the ground, Wiggins somehow managed to extend his right foot and boot the ball into the air, bicycle-kick style. It traveled a good 10 feet toward the back of the end zone, where Davison just so happened to be running. Davison dove and managed what Sterling couldn't a few plays earlier, slipping his fingertips under the ball before it hit the grass.
The official immediately signaled touchdown. Students began pouring into the end zone anyway. After they were cleared from the field, Kris Brown made an extra point to tie the game. A replay of the miraculous touchdown showed Smith on the sideline, who simply grinned and shook his head.
As the teams got set for overtime, Missouri had to have suddenly gone from feeling like it couldn't possibly lose to feeling like it faced a steep uphill climb. Nebraska started with the football and scored in just three plays, when Frost kept the ball around the right end for a 12-yard touchdown. He finished with 316 total yards and five touchdowns, four on the ground.
For the first time all game, Corby Jones and Missouri couldn't come up with an answer. Jones threw incomplete on first down and got tripped up as he tried to run on second. He threw a beautiful lob for tight end Jake Steuve on third down, but the pass bounced off Steuve's fingertips. Finally, on fourth down and seven, the offensive line gave way. Rucker and fellow defensive end Grant Winstrom broke free and converged on Jones before he had any chance of looking downfield. Even Jones couldn't escape from this sack. Nebraska kept its undefeated record intact.
For Missouri fans, of course, the loss went down as perhaps the most gut-wrenching in a long line of painful Missouri defeats. But for everyone else, even right after it ended, it represented a classic. And Missouri certainly had cause to be proud. Just seconds after Jones was sacked to end the game, ABC play-by-play commentator Brent Musberger said "It was a great college football game, and regardless of losing this one, the Missouri Tigers have grown up here today." The following Monday, the Tigers entered the top 25 for the first time in 14 years.
Even in a loss, Jones was the star of the game. He finished with a career-high 233 yards and three touchdowns through the air to go along with 60 rushing yards and a score. Missouri would beat Baylor the following week for its seventh win of the season before falling to Colorado State in the Holiday Bowl. Jones returned in 1998 and led Missouri to an 8-4 record — the program's first eight-win season since 1981 — with all four losses coming to teams ranked in the top seven. Nebraska finished the season undefeated and, back in the absurd days when college football relied on the voters rather than a championship game to determine the best team, split the 1997 national title with Michigan.
Ultimately, the success wouldn't last under Smith. After Jones graduated, Missouri went 4-7 in 1999 and 3-8 in 2000 before Smith was replaced by Gary Pinkel. But while the infamous "flea kicker" game ended in heartbreak, it gave fans a taste of what Missouri football could become.