Mizzou to hire Dickey Nutt as assistant hoops coach
More than three weeks into his tenure as Missouri's head coach, Dennis Gates has hired his second assistant. Dickey Nutt will join Gates and Charlton Young on the Tiger bench next season, Missouri announced Thursday.
Nutt spent last season as the head coach and athletics director at Gaston College, a junior college in North Carolina. He has Division I head coaching experience at Arkansas State and Southeast Missouri. He previously worked alongside Gates at both Florida State, where he was the video coordinator from 2015-2018, and Cleveland State, where Gates hired him as a special assistant.
"I feel so fortunate and honored to be a part of Coach Gates' staff here at the University of Missouri," Nutt said in a press release. "I've seen firsthand his work ethic, his love for young people, game preparation and his masterful recruiting ability. I am excited to be reunited with him and eager to go to work in building a championship program – on and off the court."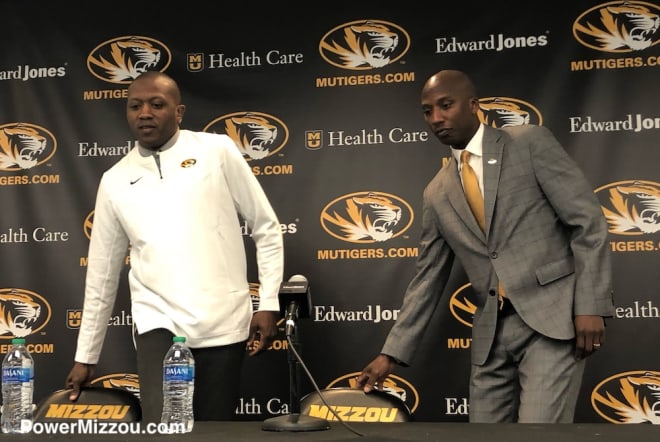 Nutt is the brother of former Ole Miss football coach Houston Nutt. He played basketball at Oklahoma State from 1977-1982. After spending a few seasons as a high school coach, he returned to Oklahoma State as an assistant coach in 1985.
Following two seasons, Nutt moved to Arkansas State for another assistant position. After eight years working under Nelson Catalina, Nutt took over for him as head coach in 1995. During his 13 seasons at the helm of the Arkansas State program, Nutt amassed a record of 189-187. The Red Wolves won the Sun Belt regular season title in 1997-98, and Nutt was named the conference coach of the year that season. They then won the league tournament the following season, earning Nutt's lone berth into the NCAA Tournament.
After being fired by Arkansas State, Nutt took over at Southeast Missouri. His teams went 80-107 in six seasons. He was let go following the 2014-15 season, then joined Leonard Hamilton's staff at Florida State, where he first worked with Gates.
"Nutt is a true veteran in this profession with an immense amount of passion for the game as well as for student-athlete development," Gates said. "We are lucky to have someone with his level of experience on our staff. Coach Nutt has a wealth of basketball knowledge and recruiting relationships in our state which will be a tremendous asset to our program, our Athletic Department, our University and CoMo."
Nutt's compensation has not yet been announced. Missouri is reportedly paying Young $1.8 million across three seasons, which would leave about $315,000 a year available in Gates' $915,000 assistant pool. Nutt's hire will leave one full-time position remaining for an assistant coach.