Mizzous Motivation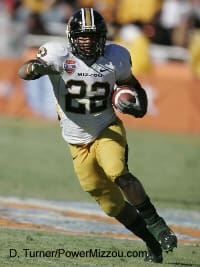 Bowl games, quite often, come down to a very simple question: Who wants it more? A bowl game is a reward. For some teams, it is the cap on a better than expected season. For others, it is a soft landing spot after falling from greater heights.
The Cotton Bowl on Friday night features two teams who were within a few plays of those greater heights. Oklahoma State was two bad minutes against Oklahoma away from a Big 12 title and a Fiesta Bowl bid. Missouri was less than a quarter away from a BCS National Championship Game appearance. Both have landed in Arlington. Both are saying all the right things.
"Coming off a very difficult year a year ago, the determination they have expressed and communicated right when we got back in January to our football team was to get back to our winning ways and winning at a high level," Tigers head coach
Gary Pinkel
said. "We certainly would like to finish this thing the right way."
"We don't dwell on losses. We had two of them. We learn from them and move on," added defensive end
Kony Ealy
. "You don't gain success by dwelling on what you have lost. Our job is to look at it, ok I have learned from it and don't make the same mistakes. That is what we do day in and day out."

"The Cotton Bowl is a great location for us to play, the combination of the ease for our fans to get here and recruiting are very important for our program," Cowboys coach
Mike Gundy
said. "It will be a good challenge for our football team to finish the season. We would like to play very well when it counts."

"We had a rough game in that last one we had against OU and we're looking to come out and lay [aside] a little bit of the anxiety over that in our next game," OSU offensive lineman
Parker Graham
said. "It's going to be a lot of fun. This was the first bowl game I got to go to when I was a freshman, so it's kind of like coming home for me."

Now, they have to go out and deliver on those statements. The last time Missouri was in this game, the Tigers did exactly that. An 11-1 regular season was followed up by a disappointing loss in the conference championship game. Mizzou fell out of the BCS into the Cotton Bowl and resolved to make a statement that a memorable but not perhaps short of historic season would not end with two losses. The Tigers thumped Arkansas 38-7 on New Year's Day 2008. The 2013 Tigers look to mirror that finish.
"To end the season with 12 wins it would be really special for this team after last year finishing 5-7," all-American defensive end
Michael Sam
said. "Being 11-2 right now, and going to the Cotton Bowl, winning would be a huge finish for us and for this senior class who got us back on the winning track."
For Sam and the Missouri defense, in particular, the motivation in this game should not be in short supply. The last time that unit took the field it gave up 545 rushing yards to an Auburn team that set multiple SEC Championship Game records and now faces Florida State in the BCS National Championship Game.

"That we are a good team," Sam said when asked what the defense has to prove. "That we are a good defense. That we helped get us to where we are now had a lot to do with our defense. We are past the last game and focused on Oklahoma State."

That motivation has infected the entire team...at least if their words this week are any indication.

"You can't be angry about it. I feel like that next day came and it was like guys were already back talking to each other and happy about [the season] and just realizing how far we came as a team," tailback
Henry Josey
said. "We're tired of waiting. I know we're motivated to play. We're motivated to just get back out here and win a game coming off that loss."

The Tigers and Cowboys kick off at 7 p.m. Central on Friday night. The game will be televised nationally by Fox and PowerMizzou.com will have complete coverage from Arlington beginning Wednesday night.
Nobody covers the Tigers like PowerMizzou.com. Click on the image below and get $99 in free gear.

Click
Here
to view this Link.