Monday Mizzou Notebook
It sounds good to say every game's the same, it doesn't matter where you're playing or who you're playing. It sounds good. But it isn't true.
"Even last year seeing that they're on our schedule it's something that we circled, preparing for that game," Missouri running back Ish Witter said as the Tigers get ready for LSU on Saturday. "It's definitely a big game going into a big environment like that."
"That" would be Tiger Stadium, more commonly referred to as "Death Valley." Since Les Miles was hired before the 2005 season, LSU is 70-10 at home. Against unranked teams—which Missouri is—the record is 45-4, including 2-0 this season. LSU has played 449 games all-time under the lights in Death Valley. The home team is 321-105-13.
"One of the greatest environments in college football," Missouri head coach Barry Odom said. "This will be one that they'll remember. From what I've been told and read and studied, if you're a competitor, it's an unbelievable experience and that's great for college football. I'm glad it's a night game.
"As a competitor, I don't know if it gets any better."
The Missouri players all agree. They're looking forward to seeing what the hype is all about.
"Some people say it's the best stadium they ever played in," linebacker Donavin Newsom said. "It's hard to win down there obviously, but I'm just excited to go down there and witness it for myself."
"Football's a game. The atmosphere that you're playing in, that's something to look forward to," offensive guard Kevin Pendleton said. "We're excited. It's a bonus of the trip to go down there and be able to play in an atmosphere like that. It's something that not a ton of people get to do and experience."
"It's one of the greatest places to play in college football," linebacker Michael Scherer said. "I'll definitely look around a few times pregame, but once you get in the game, at least for me, I forget about it. Every place is exactly the same."
The Tigers have a young team. There may be some nerves at the start. Missouri has played in hostile environments, but for many of these Tigers, this is just the second road game they'll play in, following the season opener at West Virginia.
"A few words isn't going to change the way you feel walking out on the football field. That's kind of on you, however you feel," Scherer said of his advice to younger teammates. "I think we're very good, have been good in the past, at just showing up and playing football. That's all there is to it no matter what the crowd looks like or what the stadium looks like or where we're at."
Missouri has done its best to simulate the crowd noise. Tight end Jason Reese said the Tigers have a golf cart with speakers at full blast positioned about ten yards behind the offense throughout practice.
"Crowd noise is something we worked on during the entire week," he said. "Honestly, when we were getting ready for West Virginia, there were speakers that were so loud we couldn't hear each other when we were trying to make calls between tight ends and tackles. It's pretty good.
Reese, for one, hopes it's loud.
"Death Valley at night. I can't wait for that," Reese said. "I'm ready to quiet the crowd."
CHANGE AT THE TOP
The main difference between Tiger Stadium this Saturday night from the past 11 years is going to be the man wearing the headset on the LSU sideline. Les Miles was fired on Sunday after 148 games (114 of which he won, including the 2007 national title). Defensive line coach Ed Orgeron takes over as the interim head coach.
"I feel for the LSU players having to go through a coaching change and not knowing," Reese said. "I really feel for the LSU players. It's unfortunate for them, but I'm pretty sure they're going to be ready to play their best football game on Saturday."
Missouri knows a little bit about change, though the circumstances were different. Gary Pinkel announced his retirement the day before Missouri played BYU last year. The Tigers won that game, but then lost Pinkel's final two to Tennessee and Arkansas. While Miles' dismissal has dominated the college football headlines over the last 24 hours, Missouri can't concern itself too much with that storyline.
"Wish em best of luck," defensive tackle Rickey Hatley said. "Can't help that."
"Not my problem," fellow defensive tackle Terry Beckner Jr. said.
ONE THING REMAINS CONSTANT
What is Missouri's problem is what might change with a new man giving the commands for LSU. Odom said Missouri will study the Tigers' first four games from this season and prepare for the offense and defense they've seen in those games. Orgeron said today he will make some tweaks to the offense, but Missouri doesn't expect them to be drastic.
"I'm not a mind reader, I can't see the future unfortunately. I wish I could," Scherer said. "I'm going to prepare for what I see on film."
What LSU's opponents see on film is a heavy dose of Leonard Fournette. LSU has run 236 offensive plays this season. Fournette has carried the ball on 67 of them, or 28.4%. He has also caught nine passes, third on the team, meaning he has touched the ball on about a third of LSU's offensive snaps.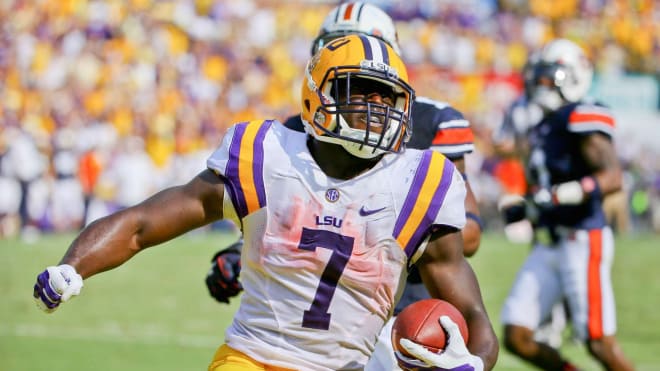 "He's pretty good. And that's an understatement," Odom said. "If they get the edge blocked, he's out the gates and he's a tremendous player. Runs with really tremendous pad level. He runs angry. That's usually a combination of being a really good player.
"You got an opportunity to tackle the guy, you better have your mind right because he's going to have his right. I guarantee you."
Missouri has faced some good running backs in the last few years. But two of the Tiger seniors on defense say they haven't faced any better than LSU's No. 7.
"He's right up around the best, probably is the best," Scherer said. "We played Derrick Henry a couple years ago, Amari Cooper, I know he's not a running back, but that guy was good. You play against a lot of really tough, good backs in the SEC and he's probably the best one.
"He hits the hole quick and when he gets to rolling, he's gone and not much is going to stop him. It's just important to not let him get that head of steam to get going."
"Top of the list," Rickey Hatley said. "He can break tackles, he got some speed to him. He's pretty big, try to run you over. I'm not trying to let that happen."
No matter who is calling the plays, or who is on the field (defensive tackle Davon Godchaux was arrested Monday morning for domestic abuse battery/child endangerment and false imprisonment and has been indefinitely suspended), Missouri will need a strong effort. And at least one Tiger wishes they were getting LSU fully intact.
"I hate it," Scherer said. "I don't want there to be any asterisk next to whatever happens on Saturday. The more news that comes out, the more upset I get about it."
CROCKETT GETS HIS LEGS UNDER HIM
Missouri doesn't have a running back nearly as accomplished as Fournette, but the Tigers have gotten a boost recently from true freshman Damarea Crockett in the backfield. With Alex Ross and Nate Strong facing injuries, the Tigers had just three available scholarship tailbacks against Delaware State. Crockett took advantage of the opportunity, running for 115 yards and two touchdowns in just 12 carries.
"It's a big confidence boost. He had a great game," Pendleton said. "For a freshman to come in and ball out, that's good. It's something for him to remember and a game he'll look back on when he needs a confidence boost. It's good to get him rolling and we're excited about what he can do for us the rest of the season."
Crockett leads the Tigers with 210 yards, a 6.2 yards per carry average and three touchdowns.
"He's a great back. Tough, physical, obviously he's a bowling ball out there," Lock said. "It was good for him to keep dipping his feet in the water. He did it against Eastern Michigan a little bit. I'm just excited for him. Sky's the limit for him and we're looking forward to seeing him develop throughout the year."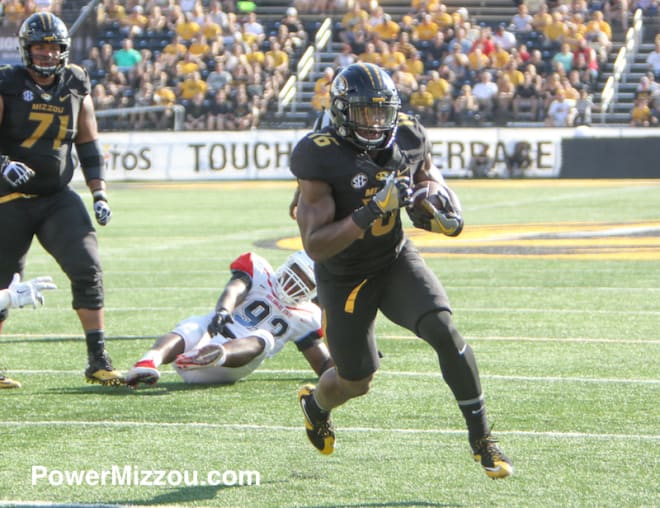 TRAGEDY HITS CLOSE FOR ONE TIGER
The sports world was rocked on Sunday morning with news of the death of Miami Marlins pitcher, 24-year-old Jose Fernandez. Fernandez attended Tampa's Alonso High after defecting from Cuba when he was 15. Missouri running back Ish Witter is an alumnus of Alonso. Witter was a freshman when Fernandez was a senior.
"I got a few texts from my friends and then my brother called me," Witter said. It was devastating to hear something like that. He's a young guy, actually knew him in high school, he was real cool.
"He was doing real good in his career. You just never think something like that will happen. It just sucks."
Fernandez was one of baseball's brightest young stars, perhaps headed toward a Cy Young Award a year-and-a-half removed from Tommy John surgery. Witter saw that promise all the way back in high school in Tampa.
"He was ridiculous. I knew he was going to be great, he's going to shock MLB," he said. "I was a Rays fan but whenever Jose was on, I'd watch him. I'm not really big into baseball, but when he was on I'd watch him."
INJURY UPDATE
Missouri was without a handful of players in last week's 79-0 win over Delaware State. Odom said Alec Abeln (ankle), Ray Wingo (hamstring), Samson Bailey (ankle) and Alex Ross (ankle) all practiced on Sunday night. Redshirt freshman receiver Justin Smith had arthroscopic knee surgery early last week and will be held out until later this week. Nate Strong (ankle) will be "close to ready" by Saturday. Odom said cornerback Logan Cheadle (ankle) was the most questionable to be ready for the LSU game.
WHERE TO WATCH AND LISTEN
The game will kickoff at 6:30 Central time from Baton Rouge. It will be televised by the SEC Network with Brent Musberger, Jesse Palmer and Kaylee Hartung on the call. Mike Kelly, Howard Richards and Chris Gervino are the Missouri radio team on the Tiger Radio Network (Sirius 126/XM 192).
This is just the second all-time meeting between the two teams. Missouri beat LSU 20-15 in the 1978 Liberty Bowl. LSU is the only team Missouri has not yet played since joining the Southeastern Conference in 2012.