New deal in place for Pinkel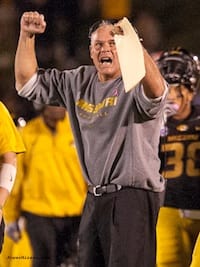 It has been expected that
Gary Pinkel
and Missouri would agree to a new contract since the end of Missouri's 2013 football season. Multiple sources told
PowerMizzou.com
on Monday a deal between the two sides has been reached. The contract would not become official until all parties have signed and it has been approved by the University and the Board of Curators, but sources say an agreement is in place. The Curators are now scheduled to meet on Wednesday at 7:30 a.m. on Mizzou's campus.

Sources indicate that the new contract will put Pinkel at or slightly above three million dollars annually. His current contract, signed in April 2011, pays him a base salary $2.35 million annually and was set to run through the 2017 season. Pinkel earned an additional $300,000 in incentives during the 2013 season. The length of the new deal is unknown at this time.

The new contract is also expected to bring raises for Pinkel's assistant coaches. However, specifics on that information are not known at this time. Offensive coordinator
Josh Henson
made $500,000 last season and defensive coordinator
Dave Steckel
earned $550,000.
Andy Hill
, who was promoted from wide receivers coach to quarterbacks coach prior to last season, made $307,500 in 2013.
According to
USA Today
, Mizzou's staff was the 24th-highest paid in FBS last season, but was just tenth in the Southeastern Conference. Tiger assistants made a total of $2,642,500 last year according to the newspaper. Current salaries for the assistants (other than coordinators) range from Hill at $307,500 to third-year safeties coach
Alex Grinch
at $193,500.
Pinkel,
again according to USA Today
, was the country's 20th-highest paid coach in 2013, at $2.8 million. He was listed eighth among the 14 SEC head coaches.

Missouri went 12-2 this season, won the SEC Eastern Division and finished fifth in the final polls. Pinkel's 102nd career win came over Oklahoma State in the Cotton Bowl and made him the winningest head coach in Missouri history. Next season will be his 14th at Mizzou.

Missouri officials did not comment on Monday when reached by PowerMizzou.com and the school has made no statement regarding Pinkel's contract status. Prior to the SEC Championship Game, Director of Athletics Mike Alden told the St. Louis Post-Dispatch "I want to recognize the significance of what that guy has done for the University of Missouri - not just football but for the university. What do we need to do to not only keep the program moving forward but to recognize that guy and our staff?"
Pinkel's agent also confirmed earlier this year that the University of Washington had reached out to his client in looking to replace Steve Sarkisian, who left to coach USC. However, Pinkel quickly shut down those talks and chose to remain at Missouri. PowerMizzou.com will continue to follow this story and keep fans up to date with any developments in the coming days.