Notes and Quotes: LSU
With the recent firing of Les Miles and the absence of Leonard Fournette, it was very tough to gauge Missouri's chances going into Saturday's game against Louisiana State. Despite playing on the road in one of the toughest environments in college football, it was impossible to know how Missouri would do against LSU's interim head coach Ed Orgeron.
It turns out there wasn't much to expect.
LSU controlled the game from start to finish, beating Missouri 42-7 to drop the Tigers to 2-3 on the season.
"They handed it to us in every area," Missouri head coach Barry Odom said. "I feel like I got my tail kicked tonight."
Missouri's offense had 265 yards while its defense gave up 634 yards, with most of that coming from the LSU running backs. The Tigers ran for a whopping 418 yards.
Despite Orgeron taking the reigns at LSU less than a week ago, Missouri's players said the new coach seemed to stick to the book and didn't really introduce anything new.
"They did a couple different things but it was nothing wild or crazy," Missouri linebacker Michael Scherer said.
The Curious Case of Alex Ross
The senior transfer from Oklahoma missed last week's game against Delaware State with an ankle injury and didn't play on Saturday until the very end of the game on special teams. Odom didn't provide much clarity on the situation besides saying the decision to limit Ross' playing time was the coaching staff's call.
"He's getting back off of that injury," he said. "I think he's closer every day. Hopefully he'll be a little better tomorrow night."
First one for Floyd
Redshirt freshman Richaud Floyd had his first career catch on Saturday, coming in the first quarter for an 11-yard gain to give Missouri a first down. Floyd hasn't played much this season but grew up in nearby Gulfport, Mississippi, just two hours away from Baton Rouge. Floyd didn't speak to the media after the game so it is unknown how many friends or family, if any he had at the game.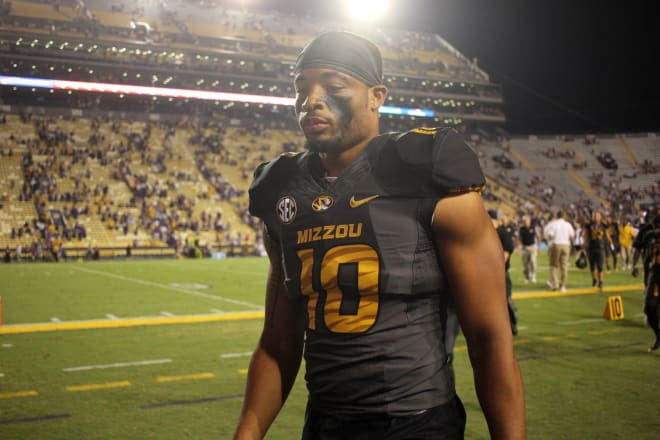 Drew Lock's first trip to the end zone, the other way
Missouri's lone touchdown of the night came on a trick play that had wide receiver Eric Laurent finding quarterback Drew Lock in the end zone. Laurent came to Missouri recruited to play quarterback before he switched to wide receiver. Lock said that was the first receiving touchdown of his career at any level, since he started playing quarterback at a very young age.
"I always dreamed of throwing a touchdown pass," Laurent said. "When I got moved to receiver I never thought I'd get the opportunity. It felt good."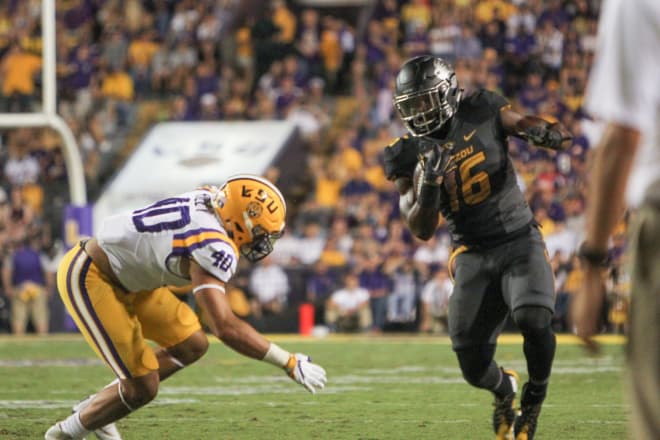 Up next
Missouri has a bye this upcoming week and then travels to Florida on Oct. 15 for a matchup against the Gators.