Notes from Hoover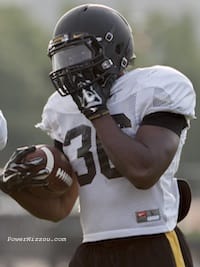 HOOVER, AL--As far as annual Media Days traditions, go, it's starting to belong right up there with Alabama fans swooning over a Nick Saban autograph and Steve Spurrier flinging insults toward Gainesville and Knoxville. What, pray tell, does Missouri have to do to earn the respect of the Southeastern Conference?
"We know we don't get the respect we deserve,"
Kenya Dennis
said as the Tigers took their turn in Hoover on Wednesday afternoon. "We understand we aren't in control of how we get ranked."
"We're not respected. Yeah, there's going to be a target on our back, but it's not because we win, it's because they're sick of hearing it," starting quarterback
Maty Mauk
said. "I mean we won it two years in a row and it's back to how it was last year. It's going to be can Mizzou do another Cinderella and blah, blah, blah."

The media's predicted order of finish won't be tallied until Thursday morning, but Mizzou already seems convinced it will find itself in the usual spot. That would be third at the best, quite possibly lower, in what is perceived as the SEC's ugly stepchild, the Eastern division.
"I think it probably bothers my players a little bit more than me. I don't really talk about that. I don't really go there," head coach
Gary Pinkel
said. "Honestly, I don't know where we've been picked since I've been here...If you picked us first or third or fourth or fifth, it would have no impact on me at all. Just being honest with you."
Pinkel is subsequently informed that the media picked the Tigers sixth in the division in 2013 and fourth a year ago.

"Is that right?" he asks. "That upsets me."
It doesn't, of course. But it is undeniable that real or perceived, Missouri will play the no respect card to the hilt again in 2015.
"I don't even expect them to put us in the top 25," Mauk said. "That's just how I view it. There's no respect there. It's just going to be another year where we're going to have to start from the bottom and come back. We're ready to do that mentally. Whether we are number 1 or number 101, we're going to do what we need to do and it starts September 5th."
OFFENSIVE PERFORMANCE
Missouri's offense was, at times, rather offensive in 2014. The Tigers finished 13th in the league in total offense and Mauk had a four-week stretch in which he threw for a grand total of 390 yards in the middle of the season, lowlighted by a 20-yard performance against Florida.
"I think we certainly have to improve. We need more consistency. There's no question about that," Pinkel said. "We need more consistency from him (Mauk). He knows that."

And yet, Mauk is now 14-4 as a starting quarterback, including 3-1 in that stretch referenced above. Such is the conundrum of Mauk. It frequently isn't pretty, but it usually has been effective.

This season, Mauk faces the additional challenge of having to break in a brand new receiving corps. As he surveyed the handful of reporters during Mizzou's session with the local media prior to taking the big stage in Hoover, he joked that there were more interviewers in the room than his receivers had catches last year. His leading returning wide receiver,
Nate Brown
, had five grabs. Of course, this isn't really a unique situation for Mauk.
"if you look last year at this point, it was 'You lost Marcus (Lucas), L'Damian (Washington) and Dorial (Green-Beckham).' Well, Bud (Sasser), Darius (White) and Jimmie (Hunt), came along," Mauk said. "All's you need is one year. Look what Bud did last year. Now it's time for three more to step up. Right now there's six, seven guys that are competing for a spot. They're all young, but they're talented.
Dennis has been tasked with covering this unproven corps of receivers throughout summer workouts. He's impressed so far.


"I know for a fact that
J'Mon Moore
should be a number one guys for us," the senior cornerback said. "
DeSean Blair
's done a great job for us,
Nate Brown
and
Wesley Leftwich
. The front four guys that are supposed to be our starters, those guys have really pickedup their roles as leaders. It's going to be interesting to see how the receiver thing works out because we don't really know what we have right now."
Evan Boehm
cautions that simply because the names are not known now does not mean they will remain that way.

"I think we have wide receivers to catch the ball. A lot of people are counting the wide receivers out, but there are a couple of guys that are surprising me already," the Tigers' senior center said. "There are younger guys that haven't really had that much game experience, but an athlete's an athlete. People step u and people surprise you. There are definitely a couple guys out there that are going to surprise some people."
Mauk singled out one young receiver in particular when asked about his receiving corps.

"The SEC is going to know who Nate Brown is whether it's this year or the next couple years," the quarterback said.
DAD ON MAUK'S MIND
Last month it became known that Mauk's father, Mike, who is the head coach at Springfield Glendale High School, had been diagnosed with colorectal cancer. Mauk spoke about his dad, who was also his high school coach in Kenton, OH, on Wednesday afternoon.
"His biggest thing was he was going to start treatment and they said he might miss a football game," Mauk said. "His big thing was I'm not going to miss a game so that means I'm going to miss a treatment. He can't afford that. My biggest thing is, I've told him, 'Yeah, I want you to be there, but I want you to be here.' He's going to do whatever he's got to do. He's going to be at the games."

Mauk was grateful for the support he's received from those around him since his father's diagnosis. He said friends in Springfield have made sure Mauk's parents will be able to get to games, even offering to fly them to Columbia if necessary. His football family has been equally supportive.
"I told them in the night and I had calls from coach Henson, coach Hill, coach Kul, coach Pinkel, everybody was calling me making sure everything was okay," he said. "That just shows you how our school is, how our program is, how we have each other's backs. And it's not fake. It's not fake at all. Coach Pinkel came in yesterday and made sure 'Hey, how's pops doing? Is there anything we can do?' To have that support around you, that's why I'm very, very happy to be at Mizzou."

Mauk has said previously on social media that he wanted to play this season for his father. He reiterated that on Wednesday.

"My main focus is this is a year where I want to do something that's never been done. I don't want to talk about it, I just want to do it. We're going to win as many football games as we can."
ODDS AND ENDS

Media Days always serve as an opportunity to catch up on things that have happened since the end of spring football. Here are some nuggets we picked up talking with the Tigers on Wednesday.
*Most of the incoming recruiting class has been on campus for more than a month now. However, two players still aren't in town.
Tyler Howell
and
Chase Abbington
, both junior college commitments, are finishing up some academic responsibilities before they can head to Columbia.

"I think we're going to get everybody," Pinkel said. "I'm just going to wait till everybody gets here before I go into detail with that. I think we're going to get everybody we thought we were going to get and possibly it could not have gone that way."

Pinkel was later asked about Abbington's ability to contribute in the Tiger backfield.
"Chase is finishing up class right now, but he's obviously a tremendous athlete," he said. "He's out of St. Louis and a guy with great athleticism. He's got size. He's a real big running back from our standpoint. I think he can be a real plus for us, if he takes care of his academics."
*Pinkel admitted tailback depth is a bit of a concern. There are a handful of question marks at the position. To start with is the health of
Morgan Steward
, who was injured in fall camp last year and has not been able to participate fully since that time.
"Morgan is doing better than he's ever done for the past year," Pinkel said. "Hopefully he can start getting reps when we first start practices and we're excited about what he can do and see where he's going."
Redshirt freshman
Trevon Walters
tore his ACL just prior to spring football. However, Pinkel said the team expects to have him back in September, or at the latest in October. Combined with Abbington's not yet finalized sitiuation, the position has a number of open-ended questions.
Incoming freshman
Marquise Doherty
was listed at tailback on Missouri's roster released in Hoover. Many had thought Doherty would start as a defensive back. Pinkel said that was Doherty's choice. The Winnetonka product also plans to play baseball at Missouri. He was a 15th round draft choice of the Kansas City Royals, but did not sign. Pinkel said he hasn't really discussed that part of the plan with Doherty.
"The baseball thing's still out there," the coach said. "He's got to do what he wants to do, what his heart tells him to do."
*Another Tiger coming back from injury is redshirt freshman safety
Tavon Ross
, who suffered a torn ACL last fall. Pinkel said he should be 100 percent at the start of fall camp.
"Tavon Ross is a hard worker, guy with great character," Dennis said. "He's got back right, he's flying around making plays. If we can get him to trust his knee a little bit more and get back to how he was, we're gonna be in great shape. He's still getting better right now."
*There have been rumors that recently retired San Francisco 49ers defensive lineman Justin Smith was going to be added to the Mizzou staff in some capacity. Pinkel was asked about those rumors on Wednesday.

"I have not personally talked to him yet, but I guess there is some conversation about him maybe coming and helping us out in the weight room a little bit and those type of things," he said. "We'd certainly love to have him back involved with Mizzou football."
*In the SEC, buildings are always a hot topic. At Mizzou, they have been since the Tigers joined the league four years ago.
"I kid our alumni saying that, when you drive by in Columbia, it's a great university. We've got some great facilities. But if you don't see a crane up, there's something wrong," Pinkel said. "You've got to always see cranes. So at the time, I gave them Mike Alden's phone number to call him if they didn't see any cranes. Now I'm going to give them Mack Rhoades. We've got to always be building."

Speaking of Rhoades, Pinkel said he will be meeting with his new boss soon to talk about the planned South end zone project at Faurot Field, possibly as soon as Thursday. Pinkel said that project is at the top of his list. Pinkel has been impressed with Rhoades since he took over for Alden at the end of April.
"I was very fortunate to have Mike Alden here for all those years and Mike was very high on Mack," Pinkel said. "I think he's doing exactly what Mike would do if he walked in here inheriting the program that Mike helped build here. What Mack wants to do, he wants to take it to a whole different level and I think that's great. Mike's accomplishments have been phenomenal and it's great to see Mack in there with high energy and excited about doing it and getting after it."