Perfection: In the Beginning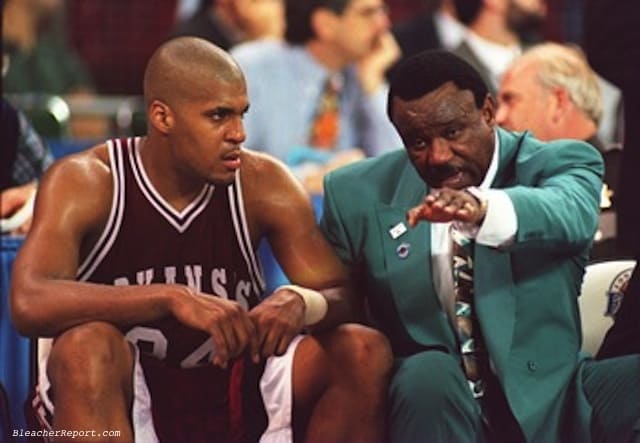 Twenty years ago, the Missouri Tigers went 14-and-0 in the Big Eight and won the program's last conference basketball title. The team returned to Columbia in October and was honored prior to the exhibition opener.
PowerMizzou.com has spoken to players, coaches, broadcasters, administrators and opponents from that season. Over the next five days, we will let those involved recap the season in their own words.

Today, we start with a look at a rocky beginning to Mizzou's season that offered almost no indication of the year that was to come.
"Just thinking about it and talking to some friends, I'm sure everybody will ask what was the turning point, when did you know? Some will say it was a learning experience, the humility of the Arkansas loss or the triple OT game where we just couldn't lose. As I was reflecting, I think those are easy answers and I think there's some validity to it...I went back to the year before and the Big Eight tournament when the end of the 92-93 season, we hit a tailspin in conference and were losing close games. There were some of those games we should have won, but we lost six or seven in a row to end conference, but there was something that occurred at that Big Eight tournament. We went on a three game stretch and there was something special in that tournament. I think the coaches knew then this team fought through a tough season, some of those games they should have won but they just didn't....You hear Norm say that '93-94 team was just greater than the sum of the parts. If you look at box scores of the '93 Big Eight tournament, there was a display there that was greater than the sum of the parts. There were people in every different game that stepped up. They had a confidence level going into the next season. I think that three-game stretch kind of personified what they thought could be accomplished going into the next season. --Steve Wujek, Mizzou basketball sports information director
The Tigers opened the 1993-94 season with a 69-66 win over Central Missouri State.
"You know, we won by three and if you ask Bob Sundvold we should have held it for the last shot because that was an infamous charge call. We had to get a call to do that...Anybody that says we were gonna be really good and go undefeated is lying." --senior guard Jed Frost
"We played Central Missouri the first game and we barely beat them and, really, we beat them because we were at home had our officials and got some good calls down the stretch." --assistant coach Bryan England
"The Central Missouri game, who was coached by Bob Sundvold at the time, a couple possessions and it could have gone either way. I think it was Lamont Frazier that made a big shot. Then the Arkansas debacle. There weren't really many signs. I thought they could have a decent year." --Jon Sundvold, Mizzou radio analyst
Missouri's second game was the first in the history of Bud Walton Arena in Fayetteville, Arkansas. The Razorbacks, who would go on to win the national championship, beat Missouri 120-68, at the time the worst loss in Mizzou basketball history.
"The funny part was we were late getting to the arena. I was doing radio with Mike (Kelly) and we were setting up, the three planes that Missouri flew in, you know Norm Stewart, he'd try to go in an hour before the game. Because of the opening of the arena, all the Arkansas alums were flying in from wherever they're from, we barely got there. Then in warmups, one by one, Mizzou guys would come out, it was kind of like a junior high team that got there late, guys throwing on sweats and just going out to the floor. It was a bad thing from the start. That was kind of the Julian Winfield inaugural point guard tryout, he brought the ball up and had such a time. That was the thing, I just remember warmups, we're doing radio, we're doing pregame we've got three guys warming up, then four, then five. The whole thing was kind of a disaster from the moment we were circling in airplanes wondering if we were going to make it to the game on time." --Jon Sundvold
"Bud (Walton) called me and talked me into it. I want everybody to know that it took him more than one call to get me to do that. I wish it would have taken him one more. However it turned out, and all of you all, the great thing in that is that there was, even at my advanced age, there's always something you can do. you can make a contribution, you can recover, you can do a lot of things. Don't let a bump or a big discouragement get in your way. You can bounce back." --Mizzou Head Coach Norm Stewart
"They slipped by us. Bad officiating." --Norm Stewart
"First possession Dwight Stewart, as the shot clock is running down, banks in a three from the hashmark on Arkansas' first possession. The place was already energized and it just exploded. It reached a level it seemed like it stayed at the entire game...Jon (Sundvold) would pass me a note. The first one said this is going to be a 20-point loss. As the game continued he kept amending it from 25 to 30, the last note he wrote was 40 then the last one was a question mark. It was just one of those things, no one was going to beat Arkansas that night." --Mike Kelly, Mizzou radio play-by-play announcer
"Jevon Crudup had been involved in an altercation down at Hardee's that summer and was suspended for that first game. He became eligible like 2 o'clock the game we down to play Arkansas, which obviously didn't make any difference in that game. They could have written what the score was and that's what it was." --Bryan England
"A lot of times what people don't understand with a team, it's a team. There's no one individual and one individual can throw things out of whack. I think that played a part in it. That's accountability for myself and the mistake that I made. Everything was just off. I knew we were pretty good but everything was just off." --Senior forward Jevon Crudup
"It was shocking. I mean I knew we were not 52 points bad. We just didn't play well but Arkansas just played that good. They were lights out from the field, lights out form three. When people are shooting the ball like that you're gonna lose. I don't care who you are you're gonna lose. It's just a matter of by how much." --Jevon Crudup
"It's one of the games that I will always remember. I will put that in the catalog that that game made my senior year I think. It changed us a lot, it humbled us, it was a good old fashioned butt whipping on national TV." --Melvin Booker, Big Eight player of the year
"Norm has some of the best one liners of anybody. It was either right before interviews or right when he comes out of talking to the team and he looks at me and goes, 'Wujee, it was like frogs in a hailstorm out there.' I had to think about that...Guys were just bouncing all over the place with no rhyme or reason, but it was a classic Norm one-liner that typically kind of leaves you thinking, 'What does he mean by that?'" --Steve Wujek
"After the game, I thought, being a freshman, I was like we were beat by 50, what's gonna happen in the locker room? I thought it was gonna be crazy. Coach Stewart was basically like, 'Move on.' Nobody was irate. Nothing crazy. Me being a freshman I was just scared, I was nervous." --Freshman forward Kelly Thames
"After that game every plane ended up in a different spot because of fog. One went to Columbia, one went to Kansas City, one somewhere else. It wasn't a great trip." --Travis Brown, team manager
"It was kind of strange. It was almost like the next day at practice we had a pretty difficult practice, but not as severe as some. It was kind of like, I don't know, I thought Coach Stewart did a great job of, 'That's over, let's go.'" --Jed Frost
"I think because it was so bad, I think the coaches felt like this is easy enough, you got to wipe it out, it doesn't mean anything, it's gone. Sometimes the one-point heartbreakers have more pain than something as silly as 40 or 50 points. I think it was almost easier to say, 'Okay guys, let's move on.'" --Steve Wujek
"There's a difference when you don't play hard or you play hard and you're just not good enough. I think our guys played hard, they just weren't good enough for that team...I think it was more of a fact of how are we going to get better? Beating their brains in and beating them down is not going to make them that much better." --Bryan England
"In my 40 years, I got it stuck to me by 40 three or four times. That could completely destroy you. If you're not really strong, you've got to really be strong. A great coach, Ralph Miller, I watched him one time. A guy popped him, when I say popped him, beat him 40, 50 points, and left his starters in the game. They went right after Ralph because he's a hell of a coach at that time. They said, 'What do you think, was he pouring it on?' He said, 'Are you kidding me? Hell no, he knew we could come back anytime.' There's always something (you can do)." --Norm Stewart
Missouri won its next four games. The Tigers beat Jackson State by four, Arkansas State by 22, SMU by five and Coppin State by one. They entered the Braggin' Rights game with 19th-ranked Illinois on December 22nd with a thoroughly uninspiring 5-1 record, having been outscored by 17 points on the season. In "Perfection, Part Two," we will pick things up with the game that would serve as the turning point in Missouri's season.