Perfection: The Legacy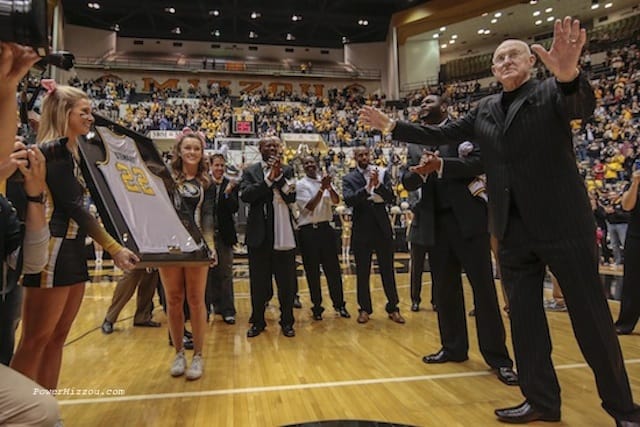 Twenty years ago, the Missouri Tigers went 14-and-0 in the Big Eight and won the program's last conference basketball title. The team returned to Columbia in October and was honored prior to the exhibition opener.

PowerMizzou.com has spoken to players, coaches, broadcasters, administrators and opponents from that season. Over the last week, we have relived that season along with those who were a part of it.

Today, we conclude with a look at the legacy of that Tiger team and its place in Mizzou hoops history.
Missouri finished the 1993-94 season at 28-4. It was, at the time, the school record for wins in a season. The four losses tied the 1981-82 team for the fewest in program history since 1930. The Tigers reached the Elite Eight, as far as any Missouri team has advanced in the NCAA Tournament.
"Great group of guys. The sum of the total of that group was so much greater than the individual parts. It was amazing. If you go back and look at it...Those guys maximized, again, have to be careful comparing teams, they maximized their abilities together probably as well at least as any team that I had. They completely maximized their abilities." --Mizzou head coach Norm Stewart
"We won---and I think I'll get this right---(the Big Eight title) in '90, '91, '92, '93, and then they won it in '94, and we won it in '95, '96, '97, and '98 or something like that. We had a really nice string going except for that year, so I've always been ticked off about it, which would Missouri fans happy to hear me say that. It was a team. There was nobody drafted in the top five picks or anything like that, but they really were a team. Great coaching job by Norm and his staff." --Kansas head coach Roy Williams
"There have been some great Missouri teams. I would definitely put us in the top five. I guess you could argue back and forth, but I would definitely put us in the top five based on what we accomplished." --Forward Jevon Crudup
"I think they're right there. It's probably as good a team performance when you look at games lost and the personnel and what they did after they were done with that team, probably more with less. You've got to go back Stipo and Sunny's teams (1980-83) when you win four league championships in a row, you can break it out to one individual team but that's a pretty good run that you don't see very often. Kim's team (1976) was good because they were the first one to do it and as you know the first one to do something is really hard." --Mizzou assistant coach Bryan England
"I think I'm a little bit biased because that was my era, it's got to be up there 1 or 2. As a team, not superstars, but as a team, you'd probably have to put them up there with the best. They played off of each other and with each other probably better than any of the other teams." --Mizzou basketball sports information director Steve Wujek
"Not taking anything away from them, I don't know what is the best team in Missouri history, but that team certainly they're in the discussion. That might be the best team, the best together group, the best chemistry in Missouri history. The team that got the most out of its parts. I think coach has said that before. I think he's said that maybe it was not the best team, but the sum of the parts equalled into one of the best teams." --Mizzou assistant coach Kim Anderson
"I think they're one of the top three or four teams. I probably wouldn't put them as the best team, but what they accomplished was obviously second to none. There were some great ones with Peeler and Doug Smith and Stipanovich and my junior year. I think one of those teams could argue they were the best team but what was accomplished, truly to go undefeated was great." --Mizzou radio analyst Jon Sundvold

"There's a lot of great teams. I think fans could relate to this team. These guys, there wasn't a ton of highly recruited guys...I think just as far as team is concerned it's the best team in Missouri history. Talent wise probably not. I think there's teams that had more talent." --Team manager Travis Brown
"You know I can say in my opinion I would think we wasn't the most talented team but we were probably the best team that year in Mizzou history. You talk about Doug Smith, Cheivous, Sundvold. I just think you probably couldn't find a better team that was close with eight seniors, no problems. We were like brothers. We had the best chemistry that you can have as a team from top to bottom." --Senior guard Melvin Booker
"There was no ego on that team. How many teams in sports today can you say that there's no ego?" --Senior guard Jed Frost
The 1993-94 Tigers, all except Paul O'Liney and Mark Atkins, returned to Columbia on October 25 for Missouri's exhibition game against Oklahoma City. The team was recognized prior to the game, greeted by more than 9,000 fans.
"I was shocked. To have 9000 at an exhibition in the Hearnes 20 years later. When we walked in and the Missouri athletic department did an absolute amazing job. To walk into an autograph session and you're thinking I can't really believe they're doing that? Ten, 20 people, we could just do that at the game. You walked in and there was a line out the door. It was like wow. It really was. It means very much. I think that goes back to the tradition and the way things were. Missouri, coach Stewart was always about you come to Missouri to win. That's what we do here...It's hard to believe not only was that team undefeated, but you know that's the last conference title? And it was 20 years ago." --Jed Frost
"It couldn't have been any more special than that. The fans welcomed us back in a very special way. I almost got really emotional there. My entire college career just flashed before my eyes during that time. I remember when I was a freshman the first time practicing." --Melvin Booker
"I grew up outside of Columbia in Hallsville going and watching Missouri basketball with Nowell's Rafter Rooter tickets. For me to have the opportunity, when I was not a good athlete, to be a part of that program. These guys came in and they appreciated what everybody provided them. The weekend they all came back, it was extremely important to them that people in my position, the strength coach, the trainer, they wanted everybody back. I think they realized the support they had allowed them to do what they did...To this day it's still a close group. I maintain contact with a lot of them on a regular basis." --Travis Brown
"It was something special. I think probably that feeling, that aura, that surrounds a team like that, you probably get that every year in every sport and you say okay where was that team that just was special? It doesn't matter what university it belongs to, you could talk to everybody around that team from broadcasters to trainers to the SID and everybody just seemed to be lock step with each other." --Steve Wujek
"I was the youngest one and I was like the younger brother. I remember when I came on a visit it just felt right that I had to choose Missouri. Everybody got along no matter where they came from, skin color anything like that. To this day we still act the same. That's what was so special because everybody was all for one, one for all and nobody had any egos. It was like everybody didn't think that we can play. Missouri, everyone was doubting us and didn't think we were that good. Every night we had to prove it and that's the type of players we had. From day one in practice we just go out and compete. We had to go out there and earn everything that we got." --Freshman forward Kelly Thames
"I just think people connected with that team. Missouri has great fans and I was around it for a long time. There was always that connection but I thought that team was a special team. For some reason it bonded even more so with the community and the students. I think people just attached themselves to that team. Going 14-0 and all the stuff that they did, I don't know, I think there was a camaraderie with everybody with that team." --Kim Anderson
"That team really embodied, I think, what is the culture of the state of Missouri. It's relatively a blue collar state. It's a state that when you look at things probably has to overachieve to get recognition. That team did that...It was to me just one of those special collections that comes around only so often and you really just kind of cherish the time that you're around them and the relationships that are built through it. I'm still close with those guys. I talk to Lamont, I text with Melvin, I see Chip and Jed quite a bit, Jed and I still try to play golf together when schedules allow. Invariably we go back and we talk about the 93-94 season. It's just something I'll always remember for the rest of my life because I was just so honored to be a part of it." --Mizzou radio play-by-play man Mike Kelly
"What was really fun is down in the tunnel waiting to come out for the football game with those guys, my son got an education from those guys telling him story after story and I was trying to tell him, that's why you're on a team. You win some, you lose some, but to be able to have that relationship and tell those stories 20 years later...and those stories grow as the years go by." --Bryan England
"That's an advantage to being older. The stories get better as you tell them." --Norm Stewart