PFF Player Grades: Mizzou vs. Wyoming
For the second season in a row, Rivals has teamed up with Pro Football Focus, the leader in college football analytics. After every Missouri game, we will provide the PFF grades for each Tiger player that saw the field for 10 or more snaps. Before getting to the grades from Missouri's stunning upset at the hands of Wyoming, though, here is a note from PFF about how grades are formulated:
On every play, a PFF analyst will grade each player on a scale of -2 to +2 according to what he did on the play.
At one end of the scale you have a catastrophic game-ending interception or pick-six from a quarterback, and at the other a perfect deep bomb into a tight window in a critical game situation, with the middle of that scale being 0-graded, or 'expected' plays that are neither positive nor negative.
Each game is also graded by a second PFF analyst independent of the first, and those grades are compared by a third, Senior Analyst, who rules on any differences between the two. These grades are verified by the Pro Coach Network, a group of former and current NFL coaches with over 700 combined years of NFL coaching experience, to get them as accurate as they can be.
From there, the grades are normalized to better account for game situation; this ranges from where a player lined up to the dropback depth of the quarterback or the length of time he had the ball in his hand and everything in between. They are finally converted to a 0-100 scale and appear in our Player Grades Tool.
Season-level grades aren't simply an average of every game-grade a player compiles over a season, but rather factor in the duration at which a player performed at that level. Achieving a grade of 90.0 in a game once is impressive, doing it (12) times in a row is more impressive.
It is entirely possible that a player will have a season grade higher than any individual single-game grade he achieved, because playing well for an extended period of time is harder to do than for a short period, Similarly, playing badly for a long time is a greater problem than playing badly once, so the grade can also be compounded negatively.
Each week, grades are subject to change while we run through our extensive review process including All-22 tape runs and coaching audit, so you may notice discrepancies among grades published in earlier articles compared with those in the Player Grades tool until grade lock each week.
Offense
Table Name
| Player | Position | Grade |
| --- | --- | --- |
| Yasir Durant | LT | 71.1 |
| Kelly Bryant | QB | 70.5 |
| Trystan Colon-Castillo | C | 67.7 |
| Hyrin White | RT | 66.8 |
| Larry Borom | LG | 65.3 |
| Albert Okwuegbunam | TE | 65.3 |
| Kam Scott | WR | 64.5 |
| Jalen Knox | WR | 64.4 |
| Tyler Badie | RB | 63.2 |
| Daniel Parker Jr. | TE | 61.5 |
| Tre'Vour Wallace-Simms | LG | 60.9 |
| Johnathon Johnson | WR | 67.0 |
| Jonathan Nance | WR | 55.2 |
| Barrett Banister | WR | 53.9 |
| Larry Rountree III | RB | 44.3 |
Takeaways: As we wrote in our grade card last night, quarterback Kelly Bryant largely played well in his Missouri debut. But his two turnovers cannot be overlooked, as those mistakes played large roles in handing Wyoming the momentum.
These grades also show that Bryant didn't get a ton of help. Running back Larry Rountree III was billed all offseason as a potential all-conference player, yet he finished with the lowest grade on the offense. Wonder why the Tiger staff prefers Tyler Badie (who didn't exactly blow PFF graders away himself) in passing situations? Rountree's pass-blocking grade, on a scale of 0 to 100, was a 3. The group also didn't get much push from the interior of its line in the running game. Finally, while Missouri had a lot of receivers make plays, none consistently got separation from Wyoming's defensive backs.
Defense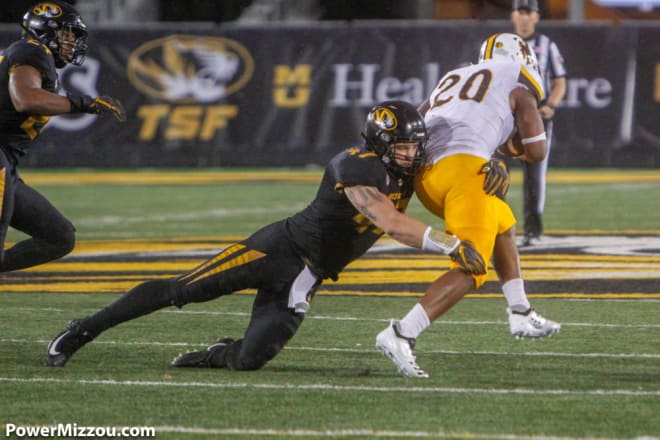 Table Name
| Player | Position | Grade |
| --- | --- | --- |
| Cale Garrett | LB | 81.5 |
| Kobie Whiteside | DT | 79.0 |
| Jordan Elliott | DT | 70.9 |
| Chris Turner | DE | 69.7 |
| Nick Bolton | LB | 66.6 |
| Jarvis Ware | CB | 66.4 |
| Markell Utsey | DT | 65.8 |
| Tre Williams | DE | 61.5 |
| DeMarkus Acy | CB | 58.1 |
| Akial Byers | DT | 57.9 |
| Joshuah Bledsoe | S | 57.6 |
| Tyree Gillespie | S | 57.3 |
| Christian Holmes | CB | 48.3 |
| Jatorian Hansford | DE | 46.6 |
| Jordan Ulmer | S | 40.1 |
Takeaways: We'll work our way from bad to good this time, because there was a lot more bad than good. First of all, Missouri's high safeties were atrocious. Joshuah Bledsoe, Tyree Gillespie and Jordan Ulmer were routinely out of position, which led Wyoming to break off a few long running plays. Bledsoe missed at least a couple important tackles, and Ulmer was beaten on a few play-action passing plays. On a bad night for Ryan Walters' defense, his position might have been the worst on the field.
The defensive ends struggled as well, though that comes as less of a surprise. Chris Turner's grade seems a bit high for me considering he had just one tackle, but he at least got some penetration from time to time. Jatorian Hansford, starting his first career game, got abused. Wyoming ran to his side more often than not, yet Hansford didn't record a tackle. The fact that the staff only played Turner, Hansford and Tre Williams at the position might bode worse for the group's depth than its lack of production.
The cornerbacks weren't tested often, as Wyoming quarterback Sean Chambers completed just six passes, but Christian Holmes did get beat a couple times in man-to-man, including on Chambers' lone touchdown pass. We will learn more when the Tigers face a more pass-heavy offense, but it certainly looked Saturday like Jarvis Ware was the better player.
Finally, I will say this: The linebackers probably played better than I gave them credit for in my grade card. Cale Garrett and Nick Bolton almost never left the field, and they did combine for 25 tackles. But both players had at least one missed tackle, and Bolton especially appeared at times to leave an open gap that led to a long run. At the end of the day, if a defense gives up nearly 300 yards rushing, it's hard not to assign some of the blame to the linebackers.
(NOTE: I forgot to include safeties Ronnell Perkins and Khalil Oliver in the original data. Perkins earned a grade of 64.4 and Oliver earned a 64.0.)
Overall
Missouri's offense earned a 76.4 overall grade for the game. For context, that would have ranked eighth out of its 13 games a season ago. Here is how that grade broke down by category:
Passing: 78.0
Rushing: 51.7
Receiving: 57.4
Pass Blocking: 80.0
Run Blocking: 63.7
The Tiger defense was similar, earning a grade of 67.3. That also would have been eighth-best last season. Here is how the defensive grades broke down:
Rush Defense: 69.9
Tackling: 46.0
Pass Rush: 67.2
Coverage: 59.5
Takeaways: As pointed out above, Missouri's running backs and pass-catchers left quite a bit to be desired. PFF attributes the Tigers' struggle to run the ball more to the ball-carriers than the offensive line. On defense, Jordan Elliott was correct when he said after the game that missed tackles were the team's biggest problem. That is a worse tackling grade than the team received all of last season.