Play-action success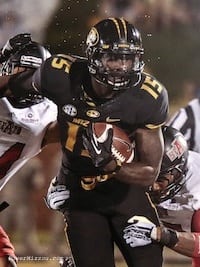 Through the first four games of the season, Missouri is leading the Southeastern Conference in rushing. The Tigers are averaging 262.2 yards per game (25 more than second-place Arkansas) despite not having one individual in the league's top ten.
"People fear us and that's a big part of our offense," said
Henry Josey
, Mizzou's second-leading rusher with 238 yards so far.
The biggest beneficiary? The Tigers' passing game.
"When you run the ball effectively then your play action works," offensive coordinator
Josh Henson
said. "Those two things go in hand in hand."

Prior to the season, his first calling the plays, Henson had targeted play-action passing as a phase of the game the Tigers could use more. He cited not only the trio of running backs and
James Franklin
's ability to use his legs, but also Missouri's tall, athletic receiving corps as factors.

Every football team has the play-action game as part of its offense. But the Tigers have leaned on it more this year than in the past.

"I would say that's certainly true," quarterbacks coach
Andy Hill
said. "We've done play action passing (in the past), it's probably been a little more prevalent this year."
Most recently, the Tigers used a play fake to free up
Dorial Green-Beckham
for a 68-yard touchdown catch in a 41-19 win over Arkansas State.
"Before the play, knowing where I am on the field, knowing what coverage they're in by watching the safety, that's what really gave it away. That's when I knew that play was going to be open because they kind of gave it away because the safety kind of came down," Green-Beckham said. "Once I took off, I saw it from the get-go and I was like, 'Okay, this ball's probably gonna be here.' I know that James is probably gonna throw it so I looked and made clear eye contact. I literally looked right into James' eyes and he's like okay, 'I'm gonna throw it.' I was like, all right, just came going, the ball was placed perfectly and just ran for six."


That play was the most recent and most explosive example of the Tigers' play action success. But so much more goes into the play than just the receiver. In fact, his role is perhaps the least important.

First, a team has to be able to run the ball. If the defense does not respect the run, it will not commit to the handoff. Second, the offensive line, the quarterback and the running back all have to sell the play as a run.

"The offensive line has to do their job, running backs do their job when you're talking about play faking," Hill said. "There's a bit of magician with Steve Deberg and the guys who are really good, and slight of hand."
"I think James (Franklin) has done a great job of carrying out the fakes," wide receiver
L'Damian Washington
said.
"As you see us, we're going through our play action, everybody's biting down on it," Josey said. "It's so much easier for our receivers to get open, it's easier for James to get reads."
"If you're running the ball and people are trying to load up on the run, which a lot of people are trying to do, putting extra people in the box there, a couple things happen,"
Gary Pinkel
said. "Number one is you can hit the perimeter a little bit better on the outside. The other thing if they're anticipating the run you can play action, which slows the rush down obviously."

In a game of inches and fractions of seconds, the offense is looking to get a defender to take just one false step on a play-action pass. And as soon as it happens, everyone can see it.
"There's definitely one of those 'Oh s---' moments where you've just got to turn around and run. It definitely happens," linebacker
Andrew Wilson
said of defending play-action. "In practice, it's tough to read because the line shows run, you get downhill and they're throwing over the top of you."
"You're hoping for a trigger from the guy you're trying to affect. That's usually who I'm watching whenever the play fake's going on game day so I know if it's going to be there or not," Hill said. "You pretty much know right away and you have a good feeling for it. There's been times where you're going 'Uh-oh.' We're saying uh-oh because the guy didn't trigger like we wanted him to."

Thus far, the Tigers have seen quite a bit of success with the play-action passing game. If they can continue to run the ball as SEC play begins, that success will continue.
"Our play action game's helped us," Henson said. "I think it's something that can continue to help us down the road. i think it's something that fits who we are."
Nobody covers the Tigers like PowerMizzou.com. Click on the image below and enter promo code "Mizzou30" to get a 30-day free trial started today.

Click
Here
to view this Link.