Powered Up: A painful reminder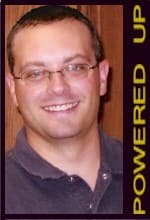 I considered, since I hadn't written a Powered Up since the end of basketball season, to try and put a bow on the season, to wrap things up. But my heart wasn't in it. This season is over and done. And, frankly, that's best. There's not much point rehashing it.
Then, I was going to write about this spring football session in Columbia, the excitement surrounding it, ESPNU coming to town, the fact that Missouri, after who knows how long, has finally joined college football's elite, at least for the time being. But honestly, I have nine months to write that story if next season goes the way most think it will.
And then, on Tuesday, inspiration for a story hit me in the worst possible way. I logged on and saw a story about Ereck Plancher. For those who don't yet know, Plancher was a redshirt freshman wide receiver at the University of Central Florida. He died following a voluntary workout at 11:51 Tuesday morning.
It took me back, just like that, to July 12, 2005. That, of course, was the day Missouri redshirt freshman Aaron O'Neal died.
I don't want to rehash the day, or the aftermath. Frankly, I don't really like to think about that day very much. Short of the very few days death has touched my own family, it was probably the worst day I've had.
But Plancher's death would make anyone who has followed Missouri think back to that day now nearly three years in the past. As I was doing so, my thoughts took a course that frankly made me smile a little bit.
Aaron O'Neal came to Missouri when, honestly, the Tigers weren't very good. Yes, they were coming off an eight-win Independence Bowl season and had a lot of promise. But Missouri was hardly one of the established programs in college football. That 2003 season is about the equivalent of a basketball team that wins the NIT. Yeah, you did something. But you've got a long way to go to climb that mountain. O'Neal dreamed of playing for the Tigers growing up and he didn't let the fact that the Tigers weren't one of the heavyweights deter him from that dream.
O'Neal's redshirt year was 2004. I need not rehash that either. The Tigers went 5-and-6, fans berated Gary Pinkel for trying to make Brad Smith a passer, screamed for his job and more or less convinced themselves the program was going nowhere.
That July, O'Neal passed away and football really didn't seem all that important. The Tigers did get back to a winning record, went to the Independence Bowl again. It was a step forward, but only the smallest of steps. The next year, some more inching forward as Chase Daniel led the Tigers to eight wins and the Sun Bowl.
Of course, this past year was the breakout. Mizzou went 12-and-2, finished fourth in the country and is in everybody's pre-season top 10 for 2008.
What's this got to do with Aaron O'Neal and the whole point of me writing this, I'm sure you're asking. Well, as I was thinking about the tragedy of Ereck Plancher, of the pointlessness of any 19-year old kid having to die, I thought about Aaron O'Neal.
I thought about a kid sitting up there somewhere overlooking all of this. Seeing his team, the one he'd rooted for all his life, finally step into the light as one of the best teams in college football. Seeing his classmates like Van Alexander and Jimmy Jackson play pivotal roles. Seeing his fellow St. Louis native Will Franklin leap his way up NFL draft charts. Seeing his old roommate, Tony Temple, set a Cotton Bowl rushing record and cap a career in which he became the first Tiger back ever top top 1,000 yards twice.
I thought about next year. About how the Tigers have a legitimate shot at winning a national title. About how no one questions why a kid would go to Missouri anymore. About how it should be AO's senior year, how he should be part of a linebacking corps some are saying is the best to ever play at Missouri.
I thought about next November 8th, which should be O'Neal's senior day. About how his teammates just might be rushing out of that tunnel looking to protect a perfect season. About how they'll gather at the 50-yard line at practice the day before and scream "AO" in one voice. About the minimal chances of there being a single dry eye at Memorial Stadium when number 25 is announced to the crowd with his classmates.
Nothing good comes of a kid dying. Not Ereck Plancher, not Aaron O'Neal, not any of the other countless teenagers who die every day in this country. I don't know that there are lessons to be learned, or that anything can mitigate the pain.
But Aaron O'Neal's dream is coming true. His team has a shot at everything he ever wanted during his senior year. Somewhere, I hope AO has a smile on his face.
Tiger fans are encouraged to offer their thoughts and prayers to Ereck Plancher's family and UCF fans in this thread
.