Powered Up: Daniel is the difference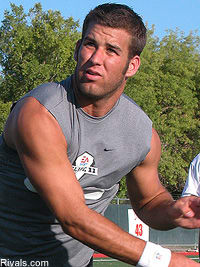 As the Missouri Tigers prep for the most anticipated season in school history they are suddenly one of the darlings of college football. A consensus top ten ranking, a Heisman (maybe two) candidate, a unanimous choice to win the Big 12 North. Coming off a season that surprised many across the country, the Tigers' rise is still fresh enough that it's the subject of seemingly a new story in some publication every single day.
To call the Tigers an overnight sensation would be unfair.
Gary Pinkel
has been building for this year for nearly a decade in Columbia. But to figure out when the movement really started, you have to go back four years.
July 9, 2004. The Tigers took off with one simple phone call.
"I called coach Pinkel and committed earlier today," then Southlake Carroll High School quarterback
Chase Daniel
told
Rivals.com
that evening.
Point to any event, any game, any play you want to over the last four years. But it started that night.
I remember distinctly, I was coaching my son's tee-ball team that summer. We had just finished our last game and were having the traditional team party at a local pizza joint. About 30 seconds after I'd handed out the last trophy, I got a call from Bobby Burton, one of the men in charge in our network.
"Chase Daniel just committed to you guys," he told me.
The best thing about this job is that there are no set hours. The worst thing is that there are no set hours. I left the party and headed home to man the fort after a commitment that everybody knew was big. We just didn't know at that time how big.
The story has been told and told again. Daniel was a too short, too chubby, too product of the system quarterback. Over the next seven months, I lobbied repeatedly to get a fourth star added to the column behind Daniel's name. The kid threw for more than 5,000 yards, I said. He did it in perhaps the most competitive area for high school football in the nation, I argued. Did you watch him destroy Denton Ryan on ESPN? Didn't matter. I was told by one person (name withheld to save him the headache) that "Chase Daniel will never play a down at quarterback in college."
Four years later, Daniel might be the best quarterback in college football. He will own every record in the Missouri books some time early in the Big 12 season. He seems likely to be the first Tiger ever to finish in the top five of the Heisman voting twice. He is college football royalty. I don't want to say I told you so, but man, I kind of told you so.
As this season--the one Missouri fans have waited decades to witness--draws closer by the hour, there is fear in Tiger Nation. You can tell me there's not. But I know Missouri fans. It's there. You've seen a lot of heartbreak. You've watched teams that were supposed to be really good fall short. Somewhere--maybe not right at the front, but somewhere--in your mind, you're scared to death that the Tigers are going to revert to pre-2007 form. They're going to lose a game they shouldn't. The momentum is going to screech to a halt. What happens if this team, the best team in school history, only wins eight or nine games?
I get the fear. I've seen a lot of Missouri football too. I understand why Tiger fans might think that way. I also understand why there's not much merit to it: Chase Daniel is the quarterback.
Now, listen, the kid's not invincible. Ask Curtis Lofton. But he's just got something special. Pinkel and
David Yost
have always summed it up by saying, "Chase Daniel has 'it.'"
I don't know exactly what "it" is. You can't really put "it" into words. But watch him play. Watch him lead a comeback from ten points down against Iowa State, not only saving the Tigers' season and sending them to a bowl game as a true freshman, but derailing the Cyclones' shot at the only Big 12 North title in school history. Watch him run through a Texas Tech defensive back. Watch him single-handedly prove that
Mark Mangino
is not Pinkel's kryptonite. You look at Daniel and you think he can't possibly be a college quarterback. Then you watch him play and you know better.
Daniel became the poster boy for college football last year. Yes,
Tim Tebow
won the Heisman, but his team lost four games. Yes, Darren McFadden was considered the best player, but Daniel's Tigers embarrassed him and his Arkansas teammates in the Cotton Bowl. Yes, Glenn Dorsey won a national title, but defensive tackles don't have the glitz of quarterbacks. Daniel was the "it" story in college football last year.
That's not going to change in 2008. The only difference is that it won't be a surprise. Going into last season, Missouri fans knew they had one of the nation's best. Then, the country found out.
So, as Gary Pinkel goes into full-on sleep deprivation mode for the next five months, chasing a Big 12 title, a national championship and whatever else might come, he knows it won't be easy. He knows there will be bumps on the road and challenges his team has never faced as being one of college football's hunted. He also knows there isn't a player in the country he trusts more to guide his team through those issues than the kid he's got playing quarterback.
At some point this season, when you're praying that your Tigers can win in Lincoln, NE for the first time in your life, or when you're wondering if they can really go on the road and win in Austin, TX, or when they're not only mentioned on College GameDay but they're the top story, take just one moment to appreciate what you're seeing: One last run for the best quarterback ever to call Faurot Field home.
It might not be the world's smoothest ride. There might be a pothole or two along the way. But for Missouri, there couldn't possibly be a better person to be sitting behind the wheel. Tiger fans, buckle up for one last ride with the best you've ever seen.