Powered Up: Honesty not the best policy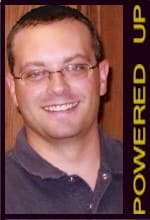 Honesty is an admirable quality-many would say an essential one-in public officials. We all want our leaders to be honest. Well, most of the time.
If you're a fan of the University of Missouri, you're hoping like hell today that Mizzou chancellor Brady Deaton is a liar. Or at least a man unwilling to publicly divulge the truth at a very delicate time.
If you have been living under a rock for the last 16 months, the future of the Big 12 Conference is in serious doubt at this point in time. Nebraska and Colorado defected in the summer of 2010. Texas A&M to the Southeastern Conference is more a matter of when than if. Oklahoma-and by extension Oklahoma State-has made no secret that it has wandering eyes.
Deaton did an interview with the
St. Louis Post-Dispatch
(read the whole story
right here
) in which he spoke about the viability of the conference with or without the Oklahoma schools and was quoted as saying the following:
"I don't want to go too far there, (but) there's a legal basis for the Big 12 to go on and, certainly, I would expect that to continue."
Deaton went on say: "If things change, we'll try to keep it together and move forward with other members. I'm a little more optimistic certainly today than I was maybe a week ago, but that's based on the fact that I think good, careful reasoning and analysis of what's in the best interests of each of our institutions will continue to bind us together as a conference."
Now, before I go on, let me say that I am certainly willing to give Deaton the benefit of the doubt. As the chairman of the conference board, I am willing to entertain the idea that he is saying the only thing he really can say at this point in time. With teams jumping to different leagues regularly and others being rumored to do so, every public statement from anyone in an official position should be taken with a few pounds of salt.
You as fans, and I as someone whose income and livelihood depends heavily on the success of Mizzou's athletic teams, must hope that these are politically correct statements which mean very little in the grand scheme of things. And maybe they are. The best case scenario is that Deaton felt an obligation to fulfill an interview request, but felt no need to actually tell the truth.
The worst case scenario? That Deaton believes what he said.
Nebraska leaving hurt the Big 12. But the damage wasn't irreparable. The Huskers were in the middle of the least populous state in the conference by nearly a million people. Nebraska has a legendary football program with a national following and its departure was not meaningless. But it also was not a crippling blow. Nor was the loss of Colorado.
Even Texas A&M's departure was not enough to kill the Big 12 in and of itself. All indications are that the nine remaining teams were ready to add a tenth school and confident that school would be a suitable replacement for the Aggies. Well, at least until Oklahoma president David Boren dropped the bombshell that the Sooners were looking around.
On September 2nd, Boren said, "We have been relatively and unusually quiet in terms of public pronoucements, that's to keep open and study the best options for us and not lock ourselves into a course of action until we know what's best for the university…We have interest from other conferences and other universities. It's really a tribute to the strength of our program at the University of Oklahoma that there is so much interest in us. We have to carefully evaluate the various comments that are being made to us and various possibilities being shown to us before we decide what's best for the university to do."
In other words, Boren put the rest of the league on notice that the Sooners weren't happy and were perfectly willing to leave. And if the Sooners want to go, there is no shortage of places that would be happy to welcome them. In the two weeks since Boren's comments, informed speculation has reached the point of saying it is a nearly foregone conclusion that both Oklahoma schools will move to the PAC-12.
Let's be clear about one thing: If Oklahoma leaves, the Big 12 is worthless. I didn't say dead. Deaton's comments, along with the University of Texas' obvious desire to keep the league around, have to prevent anyone from filling out the death certificate. But without the Oklahoma schools, the league has just seven members. If it's not dead, it's the equivalent of a comatose patient whose family has been told there is a zero percent chance he will ever wake up.
Could the Longhorns find teams to come on board? Sure. Houston, SMU, UT-San Antonio, Arkansas-Pine Bluff, Northern Iowa, Washburn and Columbia College would all be silly to turn down an invite to the Big 12. That doesn't mean it is a good idea.
There is NO advantage to staying in a Big 12 that no longer includes the Oklahoma schools.
I have tried to find out exactly what the rules are to be an automatic BCS qualifying conference in football. I have seen nothing that says there must be a certain number of teams in a conference to qualify. Here is the best information I could find:
Under the terms of the agreements with the bowls and television rightsholder, the ACC, Big East, Big 10, Big 12, Pac-12 and SEC will have annual automatic qualification for their champions for the 2010-11, 2011-12, 2012-13 and 2013-14 seasons.
So, it would seem that if the Big 12 survives, it remains an auto-qualifier for at least two years after this one. It would also seem that if the Aggies, Sooners and Cowboys are gone, the chances of the Big 12 remaining that way beyond the 2013 football season are incredibly slim.
But that is perhaps the smallest issue. Last summer, when the Buffs and Huskers left, the league was kept together in large part by a television deal that promised every school more money. It promised Oklahoma, Texas and A&M more money than the rest, but it was still a substantial raise. The exact financial terms of the deal have remained confidential, but it runs through 2024-25 and was called by Dan Beebe "one of the best television arrangements in college sports." When the agreement was announced in April, Beebe said, "It exceeds the benchmarks as we move forward with our ten members by providing significant revenue growth, increased exposure while allowing institutions to retain selected rights. Most importantly, the agreement signifies the long-term commitment of the member institutions to one another."
Well, apparently not, Mr. Commissioner.
Hey, if Oklahoma stays, I'm on board. The Big 12 is the best place for these schools. All of them. If it really is something close to the Big 12. But if the Oklahoma schools go, this isn't the Big 12. It isn't half the Big 12. Without A&M, Nebraska, Colorado, Oklahoma or Oklahoma State, the league will have lost five of its eight most important schools. For those who aren't strong in math, that is 62.5%. No football team that loses 13 starters in a single season is expected to compete for a national title. Not much is expected of a basketball team that loses five of its top eight scorers. Why in the world would we think a conference is any different?
If the reports of Oklahoma and Oklahoma State's impending departure are true-Deaton says he expects resolution within two weeks and Boren said the process wouldn't go more than three-it is every man for himself. What that means for Baylor, Iowa State, Kansas and Kansas State matters not to Missouri.
As I said, I'm willing to assume for now that Deaton simply is saying what he has to say. He cannot possibly truly believe the Big 12 can live on if two more schools are gone. It defies all logic. Missouri has been involved in discussions with other leagues. The Tigers are paying attention. What they have lined up and where they would land, I do not know. Deaton isn't saying and neither is anyone else.
Let us all hope that is not all that remains unsaid. Because the alternative is flat out frightening.
Nobody covers the Tigers year-round like PowerMizzou.com. If you are not yet a member, just try out our free trial.