Powered Up: QB History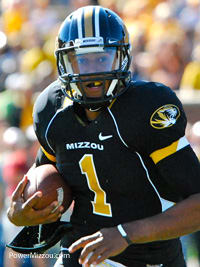 We've spent about eight months guessing and predicting how many games Missouri will win this season. But with the opener now just ten days away, what if we actually did some research on the topic? Instead of a (semi-educated) guess, let's use history to give us some actual reason to make a prediction.
Missouri loses a lot of starters from last season, including its quarterback. There are some proven players stepping into starting roles for the first time (
Markus Golden
,
Shane Ray
), some who have shown some flashes (
Aarion Penton
,
John Gibson
) and a few we know very little about what to expect (
Darius White
,
Donavin Newsom
) because they haven't had much of a track record so far.
But in the end, one position will have more to say about a team's performance than any other. Quarterback play is probably the number one determinant of just about any team's success. Go back and find the last team to have a great season with poor quarterback play. While you're searching, I'll go ahead and finish writing this column. Great quarterback play doesn't guarantee a great season. But poor quarterbacking makes it virtually impossible.
If I were to put
Maty Mauk
into one of those categories I mentioned, I'd say he's one of the guys who has shown some flashes. He started four games, but isn't really a "returning starter." He threw ten touchdowns and two interceptions and made plays with his legs and played a key role in beating Georgia and Oklahoma State and winning three games. He also went 10-for-25 with a pick and averaged just 1.2 yards per carry against South Carolina, losing to the best team he faced as a starter. Mauk showed enough to make the glass-half-full crowd believe Missouri won't miss a beat (the glass-all-the-way-full crowd believes the Tigers will be better with a sophomore Mauk than a senior
James Franklin
). But there were enough chinks in the armor that the cynics have at least a little bit of ammo to back up claims that Missouri won't come close to matching its 12 wins from a season ago.

Now, about that analysis, this is the fifth time
Gary Pinkel
has had a new starting quarterback at Missouri--which is stunningly few for a coach entering his 14th season.
Brad Smith
started as a redshirt freshman on Pinkel's second team. The other three did the same thing Mauk will do--started as sophomores after a year of some seasoning in a backup role. To give us a guideline of what to expect, I wanted to look at how each of those quarterbacks did in their sophomore seasons (for Smith, I used his second year as a starter rather than going with his first year quarterbacking an undermanned team).

Brad Smith, 2003 season: This was the season where Mizzou first set foot out of the wilderness under Pinkel. After a 9-14 start over his first two seasons, Pinkel's program had started to spread some roots and the Tigers had a little bit of talent. It wasn't a great team, but it was a team with a budding star at quarterback surrounded by enough to be competitive in the Big 12...something Missouri hadn't much been the previous four years. The Tigers went 8-5, beating Nebraska for the first time in 25 years, throttling Texas Tech and Texas A&M and losing to Arkansas in the Independence Bowl. Smith completed 60.6% of his passes for 1,822 yards, 11 touchdowns and six interceptions. He ran for 1,310 yards and 17 scores.
Chase Daniel, 2006 season: This is the one that might be the most useful in comparing to Mauk. First of all, this is the guy most seem to want to compare Mauk to, due to their statures and history of winning games. Second, the 2006 team didn't have all of the elite talent and experience that would put Missouri in the nation's top ten for much of the next two years, but it was getting there. These Tigers went 8-4 in the regular season with competitive losses to Nebraska, Oklahoma, Texas A&M and Iowa State. They blew a late lead against Oregon State in the Sun Bowl to finish 8-5. Daniel ushered in an era of ridiculous quarterback stats at Missouri completing 63.6% of his passes for 3,527 yards, 28 touchdowns and 10 interceptions. He ran for another 379 and four scores.
Blaine Gabbert, 2009 season: Gabbert was the most touted of Pinkel's quarterbacks coming in. After very limited spot duty as a true-freshman, he took over as a sophomore in 2009. The Tigers overcame a three-game losing streak in the middle of the season against Nebraska, Oklahoma State and Texas to finish 8-4. They lost the Texas Bowl to Navy, finishing 8-5 on the season (do you see a trend developing here yet?) Gabbert's year statistically was virtually identical to Daniel's in 2006. He completed 58.9% of his passes for 3,593 yards, 24 touchdowns and nine interceptions. He ran for 204 yards and three touchdowns.
James Franklin, 2011 season: Franklin had played sparingly as a true freshman in 2010 because the Missouri staff knew Gabbert was likely to leave school a year early. He won the starting job in fall camp and started his career with a tough win over Miami (OH) and a tough loss to Arizona State. At the end of the year, the Tigers were (I think you know this by now) 8-5. The only difference between Franklin's debut season and the other three is that Franklin won his final game. The Tigers were 7-5 in the regular season, but won the Independence Bowl over North Carolina with Franklin playing a starring role. Franklin's final offensive numbers looked similar to those of Daniel and Gabbert, but he got there a little bit more like Smith had. He completed 63.3% of his passes for 2,865 yards 21 touchdowns and 11 interceptions. He ran for 981 yards and 15 scores.
So here are the average numbers for the last four Missouri quarterbacks in their sophomore seasons. In parentheses is the best performance in each category:

Record: 8-5 (all tied)
Completion percentage: 61.6 (Daniel, 63.6)
Passing yards: 2,952 (Gabbert, 3,593)
Passing touchdowns: 21 (Daniel, 28)
Interceptions: 9 (Smith, 6)
Rushing yards: 718.5 (Smith, 1,310)
Rushing touchdowns: 9.75 (Smith, 17)
So what's a reasonable expectation for Mauk? First of all, eight wins. Again, all four sophomore quarterbacks to start for Pinkel have won eight games and lost five. There has been no deviation whatsoever. As a runner, Mauk is certainly below Smith. He has the ability to put up similar numbers to Franklin (Mauk actually averaged 1.4 yards per carry more than Franklin last season), but does it more as a scrambler and probably will see fewer designed runs. Mauk's completion percentage last season, 51.1%, is far below that of any of the previous Missouri quarterbacks. That should come up. But his yards per attempt (8.05) and per completion (15.75) would rank second and first, respectively, on those lists.
Mauk has more experience than any of the previous three quarterbacks, but less than Smith. He also has more talent around him than Smith did and, potentially, a better defense than any of them. The individual statistics matter far less than the wins. Using history as our guide, eight wins should be the barometer for Mauk's first season.