Powered Up: SEC hoops needs a boost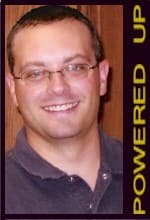 As a born and bred, dyed-in-the-wool college basketball fanatic, I hate what I'm hearing right now. Every day, somebody is telling me they just can't get into college basketball and then listing off the reasons why.
What I hate more is that a lot of the reasons make some sense to me.
The most common complaint I hear is about the officiating. I think there are two huge problems with it. One is new and one is not. Officiating doesn't seem to be very good in college. It far too often decides games and it almost always tends to favor the home team, which leads to most fans believing the zebras are--intentionally or not, it doesn't much matter--far too influenced by the screaming of the fans. I agree with that, but it's not a new phenomenon. The second issue is the new rules in college basketball. There's some thing called "freedom of movement" which, best as I can tell, means that officials are supposed to call a foul any time a defender looks cross-eyed at the guy with the ball. It has led to far too many free-throw shooting contests already this season. If I wanted to watch a bunch of winners decided by unguarded 15-footers, I'd sign my kids up for a free throw contest at the YMCA.
But ultimately, I think the explanation is easy for Missouri fans. Mizzou fans don't care any less about college basketball than they ever have (if you want proof, read the Internet in the hours after the loss to Georgia). What Missouri needs is for its current league to care more.
I don't mean the schools. I'm sure they all pour as many resources and dollars into hoops as they can. The coaches and the kids most certainly care. I mean the fans.
And that's something beyond their control.

SEC basketball isn't very good right now. That's just the nicest way it can be said.

Of the 14 programs in the league, I'd say almost a dozen of them are in a down cycle right now. By a down cycle, I don't mean this season. I mean the last few seasons.
Florida is one of the better teams in the country. Kentucky is still a talent factory capable of beating anyone on any night. Missouri is on track to make the NCAA Tournament for the sixth year in a row for the first time in school history. But what about the rest of the league?

There are signs Arkansas is improving certainly, but the Hogs haven't made the NCAA Tournament in Mike Anderson's first two seasons and are now a couple of decades removed from being one of the sport's most prolific programs.

Tennessee and Mississippi State are teams that have had strong runs in recent memory, but are struggling a bit right now. LSU and Georgia have made memorable March runs in my lifetime, but certainly don't look capable of doing it at this point in time. Alabama, Auburn, Texas A&M and South Carolina have shown the ability to have standout seasons and even sustain it over a few years at various times. Vanderbilt has been a solid program over the years. Ole Miss has Marshall Henderson and that alone should be enough to get opposing fans interested.
It's a league that has plenty of potential in basketball. Just because the fans care so much about football, there isn't a limit to how much you can care. You can pour every bit of emotion into basketball that you do into football as a fan, especially now that football doesn't play against guys in other uniforms for nearly eight more months.
But right now, being an SEC basketball fan is kind of like being a Boise State football fan a few years back. Yeah, you can go schedule a big non-conference game and everyone will be into it. You have one or two games during the course of the league season that you really get up for. And the postseason still matters. But on a day to day basis, do you get excited about your conference schedule? I don't think so.
It was said when Missouri and Texas A&M joined the SEC that "a rising tide lifts all boats." The people who said that were talking about football. But the league needs that tide to rise in hoops.

Wouldn't it be a ball to see Mike Anderson bring a top ten Razorback team back to his old stomping grounds? To travel to Rupp for a game that could decide the league title? To see Frank Martin storming the sidelines with the emotion he did in Manhattan in a game that really means something? To play in front of 24,000 at Thompson-Bolling Arena when the Vols are really good?

Maybe Missouri can never find a rivalry that will be quite like the one it had with Kansas. But you're telling me Iowa State and Oklahoma State are irreplaceable? I don't buy that.

The SEC has the most passionate football fans in America. I assume it's been that way for quite a while, but I imagine it's gotten more that way in the last ten years. Why? Because the SEC has been really, really good.

It can be that way in basketball. It has been that way in basketball. Fans care. But they need a reason to really care. Most of the SEC isn't giving them that right now.

Maybe I'm wrong. Maybe we're so inclined to be a football-crazed culture now that there just isn't as much room for passion in basketball. But I don't think I am. I hope the SEC gives me a chance to find out sometime soon.
Nobody covers the Tigers like PowerMizzou.com. Click on the image below for some holiday savings.

Click
Here
to view this Link.