Powered Up: The Best of Times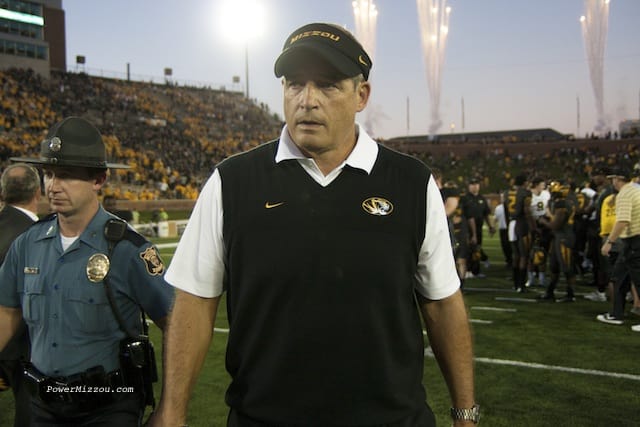 Hoover, AL--It wasn't always this way. You might not know that. There are a lot of Missouri fans that don't.
SEC Media Days are at full throat and the Tigers take the dais later today in Hoover. They do so as two-time defending division champions, having played in the biggest, baddest league title game in the land twice in a row.
Gary Pinkel
and his three chosen player representatives (
Evan Boehm
,
Maty Mauk
and
Kenya Dennis
) arrive as an oasis to quench the thirst of Mizzou fans who have been wandering through the football-less desert for the last six-and-a-half months.
Those of you a little bit newer to this whole Missouri fandom thing probably think it's pretty easy. Sure, very few outside of your own state seem to show a lot of faith in your team every summer (don't expect that to change this year; it's my guess Mizzou will be picked either third or fourth in the SEC East at the conclusion of this round of "talking season," to steal a phrase from
Steve Spurrier
). But when it actually matters--you know, from September through January--Missouri continues to turn the predictions on their heads and win a whole bunch of football games.
Those who have been Missouri fans for a dozen years or less define adversity as an injury-riddled 5-and-7 season after which fans and pundits alike were vocally wondering whether Mizzou could compete in the SEC. Some who have been at this whole thing just a little bit longer scoff at 5-and-7 and adversity showing up in the same sentence. Five wins? Man, they'd have killed for that for a decade-and-a-half.
Pinkel coached the entire 2014 season as the winningest coach in the 125-year history of Missouri football. Yes, they play more games now and yes, non-conference scheduling has changed and all that. But wins are wins and Pinkel's got more of them than any coach in Tiger history. He's also had his team in the championship game of its conference four out of the last eight years. For those who might have slept through a few math classes, that's half the time.
Pinkel has nine eight-win seasons and five ten-win seasons. He is 47 games over .500 in his 14 seasons. In the 111 seasons of Tiger football before Pinkel, the Tigers won eight games 15 times and ten games just once. The program was a grand total of 82 games over .500. Need more perspective? Missouri lost eight games in a season 14 times before Pinkel. Pinkel has never lost eight games (and, again, he plays more games. More chances to win, yes, but also more chances to lose). Your final dose of perspective-inducing numbers: Pinkel has has a better than .500 record in conference games six times. Missouri won more league games than it lost six times in the 32 years before Pinkel arrived.
Admittedly, it must be acknowledged at this point that Pinkel has not won a conference title. His four title game losses have come by an average of 27 points. Of course, no coach at Missouri has won a league championship in 45 years and the Tigers can claim just two since the end of the second World War.
Missouri is not SEC royalty. Reporters and fans will do much more swooning over the likes of
Nick Saban
and
Gus Malzahn
and
Les Miles
and Spurrier this week (and that's fair). The Tigers aren't Alabama or Auburn or LSU. Historically, they aren't Florida or Tennessee, though that predates Pinkel who is 5-1 against those teams since joining the Southeastern Conference.
But it is equally important to point out that the Tigers are not Vanderbilt (the James Franklin years excepted) or Kentucky. And while a newer generation of fan will scream "We damn well shouldn't be!" that's exactly what they were for a very long time. Kids who are starting school at Mizzou this fall have seen only three losing seasons since they started kindergarten, and never more than seven losses in a year. During my own illustrious academic career from from 1981-94, Mizzou had more than twice as many seasons with three wins or fewer (7) as it did winning records (3). It was during that time when the Tigers teamed notoriously with Kansas and Kansas State to form what was not so lovingly referred to as the Bermuda Triangle of college football.
Missouri meets the SEC and national media at 1 p.m. on Wednesday afternoon. The Tigers do it not having to answer whether they belong in this league, not having to justify themselves or artificially inflate their program. They fit in here now, just another team that you'd better mention when you talk about those that are good enough to win the best conference in the country and play for a sparkly crystal football in January. They don't stand above everyone else by any means, but they no longer need to dig upwards through 15 miles (seasons) of sludge just to see the middle class of college football either.
A common question among Missouri fans the last couple of years has been how long this will last. Pinkel just turned 63 this spring. He's long talked about not wanting to spend his final years on the sideline. How long will he stay and what will Missouri football be when he leaves?
Nobody--probably not even Gary Pinkel--knows the answers to those questions. But right now, they don't matter. Those are worries for another coach, questions for another time. For now, Missouri fans, enjoy your annual July trip out of the wilderness and into football season, a time when Columbia is one of the towns that fans across the country must keep an eye on each and every Saturday. Perhaps conference titles and playoff appearances and historic glory await Pinkel and his program yet. Perhaps they do not. But regardless, these times are the best of times for Tiger fans.
Cherish them. Because, you know (at least you do now), it hasn't always been like this.