PowerMizzou Summer Sessions: Mike Dixon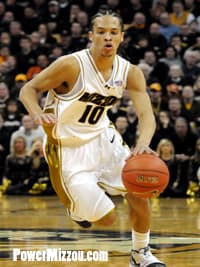 Over the next couple of weeks,
PowerMizzou.com
will speak with every Tiger basketball player who is currently on campus. Today, our chat with sophomore guard
Mike Dixon Jr.
.
PowerMizzou.com: Kind of a crazy summer. Did you pay much attention to all the conference talk?
Mike Dixon: "Initially, I thought we were going to be in the Big Ten because everybody was talking about it. But I guess people hit us with a couple, like, okie-dokes or something. Cause then you look up and Colorado's gone and Nebraska to the Big Ten. I don't know, I didn't really know what to think. I just didn't want to not be in a BCS conference. So I was really cool. I like the PAC-10."
PM: Growing up where you did, when people talk about KU and MU not being in a major conference, that's just weird isn't it?

MD: "That was scary. I was hearing people talking about we gonna be in the Mountain West. I was like, I don't want to....I mean, we've got a big-time football program. Playing against all them, that would have been kind of weird. Travelling to Colorado twice or three times, then playing a conference tournament in Vegas. No, I wanted to stay in a big conference."
PM: The way it worked out, maybe by your junior year, playing Texas and all the South schools twice, does that make this league tougher?
MD: "I think so. You get a chance to get at teams you play once twice now. That's kind of like revenge. Sometimes you might slip up and lose one to a South team on the road, or here like we did against A&M. I wanted to play against them so bad again because we should have beat them. I think it will be a better league just as far as competitive wise because you know you're going to have teams twice."
PM: The last couple of years it's been obvious who the leaders were. This year, you've got one senior and he's not full speed yet. Who's taking charge?

MD: "I like to believe that I'm going to take some leadership qualities going into this season, just being that I played a fair amount of minutes and I'm kind of experienced now. Like you said, we don't have that many seniors now so somebody's got to do it. Leadership don't really come with age. Leadership's just a quality you have and are brought up with. I think I'm gonna take some leadership roles and Kimmie's a big talker, we all know that, so he's going to take some. Me, Kimmie, Marcus and Justin mainly. Because Laurence is kind of more a set an example kind of guy."
PM: Having a couple months to look back on it, what did you think of your first year?

MD: "I think I played okay. There was some games I thought I could have played better, but that just comes with experience. This year, I'm going to be real ready to go, real focused and determined to go out every night and just go head up against whoever I'm playing against and be successful."
PM: Ending the way you did against West Virginia, that had to make you hungry to get back at it right?
MD: "Oh yeah. I mean, they were good, but I felt like if we'd have made a couple more of the normal plays we make, we should have beat them. But yeah, that brings a lot of motivation and determination and hunger going into this season."
PM: A lot of people are already talking about how quick the backcourt will be with you and Phil Pressey together. What have you seen from him this summer?

MD: "He's tremendously athletic, obviously. He's a true point guard. Sometimes when you play with two true point guards, it helps all the other guys out. If he's backing somebody up or whatever, he's a real good player and he knows how to play and he fits the system."
Nobody covers the Tigers year-round like PowerMizzou.com. If you are not yet a member, just try out our free seven-day trial
.