PowerMizzou Summer Sessions: Steve Moore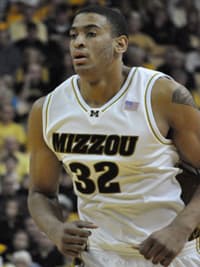 Over the next couple of weeks,
PowerMizzou.com
will speak with every Tiger basketball player who is currently on campus. Today, our chat with junior big man
Steve Moore
.
PowerMizzou.com: Coach Anderson said this week we would see a different Steve Moore. What's that mean?

Steve Moore: "Just the whole new and improved, be more sharp. Move my feet better, know the game better, play smarter and most definitely be a better offensive player."
PM: Did you know coming in that this would be kind of a process, that you would have to go through maybe a couple years of playing less than you were used to?

SM: "You think about it, it's weird. It's just like high school. It's just repetition over and over again, something you've got to be patient with and work at. If you want to get better, you've got to put the time in."
PM: Is this the year you target, I don't know if breakout's the right term or not, but the year you see it coming together?
SM: "You could use breakout. You'll definitely see, you should see and you will see a better Steve Moore from an offensive standpoint. More post presence and making moves and finishing under the basket, stuff like that."
PM: Suddenly now you're one of the older guys on the team, especially with only one senior. Are all of you guys trying to take a leadership role?

SM: "Me personally, I'm not very vocal, but I can lead by example. Senior leadership and upperclassman leadership, that's important and everything, but as a team, we're the kind of team that we lead by committee. It won't be just one or two people out there taking leadership and ownership. Everybody's going to do it."
PM: A couple years ago it was probably fair to say it was Leo and DeMarre's team. Last year it was J.T. and Zaire. So maybe this year you can't say it's one guy, but maybe more of a committee?

SM: "Most definitely. Even with DeMarre and Leo, or J.T. and Zaire were here, to me, they're not the only ones out there. Those guys needed help. They may have been our studs, but you also need the role players, people to do the blue-collar stuff and the dirty work."
PM: Is that what you pride yourself on? I mean you probably get the biggest cheers on the team for a blocked shot or taking a charge.
SM: "Yeah, just throwing my body around, just bringing that toughness. Diving on the floor, taking that charge, you know, clogging up the middle, getting that tough rebound. Stuff like that, that's pretty much my job."
PM: Everything with the Big 12, Big Ten, all that. Did you follow it much?

SM: "To be honest, not at all. All that stuff, I didn't worry about it or think about it because, I mean, all that's out of my control. I just said to myself whatever happens happens. As long as I get to play basketball, I'm cool."
PM: But as a guy who grew up in Kansas City, all this talk of schools like Mizzou, Kansas and K-State being left out of a major conference had to be strange didn't it?
SM: "That's just a bunch of nonsense. That's crazy. You think about it, we could play with anybody in any other conference. We're competitive just like any other conference. Whoever says stuff like that, doesn't know what they're talking about pretty much."
PM: You're looking at by your senior year playing Texas twice, Baylor twice, A&M twice. Is this a better league than it was two months ago?
SM: "That's a good thing. Bring it on. I'm always looking forward to more and better competition than the previous years so I look forward to it."
Nobody covers the Tigers year-round like PowerMizzou.com. If you are not yet a member, just try out our free seven-day trial
.