Q&A: Clemson insider talks Bryant
Former Clemson quarterback Kelly Bryant announced his intentions to play his final season at Missouri just minutes ago. We talked with Cris Ard, the publisher of TigerIllustrated, who has covered Clemson for Rivals.com for years about Bryant. See what Ard had to say in this special Q&A.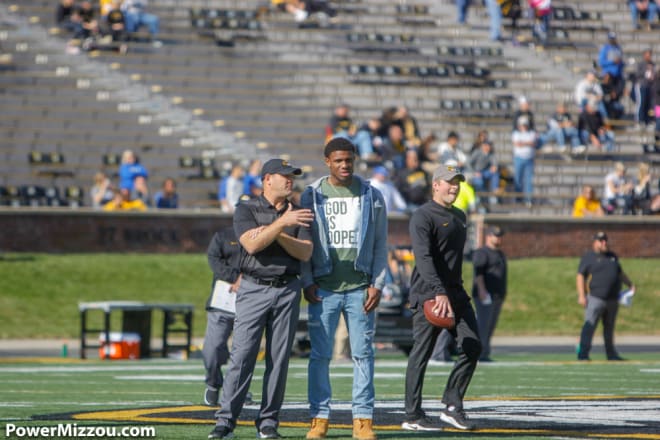 What are Bryant's strengths and weaknesses as a quarterback?
Cris Ard: Kelly is a game-manager at the most important position on the field. He doesn't make a lot of mistakes. And I believe his athletic ability is underrated. He's just limited as a passer. They were never really able to fully develop their downfield passing game with Bryant as their starting quarterback. He threw just 13 touchdown passes last year as a full-time starter. Despite working as a backup for four games this season, Trevor Lawrence had already thrown for more touchdowns before exiting October than Bryant had thrown his entire career.
Obviously Missouri is losing Drew Lock, who's a likely first round NFL Draft pick with one of the best arms in the country. How different do you think an offense centered around Bryant would need to be from one centered around Lock?
Ard: An offense with Bryant at the helm would need to be centered around a more short and intermediate passing game. I believe strongly in putting players in the best position to execute and win. That's where he can most effective. Bryant isn't going to give Missouri an explosive, downfield passing game. What he will do is show excellent pocket presence, better-than-average improvisational skills, good scrambling ability, an ability to make defenders miss tackles in space and he usually won't lose a game for you. He's a very confident player, he's been in the arena and has delivered in some big ballgames. They certainly wouldn't have beat Texas A&M on the road this year without him.
What about Bryant off the field? Is he a kid his teammates and coaches spoke highly of?
Ard: In his four years at Clemson, we never saw any undercurrent with Bryant, no locker room issues, no off-the-field issues. Bryant has a good personality, a good spirit about him. He's a very likable person. He was highly respected by his teammates, they viewed him as a leader and I think people had some appreciation for the fact that he waited patiently for his turn. He paid his dues. Everything he ever got on the field, he earned it. Now at the end, I think several players questioned his abrupt departure, understandably.
Obviously it's a unique situation where he lost the job and chose to transfer midseason. Was that decision more about things Bryant wasn't doing or just about Trevor Lawrence being a guy that was too good to keep off the field?
Ard: To be perfectly direct, Trevor Lawrence was just better and the feeling from this corner is that Bryant wasn't going to get better. Bryant's position, his argument, was that he had not done anything to lose the job. And that is correct. That's one way to look at it. But you don't have to do anything to lose a job. Sometimes, the other guy is just better. Clemson has arguably the nation's top recruited talent at wide receiver. And those players are highly integral to what they're trying to do offensively. They weren't going to be fully utilized with Bryant as the starting quarterback. You're not signing 5-star receivers so that they can block for four years. Trevor Lawrence can make every throw, he's got an incredible arm, he's 6'6, his scrambling ability is underrated and he makes plays. This is a potential three-year guy, a potential top five pick in the draft. I don't believe Bryant is an NFL QB.
What are the feelings at Clemson about Bryant after he chose to leave? Are people in the program bitter or angry or were they pretty understanding of his situation?
Ard: People are answerable to themselves and their conscience and Bryant didn't like being demoted several games into his second year as a starter. You wait your turn behind Deshaun Watson, you're on campus for almost four years and here comes an 18-year old kid who is gaining speed and bearing down the tracks, basically pulling even with you before the conclusion of August camp. That would be difficult for anyone to deal with. It's not exclusive to Bryant. So I think people understood his decision to leave.
However, Clemson fans, and for that matter players, did not appreciate the manner in which it happened, learning that Bryant walked out of the practice facility and was a no-show for practice two straight days. In addition, they didn't appreciate his remarks in a local paper where he called the move a slap in the face and of course a subsequent interview with ESPN's Maria Taylor, who was very critical of the decision to demote Bryant weeks earlier. Missouri is quite a drive from Clemson, so it's possible Bryant would be in a position to finally distance himself from a local "quarterback trainer" a lot of Clemson people have questions about. The trainer helped facilitate the interview with Bryant and the local paper so that Bryant could air his grievances publicly. The trainer is related to the reporter.