Quieting the critics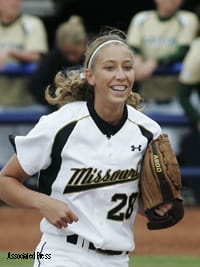 In the moments after Missouri's fifth consecutive NCAA Tournament win-a 7-2 domination of Oregon-the ESPN announcer for the game concluded the broadcast by saying, "Missouri doesn't do anything all that well, but they just keep winning games..."
Head coach Ehren Earleywine, who had just concluded an interview with the ESPN crew and may or may not have heard the statement, understands that most feel his team shouldn't be where it is-preparing for its second consecutive Women's College World Series.
"I think everybody had their doubts about this team," Earleywine said. "A lot of people say, 'Well, you got a good draw. You got Oregon and they weren't seeded.' Well, Oregon beat Georgia Tech and Georgia Tech was a team that everybody was picking to go to the World Series. So Oregon did something right. You know, Illinois last weekend was supposed to come out of our region. You know, people can cross that any way they want to cross it up, but at the end of the day, we're going back to the World Series and we're very proud of that."
On March 21st, Chelsea Thomas pitched a complete game victory over Northwestern. That came a little more than two weeks after Thomas threw a no-hitter against St. Louis University, allowing just one ball out of the infield. Missouri stood 22-and-3 after that win over Northwestern and was ranked third in the nation. Thomas was 12-and-1. It would be the last time she would pitch, losing the rest of her sophomore season to a stress fracture in her pitching arm.
Over the next ten games, Missouri went 5-and-5, capped by a 10-2 mercy rule loss to Texas. Things were bleak in Columbia. A season once pointed straight toward a serious national title run now seemed to be going nowhere in particular.
"I think when Chelsea went down, a lot of other people counted us out," said freshman shortstop Jenna Marston. "But I think we all knew that we still have the talent and still the pitching. Kristin (Nottelmann) has stepped up and done a great job and Jana (Hainey) is still a great pitcher and I think we've got a great pitching staff even without Chelsea."
That may be easy to say now. Since the ten-game mini-skid, Mizzou is 24-and-3, averaging 6.67 runs per game and allowing just just 2.44. The Tigers have established a new school record with 51 wins. Nottelmann has thrown every inning of Missouri's five NCAA wins. She is 5-and-0 with an earned run average of 1.00. She allowed just one earned run to Oregon in two games. The Ducks had scored 15 runs in 13 innings in two wins over No. 8 national seed Georgia Tech last weekend. No one was more surprised by Nottelmann's performance than her coach, who said she had subpar velocity both days.
"Two months ago, Kristin couldn't have done that," Earleywine said. "She just did not have the confidence, didn't have the courage, she didn't have the toughness, she hadn't put the time in in the bullpen. She's just really developed into such a special kid.
"I would have never predicted it. It's not a knock on her, it's just the amount of distance she's come in such a short amount of time.
"It's been like, 'Kristin, when are you gonna dig in? When are you gonna care as much as we care?' Now, she's the best player we've got."
Asked about Earleywine's comments, Nottelmann shrugs her shoulders, which apparently aren't too worn out from carrying her team back to the brink of a national title.
"I just go out there and do what I know I can do," said the sophomore. "They can say whatever they want and I'll just keep doing what I do."
What she is doing is pitching as well as anyone in America. Only Georgia, winners by scores of 7-0 and 10-1 against Cal, allowed fewer runs in Super Regional play than the Tigers.
"I knew how good she was. I think she knew she could do that at this level, but I think obviously she stepped it up," Marston said. "I don't know what she's done differently, but she's turned some corner and it's been great."
"I think it's exciting to prove people wrong. Kristin, I think she goes out there and she's a winner," said outfielder Lisa Simmons. "She's proved it in the games, hit her spots and I can't really explain it. I think she explained it in the two games we played. She was great. Couldn't ask for a better performance."
Up next is Hawaii, the nation's leader in home runs as a team. Nottelmann throws her first pitch around noon Central time on Thursday. By then, there shouldn't be many doubters left.