Ready to Run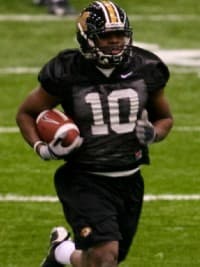 Gilbert Moye
came to Missouri as one of the most athletic quarterbacks in the Class of 2007. At 6-foot-2, 200 pounds, Moye was ranked as the nation's No. 30 athlete. But when he got to Columbia, he made the move to defense. For two years, Moye has been buried on the depth chart at safety.
"I just feel more comfortable playing offense," Moye said. "I've got a feel more for the game on the offensive side."
The Missouri coaching staff agreed. Prior to the start of spring football, the coaches approached Moye about moving back to the offensive side of the football.
"First of all, when we played some of the real athletic quarterbacks in our league last year, we'd send him down to the quarterback position on the scout team,"
Gary Pinkel
said. "We just saw him athletically and we're going, 'Wow.' As an offensive player, I think it's a little bit more natural for him."
But it's not quarterback where Moye will find himself. He is making the transition to tailback, where Missouri is desperately in need of some depth. The Tigers graduated Jimmy Jackson last year and then Drew Temple opted to leave the team in the offseason. That left the Tigers with only two scholarship tailbacks during spring football.
"That's motivation right there, just being two guys on scholarship," Moye said. "The depth at safety was pretty thick and I knew I had a pretty easy shot at running back."
The Diboll, TX native had impressed teammates and coaches in the early going. But during Mizzou's second practice of the spring, he went down in the middle of a run clutching his hamstring.
"My pride was hurt," Moye said. "I thought I was going to be out longer than what I was."
Moye said the trainers have told him he should be able to get back on the field when Missouri resumes practice after spring break. In the meantime, Moye will go through treatment for the injury and soak up everything he can from
Derrick Washington
, Missouri's returning starter at the position.
"I'm just following him around," Moye said. "He's teaching me the ins and outs. He's real good. He's doing what he's supposed to do, taking me under his wing."
Washington is also being held out of drills while recovering from knee surgery. Right now,
DeVion Moore
is the only scholarship tailback who's practicing. Moye hopes to get back as soon as possible because he knows an opportunity awaits.
"I know they need a couple guys that can catch the ball out of the backfield and get that extra yard. I feel like I'm that extra athlete on the offense to give them the extra push," he said. "When I come back, I'm going to be ready to make a name for myself."
PowerMizzou.com's spring football coverage is sponsored by Pension & Benefits Live. Jesse Cox (stljesstx) and Tim Killday (Killer) would appreciate the opportunity to be a resource to you for company benefits and/or individual health and life insurance needs.
Click
Here
to view this Link.