Redshirt report: Rolandis Woodland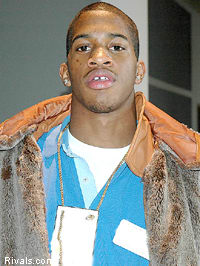 During practices leading up to a bowl game, the emphasis for most teams is on developing younger players for the season to come. The Tigers held their first open practice in Columbia last week and will have four more over the weekend. During this time,
PowerMizzou.com
will bring subscribers a series of stories about players who redshirted this season and who may see significant time on the field next season. We start today with wide receiver
Rolandis Woodland
.
PowerMizzou.com: Obviously, coming to camp late pushed you back a little bit, but tell me how this year went for you and how far you've come in the last couple of months.
Rolandis Woodland: "It's been a great transition. I've been trying to take everything in as far as school and everything, and like being comfortable. The scout team guys, the defense, they help me get better every day, particularly working along with Jeremy and the other older guys, it just helps me get better every day."
PM.com: The comparison is going to be made, being from St. Louis and everything. Is Maclin the guy you kind of pattern yourself after?
RW: "Yeah, man. That guy is a great role model. I'm just going to go and keep learning from those guys. The St. Louis thing, as far as like Will and all those guys, living up to the hype, I'm just going to go out and play to the best of my ability."
PM.com: How big is the next couple of weeks for a guy like you to kind of make a statement to the coaches before some of the younger guys might get to campus?
RW: "Oh yeah, it's really big. Coaches are telling me every day just to keep working hard. Just play the game and everything will come. The transition may be hard because some players may not know all the plays right now, but you go out and give it your all and things will fall into place."
PM.com: What aspect of your game do you think has made the biggest jump in the last couple of months?
RW: "The aspect of my game is just concentrating on catching the ball and getting upfield. Learning the defenses and learning my positions on the field and staying confident."
PM.com: What is your goal for the next few weeks and going into spring ball? Do you have your eyes set on a starting spot next year?
RW: "Oh, yeah. I'm definitely going to compete for a starting spot. I'm just going to keep learning from these guys and just keep getting better and better every day. Hopefully, when it comes, you'll see me on game day."