Ryan Walters leaves Mizzou for Illinois
As he enters his second season, Eli Drinkwitz will be making his first replacement hire at Missouri. PowerMizzou.com has confirmed that Ryan Walters, the Tigers' defensive coordinator, is leaving for the same position on Bret Bielema's staff at Illinois. FootballScoop was first to report the news.
Walters has been at Mizzou for six seasons, originally hired as the safeties coach from Memphis when Barry Odom returned to Mizzou as the defensive coordinator in 2015. Following the 2017 season, Walters was promoted to defensive coordinator to replace DeMontie Cross. In his first season in charge, the Tiger defense improved by at least 20 spots in run defense, scoring defense and total defense.
The 2019 defense was Walters' best in his four seasons at Mizzou. The Tigers held opponents to 19.4 points per game, 15th in the country. Mizzou was 31st against the run, 6th against the pass and 14th in total defense, despite losing star linebacker Cale Garrett in the fifth game of the season.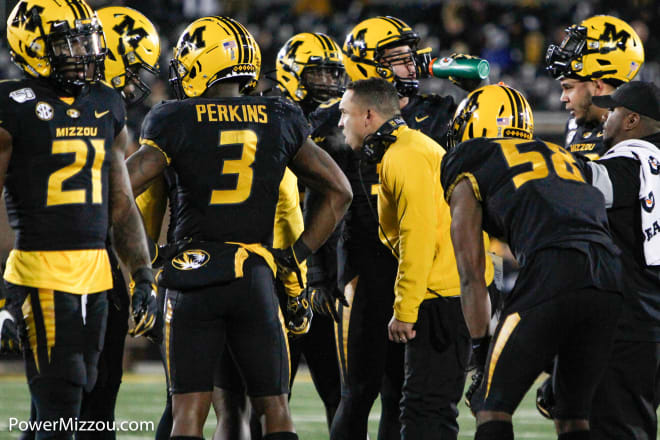 When Drinkwitz was hired in December of 2018 to replace Odom, he kept Walters on staff, along with defensive assistants Brick Haley and David Gibbs. At the time, Walters agreed to a contract extension that would pay him $900,000 per year through the 2022 season.
The 2020 season saw the Tigers fall back statistically during a ten-game, all-SEC schedule. Mizzou was 66th in total defense and 85th in scoring defense in 2020. Dealing with a flood of injuries, COVID-19 related issues, opt outs and transfers, the Tigers gave up 150 points to Arkansas, Georgia and Mississippi State in the final three games of the season. After holding opponents to 4.86 yards per play in 2019, the Tigers allowed 6.1 yards per play last year.
The terms of Walters' deal at Illinois are not yet known. Drinkwitz will now begin the search for his replacement to lead Mizzou's defense in 2021.