Richardson going pro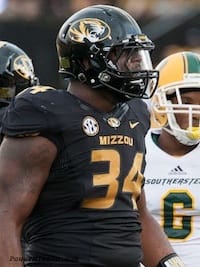 In a surprise to no one,
Sheldon Richardson
will skip his final year of eligibility at Missouri to enter the 2013 NFL Draft.
"This has been my dream ever since I was a little kid," Richardson in a statement.  "It's still not easy leaving Mizzou like this, but I know I'm ready.  I really appreciate all of the support I got here at Mizzou, and I know that they will help me and my family with this next step.  I'll always be a Tiger."

Richardson is coming off one of the best individual defensive seasons in Mizzou history. He was second on the team, and first among SEC defensive tackles, with 75 tackles, despite missing a game due to suspension. He had 10.5 tackles for a loss, four sacks, three forced fumbles, two fumble recoveries, three pass breakups and a blocked kick.
"I've always said that when guys have opportunities like these, if they're ready to go, then they should go," said Mizzou Head Coach
Gary Pinkel
.  "I have no doubt that Sheldon is ready to play in the NFL, and while we'd love to have him for another year, the important thing is that this is the right decision.  It will be fun watching him play on Sundays."

Richardson came out of high school as the No. 4 overall player in the country in the Class of 2009. He signed with Missouri, but had to spend two years in junior college at the College of the Sequoias. He arrived at Mizzou late in fall camp, but still managed to start two games and make 37 tackles, including eight for a loss, in his first college season.

Richardson's breakout junior campaign should end with a first-team all-SEC selection. Most NFL Draft projections have the St. Louis native slated as a first-round pick.
Nobody covers Mizzou basketball like PowerMizzou.com. If you are not yet a member, just try out our seven-day free trial
.