Scrimmage Report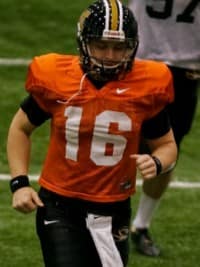 *Speaking of the Smith tandem, they appeared to be splitting first-team reps at defensive end. Aldon has been perhaps the most impressive player through the first nine practices.
*The best way to run down the scrimmage is to simply take you through things series by series, so that's what we'll do. It's not a play-by-play, though there are a lot of notes on individual plays with some of my impressions thrown in.
So do Washington's. He had a nice six-yard run up the middle on the first drive and appears to be back at full strength.
"Blaine's being a leader and everybody's listening. Even the seniors, even the defensive guys are acknowledging Blaine as the leader of this team right now," Jones said. "You can see what he did today, he just marched us down the field."
I asked Jackson which player hits harder.
"It might be a little match, we'd have to see. He's laying the wood," Jackson said. "We've both been on the tough and physical tape constantly. I know coach Odom wants that from us and coach Stec does too. We're just trying to do our job out there and have a presence in the secondary."
The drive was kept alive by a facemask penalty on third and 11 when Gabbert had been stopped for a seven-yard gain.
On the run, Gabbert took a pretty decent hit and actually sat out for a couple of plays. Costello stepped in and hit Andrew Jones with a nice throw over the middle.
Jacquies Smith made an impressive play when he shed a block and dragged Washington down for no gain on an outside run.
Jacquies Smith again stood out, wrecking a run for a loss.
Glaser nearly made the play of the day. He had a dangerous pass batted in the air by a defender. It then deflected off another player. While the ball floated in the air, no one could locate it other than Glaser. He sprinted downfield and dove, nearly completing a pass to himself for a ten-yard gain.
This actually started on the 36-yard line with 1:30 on the clock. The offense had one timeout.
From there, Ressell finished things off with the 29-yard field goal.