Search for OC enters second week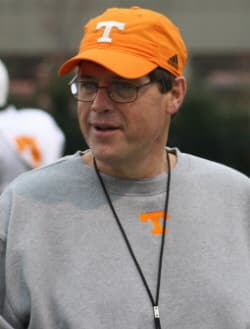 It has been eight days since
David Yost
resigned as Missouri's offensive coordinator.
Gary Pinkel
said he would conduct a national search to find Yost's replacement, but over those eight days, very little information seems to have surfaced publicly about the search.
This seemed like a good time to reset where things stand and what we know.
At this point in time, there seem to be just three legitimate candidates for the job: Current Mizzou staffers
Andy Hill
and
Josh Henson
as well as former Tennessee offensive coordinator
Jim Chaney
. Based on what we have heard over the last week, it would come as a major surprise if Mizzou's next playcaller was anyone outside of that trio.
Henson and Hill certainly have a lot of internal support, especially amongst current and former Mizzou players. A couple of prominent former Tigers told us
in this article
the day Yost's resignation became public that they backed Hill for the job. Current Tiger players also get along very well with Henson and, according to what we've heard, would be happy to see him get the promotion.
An internal promotion certainly would be consistent with Pinkel's pattern over his 12 years in Columbia. Pinkel has had two coordinators leave in the past and replaced both of them with coaches already on staff (
Dave Steckel
replaced
Matt Eberflus
and Yost replaced
Dave Christensen
). Pinkel has shown a desire to hire coaches with whom he is familiar and who already know the way his program operates on a daily basis. Henson and Hill both fit that criteria.

However, there is plenty of sentiment for an outside hire and a new perspective on a Tiger staff that has seen very little turnover in the last dozen years. The fanbase certainly backs bringing in a coach from outside and that sentiment also exists to some extent among the donors. If Pinkel looks outside, all signs point to Chaney as his choice.
Chaney is a native of Missouri and played his college football in Warrensburg at (then) Central Missouri State. He also coached three seasons with the St. Louis Rams. In addition, Chaney interviewed for the Tigers' head coaching job back in 2000 when Mizzou hired Pinkel and made a positive impression on Athletic Director Mike Alden at that time.
Sources have indicated to
PowerMizzou.com
that there has been contact between Chaney and Missouri. People familiar with the Tennessee program have told us that Mizzou is a program they believe would be attractive to Chaney. However, he will have options. Newly hired North Carolina State coach
Dave Doeren
interest in Chaney and he could have interest from other programs as well.

Multiple sources have told us that money is not an obstacle in the Tigers' search. Chaney made $550,000 and was slated to make $600,000 this year in Knoxville before being let go by
Butch Jones
upon his arrival in Knoxville. To entice Chaney, Missouri would likely have to offer a multi-year contract at least in that annual salary range. Yost made just more than $350,000 a season ago, but again, sources have indicated a salary that could double what Yost was making would not be an issue for Missouri.
The one thing that is unknown at Mizzou is a timetable for making a hire. The Tigers hosted 16 official visitors last weekend and have more recruits slated to visit this week. However, most of the remaining scholarships are likely to be targeted to defensive linemen. While the offensive commitments would likely prefer to know who will be calling plays next season sooner rather than later, all of them seem to be solid in their commitments even while the job remains open.

It seems that the list of candidates stands at three for the job. But when one of those three will be chosen remains unknown.
Nobody covers Mizzou football like PowerMizzou.com. If you are not yet a member, just try out our seven-day free trial
.