SEC Hoops Prediction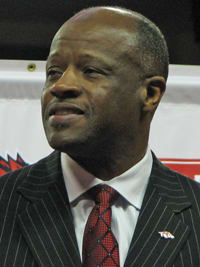 Missouri opens its first SEC basketball season on Tuesday, January 8th at home against Alabama. PowerMizzou.com goes through the league schedule game-by-game:
Jan. 8 vs Alabama
: The Tide has done nothing in the non-conference season of note. The best effort is a close loss to Cincinnati. Also on the resume are a narrow win over Texas Tech, a home loss to Mercer and a 19-point drubbing by VCU (which Missouri has already beaten). Look for a strong effort in a homecoming by
Trevor Releford
, but little else for the Tide to like. Take the Tigers by double digits.
Record: 1-0
Jan. 12 at Ole Miss: The Rebels are 11-and-2, but have beaten no one and have losses against Middle Tennessee State and Indiana State. This will be a bigger test than some believe, but Missouri's welcome to the SEC road is fairly easy with another double-digit victory. Record: 2-0
Jan. 16 vs Georgia: UGA is terrible. Of all 18 SEC games, this one is the closest to a lock Missouri has. Record: 3-0
Jan. 19 at Florida: The Gators stumbled a couple of times around Christmas, but the first battle between the top two teams in the SEC is in Gainesville and Florida is game. Missouri battles, but falls late for its first league loss. Record: 3-1
Jan. 22 vs South Carolina
:
Frank Martin
beat Missouri twice last year, but he did it with much better talent. He just doesn't have the horses to get it done here and the Tigers run it up.
Record: 4-1
Jan. 26 vs Vanderbilt: The Commodores lost three players among the first 35 picks in last year's draft and are struggling to rebuild, having gone .500 in 12 non-conference games. Missouri's perfect home record stays intact. Record: 5-1
Jan. 30 at LSU: These Tigers went 9-2 in non-con play, but the best win was over Seton Hall. Road games have a funny way of jumping up and surprising people. This one will be tougher for Mizzou than most believe, but they'll pull out a narrow win in Baton Rouge. Record: 6-1
Feb. 2 vs Auburn: Auburn is bad. 6-7 in the non-conference bad even after a 78-72 win over Florida State. Even Cam Newton couldn't lead this Auburn squad to a win in Columbia. Record: 7-1
Feb. 7 at Texas A&M: Like most other SEC teams, the Aggies did nothing to turn heads in the non-conference season. Missouri has struggled with A&M in the past, but this Aggie team isn't as good as the ones that flummoxed Mike Anderson. Missouri wins by ten on the road. Record: 8-1
Feb. 9 vs Ole Miss: In the Tigers' first chance at a second look at an SEC team, they get the Rebels at home. With just one off day after the A&M game, Mizzou will look rusty. But rusty is still good enough for Missouri to win most SEC home games, including this one. Record: 9-1
Feb. 13 at Mississippi State: Tough times in Starkville. But not for the visitors. Missouri rolls. Record: 10-1
Feb. 16 at Arkansas: The Tigers enter the three-game stretch that could very well decide whether they win the league or not. Razorback fans will want to win this one for their coach as Anderson meets his former team for the first time. If Missouri fans know anything, they know that Anderson's style is very, very difficult to defeat in his home building. Look for Missouri to fall as Arkansas plays inspired basketball. Record: 10-2
Feb. 19 vs Florida
: The Tigers play for the fifth time in 13 days as the de facto SEC title game takes center stage nationally. Both teams are in the country's top 15 and the home court is the difference as
Phil Pressey
puts on a show in a Tiger win to put them atop the SEC standings.
Record: 11-2
Feb. 23 at Kentucky: The Wildcats took some lumps in the non-conference, but the youth has rounded into form. UK is third in the SEC standings as College GameDay and Mizzou come to town. Rupp Arena remains one of the toughest places to play in college basketball and Missouri's first experience in Lexington isn't a good one as the Wildcats win by nine. Record: 11-3
Feb. 28 at South Carolina: We covered this above. Doesn't matter where the game is, the Gamecocks don't have the talent to tame the Tigers. Record: 12-3
Mar. 2 vs LSU: Missouri has a league title in its sights and wins its second straight. Record: 13-3
Mar. 5 vs Arkansas: This is the one Tiger fans have had circled for months. Anderson is greeted rudely by Tiger fans and nearly as rudely by the players. Missouri rolls to a big win. Record: 14-3
Mar. 9 at Tennessee: With a win, Missouri can wrap up the outright SEC championship (by virtue of Kentucky's win over Florida earlier in the day). The Tigers get it done with a gritty three-point win over the Volunteers in Knoxville to claim the top seed in the SEC tourney and the league crown in year one. The Gators finish second, a game behind, and Kentucky comes in third. That earns Mizzou the top seed in the league tourney, a double-bye, and the ability to avoid Kentucky or Florida until the tournament final.Record: 15-3
Nobody covers Mizzou basketball like PowerMizzou.com. If you are not yet a member, just try out our seven-day free trial
.