Second Round Success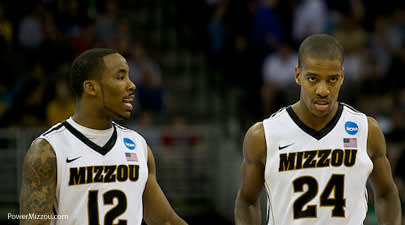 After four years and a record number of wins at the University of Missouri, two Tigers had their dreams realized on Thursday night. The Detroit Pistons took Kim English with the 44th pick in the NBA Draft. Fifteen spots later, the San Antonio Spurs picked Marcus Denmon at No. 59, the next-to-last selection of the night.
"It was definitely nerve racking. I know the teams I performed well in front of but I know that so much stuff can happen," English said. "I'm just excited to get there and work."
English said before the draft that he had studied which teams would be a good fit for him. He had Detroit as one of those teams.
"My workout went really well with them. It wasn't my best," English said. "I knew I would be in a good situation. I would have felt blessed to play with any team. No matter the numbers, Detroit is a really really good situation for me and my position."
The Pistons finished 25-41 last season, two spots out of the Eastern Conference playoffs. They have three point guards (Rodney Stuckey, Brandon Knight and Will Bynum) under contract for next season, but do not have a player on next year's roster listed as a shooting guard.
That is the spot English will play with the Pistons, despite spending his senior season at Missouri playing out of position as a power forward. That move was necessitated by an injury to Laurence Bowers prior to the start of the season.
"Because of what our team makeup was last year, him making that sacrifice to play a different position, but he played the position like a guard," Missouri coach Frank Haith said. "All his workouts, he came back with some really good reviews from the people I talked to. A lot of people were really impressed with how he defended in that position in his workouts."
Denmon will also be asked to make a position switch in the NBA. The Spurs, as Denmon said most NBA teams did during his workouts, will expect the 6-foot-3, 185-pounder to show the ability to play point guard. It is not something Denmon did at Missouri, but he's said last week he is confident he can take charge of an NBA team.
Unlike English, the team Denmon will join is one of the NBA's best. The Spurs finished with the league's best record at 50-16 a season ago before losing to Oklahoma City in the Western Conference Finals. Denmon will have a chance to learn from long-time Spurs point guard Tony Parker.
Denmon was unavailable on Thursday night, but English said the former teammates had been in touch.
"I texted him. Someone actutally texted me that the Spurs were going to take me before they did," English said. "I thought Dallas might take him at 55 or Brooklyn at 57. But I'm really happy for Marcus. I'm happy he got put in a really good organization like San Antonio."
Later in the night, Denmon did post on Twitter: "Glad to be a part of such a great organization, excited about the opportunity, ready to work, #Spurs."
Neither Tiger is guaranteed of making his respective NBA roster. But a year ago, neither was supposed to make it this far. English will arrive in Detroit in the morning, Denmon in San Antonio. The next step is unknown. The legacy they leave behind is not.
"What a great night for Mizzou basketball. I was really happy for both guys, I think they're both going to great organizations," Haith said. "Those guys deserve a lot, because of how hard they work, to have an opportunity to continue their dreams in the NBA."
Nobody covers the Tigers like PowerMizzou.com. If you are not yet a member, just try out our free trial.