Shaping the Staff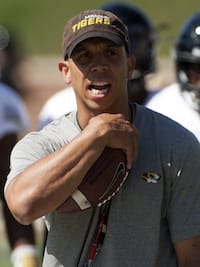 Barry Odom
did not give a timetable for filling out his Missouri staff at his opening press conference. That is certainly priority number one, along with recruiting, in the coming days. Let's take a look at where things stand.

Thus far,
PowerMizzou.com
has gotten confirmation that safeties coach
Ryan Walters
, cornerbacks coach
Cornell Ford
and quarterbacks coach
Andy Hill
will be retained on Odom's staff--though not necessarily in the same roles.
NCAA rules restrict the number of full-time assistant coaches to nine. Tomorrow, we'll look at specific candidates that we've heard or seen mentioned, but today, we're interested simply in the construction of the staff. What will it look like and what positions will Odom need to target?
Let's start with what we know: Sources have indicated that Odom will likely hire a dedicated special teams coordinator. That would leave eight full-time assistants. How would they break down?
Offense: Obviously, you'll have an offensive coordinator. The likelihood is that the OC is going to coach another position as well. It's been speculated that Josh Heupel is a leading candidate for that position. Heupel would also likely be the quarterbacks coach. That would allow Hill to return to coaching wide receivers. We have been told that it is a possibility Ford switches over to the offensive side of the ball to coach running backs (he coached receivers at Toledo, so it's not completely out of the question). Missouri would also need to hire an offensive line coach, regardless.

That is a total of four offensive assistants, then, bringing the staff total to five (when we include the special teams coordinator).
Defense: As we said above, Walters is confirmed to be coming back. The question is, will he continue to coach just safeties? Would it be possible for him to simply become the defensive backs coach? Odom will have to hire his own replacement as defensive coordinator. Like Odom did, the DC will also coach a position, probably either linebackers or defensive line. Then you'll need an assistant to fill the other spot. If Walters continues to coach only safeties, you need a corners coach still (or if Ford stays here, you'll need a running backs coach). So that's either three or four more spots on the staff filled.

If Walters coaches all defensive backs, that gives you a bit of a "wild card" position. You can have a co-offensive or co-defensive line coach. You could have a tight ends coach. There's a lot of flexibility in other words. The makeup of the staff will really hinge on a few things: Is one spot dedicated to special teams? Are safeties and corners together or split? Same for receivers and tight ends? What positions do the coordinators coach?

There are many questions to be answered over the coming days. Tomorrow, we'll take a look at some names we've heard to fill various spots on Odom's staff.